[Restaurant SAKURA]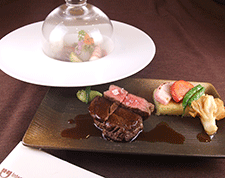 We proudly announce our New Year's French Course to be served at dinnertime at the Restaurant SAKURA.





New Year's Day, January 1 – Wednesday, January 3, 2018
Time: 5:30 – 9:00 pm (dinnertime)
Regular rate 14,040 yen / Discount rate* 11,232 yen
Reservation required
MENU
Smoked great amberjack, tuna, scallop and shrimp salad with truffle vinaigrette
Duck pot-au-feu with green onions and radishes in consommé soup
Sole Bonne Femme
Yuzu granité
Pan-fried tenderloin with hot vegetables and green mustard
Crepe suzette
Coffee or Tea
・*Discount rates are applicable for IHJ members.
・The prices include consumption tax. A service charge 10% will be added to your bill, inclusive of consumption tax.
・The staff is happy to assist with questions regarding ingredients used or allergy concerns.
・There may be unavoidable seasonal changes to the menu.
・Photo is for illustrative purpose only.
Inquiries and Reservations
International House of Japan
TEL: 03-3470-4611