Why Not Experience More of I-House?
Limited Accommodation Offer for E-news Readers
(Offer Extended until March 19)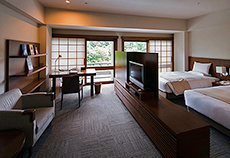 I-House accommodations are normally available only to our members and their guests. Upon receiving many requests, however, from non-members who would like to see and learn more about our historic buildings, we will have a limited accommodation campaign (until March 19, 2020) at a special rate available to non-members. This is an exclusive offer only to e-news readers. Don't miss this opportunity!
Please be sure to mention the e-news campaign when you make reservations.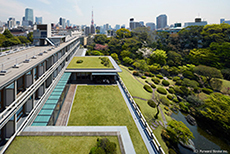 Established in 1952, I-House is a nonprofit organization promoting cultural exchange between the people of Japan and those of other countries. Its building was constructed under the collaboration of three prominent Japanese modernist architects—Maekawa Kunio, Sakakura Junzo, and Yoshimura Junzo. It was registered in 2006 as a tangible cultural property by the Agency for Cultural Affairs of Japan, while the garden, designed by the seventh-generation famed Kyoto landscape artist Ogawa Jihei, was designated as a place of scenic beauty by Minato Ward in 2005.
Room Type
sq.m
No. of
persons
Standard rate
Special rate
East Wing Standard 2F
21
1
19,500 yen
15,600 yen
2
25,000 yen
20,000 yen
East Wing Standard 3F
21
1
20,400 yen
16,400 yen
2
26,200 yen
21,000 yen
East Wing Twin
42
1
31,000 yen
24,800 yen
2
36,900 yen
29,600 yen
3
42,500 yen
34,000 yen
East Wing Deluxe Twin
46
1
34,900 yen
28,000 yen
2
40,800 yen
32,700 yen
3
46,800 yen
37,500 yen
East Wing Junior Suite
53
1
40,100 yen
32,100 yen
2
46,200 yen
37,000 yen
3
52,000 yen
41,600 yen
West Wing Single
15
1
14,700 yen
11,800 yen
West Wing Compact Twin
19
1
16,400 yen
13,200 yen
2
21,900 yen
17,600 yen
West Wing Twin
30
1
23,300 yen
18,700 yen
2
29,000 yen
23,200 yen
3
34,400 yen
27,600 yen
4
40,000 yen
32,000 yen
*This rate includes breakfast, service charge and tax.
*A complimentary breakfast is served at the Tea Lounge "The Garden," from 7:00 am to 11:00 am.
*Cancellation penalties are based on the I-House Terms and Conditions for Accommodation. Please click here for details.
*All taxes levied conform to current tax laws. Recent changes to the laws may not be reflected in the rates listed here. (As of October 1, 2019)
Inquiries and Reservations
Front Desk
International House of Japan
TEL: 03-3470-4611 (24 hours)
FAX: 03-3479-1738