Winter Party Plan (Dec. 1, 2021 to Feb. 28, 2022)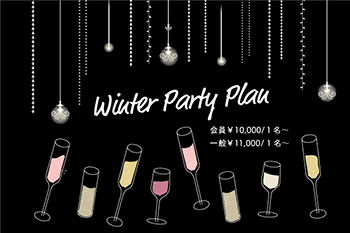 A reasonably priced special party plan for banquets featuring a course meal and free drinks from 15 people.
Course A: 11,000 yen per person (10,000 yen per person)
Course B: 15,000 yen per person (13,500 yen per person)

*Includes food, beverages, room charge, tax and service charge.




*The price in parentheses is a special price for I-House members.

Period: Wednesday, December 1, 2021 – Monday, February 28, 2022
Reservation required, for 15 to 60 persons
Time Limit: Up to two hours between 11:00 am and 9:00 pm
Menu: Hors d'oeuvres, soup, entree, dessert, coffee
Drinks: All you can drink (beer, red/white wine, whisky, shochu and soft drinks)
Special Offer: Basic audio equipment (CD) and 4 microphones are included.
Projectors, projection screens and a piano (Yamaha) are available at a 50% price.
◆ See HERE for COVID-19 Preventive Measures at I-House.
Inquiries and Reservations
Banquet Reservations
International House of Japan
TEL: 03-3470-4616 (10:00-18:00, Closed on Sundays & Holidays)
FAX: 03-3470-3210