70th Anniversary Cocktail "Tea Party"
Date: From Tuesday, November 1, 2022
Place: Tea Lounge "The Garden"
Price: 1,320 yen (1,056 yen)
A 10% service charge will be added to the price for each item. Special prices are applicable for IHJ members.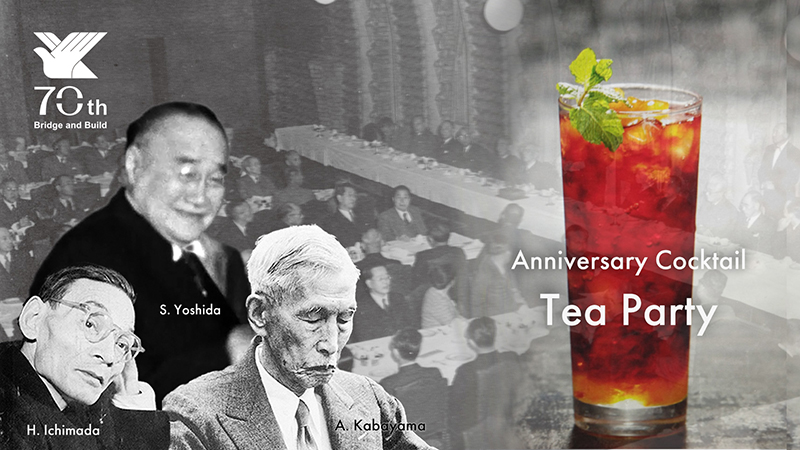 A grand reception hosted by the then prime minister, Shigeru Yoshida, on November 19, 1952, to inaugurate a fundraising campaign for the construction of I-House is one of the most important events in our 70-year history.
This "tea party" kicked off a highly successful fundraising campaign that reached its goal in less than a year. Thanks to a strong appeal from inaugural I-House chairman Aisuke Kabayama and a call for donations by Bank of Japan Governor Hisato Ichimada, contributions were made by more than 7,000 domestic corporations and over 5,000 individuals. This helped to raise 100 million yen, leading to the completion of the I-House building in 1955.
From Tuesday, November 1, a 70th anniversary cocktail named after this historic event—known as the biggest fund-raising campaign of the postwar period—will be served at Tea Lounge "The Garden". "Tea Party" is made with brandy, iced tea, and herbal tea.
Please enjoy this cocktail while thinking of our founders who worked hard some seven decades ago for the establishment of I-House with the hope of turning it into a hub for intellectual exchange between the people of Japan and other countries.
In addition to hosting the fundraising reception, Prime Minister Yoshida blessed the opening of the I-House building by presenting his own handwritten work of calligraphy featuring a phrase from the Analects of Confucius: "Is it not delightful to have friends come from distant quarters?" This now hangs at the entrance of Tea Lounge "The Garden," so please take a look on your next visit.