Spring Party Plan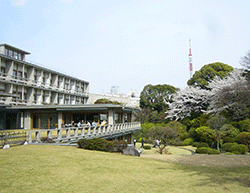 This special party plan is an all-you-can-drink plan with room charge, service charge, tax, basic audio & visual equipment charge included.




Photo is for illustrative purpose only.
Price: 9,900 yen per person / For 20 to 100 persons


(Inclusive of food, drinks, room charge, basic AV system, service charge and tax.)

Period: Sunday, March 1 – Tuesday, March 31, 2020
Reservation Required
Time Limit: Up to two and a half hours between 11:00 am and 9:00 pm
Style: Standing buffet style (Seating buffet style for an extra 500 yen per person)
Drinks: All-you-can-drink (Beer, red/white wine, whisky, shochu and soft drinks)
◆ Basic AV equipment (CD/cassette tape/DVD player) and 2 microphones are available for free.
◆ Projectors and projection screens are available for 50% off.
◆ 3,300 yen for an additional attendee on the day (drinks only).
◆ Member discounts are not available for special party plans.
Inquiries and Reservations
Banquet Reservations
International House of Japan
TEL: 03-3470-4616 (10:00 am-7:00 pm)
FAX: 03-3470-3210