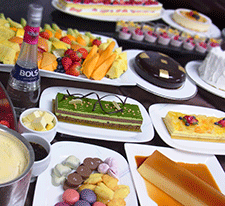 We take pleasure in announcing sweets buffet in the banquet room. We hope you will be able to enjoy the party in a convivial atmosphere.
Please inquire at banquet reservations for further information.
(reservation required)

Photo is for illustrative purpose only.
4,500 yen per person
From Monday, May 16, 2016
For 30 persons to 80 persons
Standing buffet style ※Seating buffet style for an extra 300 yen per person
Limited to 2 hours during 13:00-18:00
Basic AV system, 2 microphones free of charge
*Member discounts are not available for special party plans.
*The above price includes dessert, coffee & tea, room charge, consumption tax and service charge.
Inquiries and Reservations
Banquet Reservations
International House of Japan
TEL: 03-3470-4616 (10:00 am-7:00 pm)
FAX: 03-3470-3210