Wine Party 2019 for House Members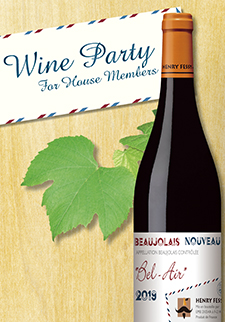 We take pleasure in announcing our annual wine party.
It will be held on the opening day of Beaujolais Nouveau 2019, and Beaujolais Nouveau and various other wines will be served along with a variety of dishes.
Due to limited seating, reservations will be taken on a first-come, first-served basis.

Thursday, November 21, 2019
6:30-8:30 pm (Doors open at 6:00 pm)
The price is 7,500 yen per person for food and beverages inclusive of tax and service charge.
Charges will be collected at the door.

● Reservation Required

● The full amount will be charged for cancellations made the day before or the day of the event.
● Members can be accompanied by family or friends.

Special thanks to Asahi Breweries, Ltd.
Inquiries and Reservations
Banquet Reservations
International House of Japan
TEL: 03-3470-4616 (10:00 am-7:00 pm)
FAX: 03-3470-3210