Members Site
Members Site
The International House of Japan has launched a website which is available exclusively to I-House Individual Members (incl. Term Members) and Representatives of Corporate Members.
Those who registered email addresses should have received an ID and password to log in. Please click the button below to log in. Please note that you will only be entitled to access the Members Site after consenting to the User Policy for the "Members Site."

Username:
Membership Number
(eg. A-XXX)
Password:
8 digit alphabet & number, notified by us
(can be changed)
Please register computer e-mail addresses, if you have not done so yet. An ID and password to log in will be sent to you via e-mail. Please do not register your cell phone e-mail address, as some important notices might not reach you because of spam filters.
Contents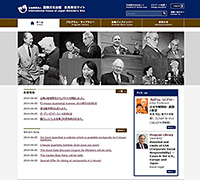 ◆ Program Library
Some records of recent programs (lectures, symposiums, art programs) are accessible in text, video or audio.
◆ Back Issues of the IHJ Bulletin
All back issues of the IHJ Bulletin (from 1958 to 2013) have been uploaded.
◆ News Exclusively for Members
Information exclusive to members will be posted -– Information on the Members' Dinner Meeting, Room Rate Discount Coupons, etc.
◆ Online Credit Card Payment
Online credit card payment is possible by accessing this site, for the payment of annual dues (in Japanese Yen only).
System Requirements
The Members Site is designed for access by computer. Some of the contents may not be displayed properly on a mobile device (smartphones, etc.).
It is recommended that you use the latest version of web browser. The website works properly with the following browsers, but some contents may not be displayed properly.
For Windows users:
Microsoft Edge, Google Chrome, Mozilla Firefox
*Support for Internet Explorer has ended for the Members Site (based on Wordpress 5.8).
For Macintosh users:
Safari, Google Chrome, Mozilla Firefox

We also recommend having JavaScript and Cookies enabled.
Contact
Membership Department
International House of Japan
Tel: 03-3470-9115 (Mon.-Fri. 9:00 am - 5:00 pm)
Fax:03-3470-3170