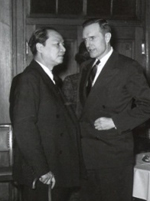 John D. Rockefeller III and Shigeharu Matsumoto, co-founders of I-House, first met in 1929, when John was 24 and Shige was 30 years old. They recognized the importance of the cultural dimension within international affairs, which tended to be viewed primarily in political and economic terms at that time. After World War II, they worked together for the promotion of mutual understanding and peacebuilding through cultural exchange. Today, the Asia Pacific region is located at the very center of the most significant geopolitical shift in the world. 
By 2030, the Asia Pacific region will account for over two-thirds of global GDP. The largest four economies of the world—the US, China, Japan, and India—will be from the region. Young leaders from the region will have disproportionate influence on, and thus responsibilities for, shaping the world. How deeply young leaders understand each other's country, and how they are able to envision a common future of peace and prosperity as Rockefeller and Matsumoto did, will have a profound impact on the world. We need to deepen the ties among young leaders from the Asia Pacific.
Through its Asia Pacific Young Leaders Program (APYLP), the International House of Japan (I-House) and its partnering institutions connect participants of young leaders programs across the region to work together to envisage a common future for this new world. I-House provide a "home in Japan" where young leaders across various programs and stakeholder groups can periodically gather to discuss and shape the future of the region, and in the process deepen their ties.
To further this process, joint sessions will be held in Japan and throughout the Asia Pacific.
Hosted by:
International House of Japan
Partner Institutions:
American Friends of the International House of Japan, Asia Society, Mitsubishi UFJ Research and Consulting Co., Ltd., Shahani Associates Ltd.
Supported by:
United States-Japan Foundation, MRA Foundation
Leadership programs represented by APYLP partner institutions
Asia Leadership Fellow Program (ALFP) / International House of Japan; Japan Foundation Asia Center
The Asia Leadership Fellow Program provides selected leaders in Asia with the opportunity to reside for approximately two months at I-House and engage in collaborative activities and discussions on common subjects pertinent to the region. Through such intellectual dialogue, the program aims to promote regional and transnational understanding and cooperation, and the creation of a close personal and professional network among public intellectuals in Asia. Fellows represent diverse professional backgrounds, including academia, journalism, publishing, law, education, the arts, NGOs and nonprofit activities.

Asia 21 Young Leaders Initiative / Asia Society
The Asia 21 Young Leaders Initiative crosses geographic and sectoral boundaries, and creates an enabling environment for the members of the network to leverage Asia 21 expertise for greater positive impact across the Asia-Pacific. A network of diverse change-makers (under the age of 40), united by a shared commitment to shaping a brighter future for the Asia-Pacific region, Asia 21 provides a catalytic platform where young leaders form lasting relationships and enrich each other's endeavors through mutual learning and effective collaborations.

Japan-India Distinguished Visitors Program / International House of Japan; Shahani Associates Ltd.
The Japan-India Distinguished Visitors Program was launched in 2012 commemorating the 60th anniversary of Japan-India diplomatic relations, with the hope to strengthen the relationship between the people of both countries. The program invites eminent Indian public figures from various fields who are proposing new values or innovative ideas to change the status quo of society. During their stay for a week, the fellows engage in a public lecture, as well as dialogue and discussions with the counterparts and leaders who are tackling similar issues in Japan in their area of expertise.

Next Generation Fellows Program / American Friends of the International House of Japan (AFIHJ)
The Next Generation Fellows Program provides a generous three-year support for promising young American leaders to play an active role in the dynamic International House of Japan community. The scholarship seeks leaders in some aspect of U.S.-Japan relations aged 42 or under who are living in the U.S., putting a particular emphasis on leaders from the academic, non-profit, artistic, journalistic, or public sector. The program is funded and administered by the American Friends of the International House of Japan.

Nitobe Leadership Program / International House of Japan
The Nitobe Leadership Program, started in 2008, provides a series of interactive sessions with prominent individuals exercising leadership in their respective fields with the aim of training young professionals from various sectors to become public-minded leaders equipped with a broad perspective and able to function effectively in intercultural settings. The program provides a platform for the fellows of various backgrounds to exchange ideas and reexamine their visions of a better future.

United States-Japan Leadership Program (USJLP)/ United States-Japan Foundation
The United States-Japan Leadership Program was established in 2000 to develop a network among next-generation leaders from wide-ranging fields in the U.S. and Japan, aiming to foster a continuous dialogue. It meets annually in the U.S. or Japan bringing together some 20 young leaders, ages 28-42, from each country for two intensive weeklong conferences over two years, with discussions revolving around mutual issues in bilateral relations, as well as issues reaching beyond the two countries. The vibrant network has grown to a tight community of fellows who actively self-organize regular study sessions and collaborate on academic/educational projects throughout the year.