Speaker: Kengo Kuma (Architect)
Moderator: Hiroaki Miyata (IHJ Board Member/Professor at Keio University)
Release Date:February 24, 2022
Organizer: International House of Japan (IHJ)
Co-organizer:Asian Cultural Council (ACC)
Sponsors:Jyukankyo Foundation, MRA Foundation, Nikken Sekkei Ltd., Shimizu Corporation, The Tokyo Club
The International House of Japan (IHJ) and the Asian Cultural Council (ACC) are proud to present Architalk Webinar Series, an online series analyzing the role of architecture within the context of contemporary, global themes.
We aim to highlight how architecture both reflects and responds to critical issues around the globe—exploring the societal impact of environmental, social, cultural, and economic issues through the lens of architecture, public spaces, and the arts.
Both founded by John D. Rockefeller 3rd, IHJ and ACC are committed to advancing international understanding, dialogue, and respect across Asia and the United States. We have partnered with renowned architects and artists to join us for this six-part series featuring ACC alumni, including: Kengo Kuma (ACC 1985, 2019), Kohei Nawa (ACC 2004), Lawrence Chua (ACC 2015), Pen Sereypagna (ACC 2012), Savinee Buranasilapin (ACC 2017), Sarah Sze-Wa Mui (ACC 2016), and Jusuck Koh (ACC 1978, 1979).
The series will launch in early 2022. Stay tuned for more!
Archive Video
This video has English subtitles. Go to Youtube Help for more details.
Kengo Kuma (Architect)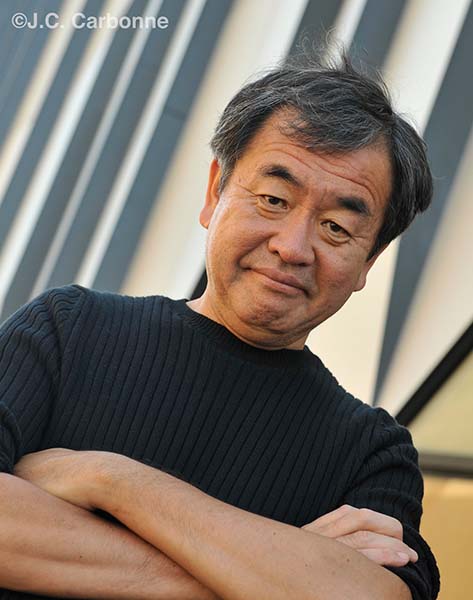 Kengo Kuma is the founder of Kengo Kuma & Associates, established in 1990, and is currently a University Professor and Professor Emeritus at his alma mater, the University of Tokyo. Inspired by Kenzo Tange's Yoyogi National Gymnasium, built for the 1964 Tokyo Olympics, he decided to pursue architecture at an early age. He received his master's degree in architecture from the University of Tokyo in 1979, where he studied under Hiroshi Hara and Yoshichika Uchida. During his graduate studies, he embarked on a research trip exploring and observing the unique power and beauty of villages and settlements across the Sahara. In 1985, he received an ACC Fellowship to serve as a visiting scholar at Columbia University's Graduate School of Architecture and Planning and interview architects across the United States. Following this experience, he established his office in Tokyo. In the years since, Kengo Kuma & Associates has designed architectural works in over thirty countries and received prestigious awards, including the Architectural Institute of Japan Award, the Spirit of Nature Wood Architecture Award (Finland), and the International Stone Architecture Award (Italy). Kengo Kuma & Associates aims to design architecture which naturally merges with its cultural and environmental surroundings, proposing gentle, human scaled buildings. The office is constantly in search of new materials to replace concrete and steel, and seeks a new approach for architecture in a post-industrial society.
In 2019, Kengo Kuma received the John D. Rockefeller 3rd Award, ACC's most prestigious award recognizing outstanding professional
achievement and significant contributions to the international understanding, practice, or study of the visual or performing arts of Asia.
Hiroaki Miyata (Professor, Keio University/ Board Member, International House of Japan)
Specializing in data science and healthcare policies, he has been involved in the developments of various health-related projects including the National Clinical Database, a clinical registry database involving 5,000 hospitals all over Japan, and more recently, nationwide COVID-related Line surveys led by the Ministry of Health, Labor and Welfare. He also works with the World Economic Forum and the Japan Business Federation (Keidanren) to create a new social vision, and is a Thematic Project Producer of World Expo 2025.