IHJ Commemorative Arts Installation 
Adam Frelin: White Line for Tokyo Roy Staab: Nogiku
To commemorate the renewal of the International House of Japan and its long association with the US-Japan Creative Artists Program, the I-House is sponsoring, with funding from the Japan-US Friendship Commission, a special installation project for the garden. Two former artists of this program, Roy Staab and Adam Frelin, will create a pair of original sculptural installations that will be exhibited from March 1st to May 6th.
Staab's work, consisting of organic materials found in nature and re-arranged in geometric shapes, will contrast with Frelin's modern, electric installation. Both works will emphasize the relation of the garden to the architecture and the long role of the House as a space for transformative cultural experiences. An Artistsf Forum will be held in advance of the installation opening.
Exhibition Period: Thu, March 1st – Sun, May 6th, 2007 10:00 am – 10:00 pm
Venue: Garden, International House of Japan
*Staab's piece, "Nogiku," will be completed by 15th March. Visitors are welcome to observe the work-in-progress until then.
Artists' Forum
Adam Frelin and Roy Staab talk about their work
Venue: Lecture Hall, International House of Japan
Admission: Free (reservations advised)
Language: English (with Japanese interpretation)
Both the installation project and Artists' Forum program are supported by The Japan-US Friendship Commission and the US Embassy.
IHJ Japanese Music Series Vol.3
Song, Story and Shamisen :Tokiwazu and the Soul of Japanese Music
Performers: Eiju Tokiwazu and others.
Date: Time: Friday, February 9, 2007, 7:00 pm
Admission: Regular Rate: 3,500 yen, Students: 2,000 yen, Discount Rate*: 2,500 yen


*Discount rates are applicable for IHJ members.


Venue: Iwasaki Koyata Memorial Hall, International House of Japan
Language: English and Japanese
Programs: "Tsuri-Onna,""Noriai-Bune,""Shamisen Duet,""Okimi" and others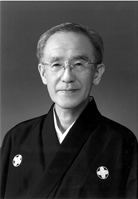 From tragic love stories and suicides to humoresque vignettes with lively urban melodies, nothing captures the sentiments of pre-modern Japan more eloquently than Tokiwazu, a 270 year old genre that deftly combines song, narration and shamisen. Known mainly for its role as music that accompanies the kabuki theater, Tokiwazu expresses the pathos, humor and longings of the times. The International House of Japan will present a program of both traditional and contemporary Tokiwazu music, featuring the Living National Treasure and Japanese Art Academy member Eiju Tokiwazu who is also a long-time I-House member. Live performances will be augmented by explanations in both English and Japanese.
*This program is the third in a series of the IHJ Japanese Music Series, offering the best of traditional music with explanations and introductions
for the foreign (and Japanese) audiences.
IHJ Concert Lecture Series
Music Born from Poetry
Nineteenth Century German Lied Cycle
Piano & Talk: Karin Mikami Baritone: Tetsuo Ogawa
Venue: International House of Japan New Hall
Language: Japanese (with English notes)
Concert No. 1 November 6, 2006 (Mon.) 7:00 pm
Dichterliebe (Poet's Love), Poetry by Heinrich Heine, Music by Robert Schumann
Concert No. 2 December 15, 2006 (Fri.) 7:00 pm.
Die Schone Muellerin (The Fair Maid of the Mill), Poetry by Wilhelm Muller, Music by Franz Schubert
Admission:
Single Concert: Regular Rate: 4,000 yen (3,500 yen advanced sale)
*Discount Rate: 3,000 yen (2,500 yen advanced sale),
Students 2,000 yen
   Two-Concert Series: Regular Rate: 6,500 yen (6,000 yen advanced sale)
*Discount Rate 4,500 yen (4,000 yen advanced sale), Students 3,000 yen


*Discount rates are applicable for IHJ members.
The German Lied cycle represents the pinnacle of 19th Century European art music. The poetry gives birth to the music, and the piano augments and enlivens the words. The fusion of words and music in the German Lied reflects the literature, history, folk beliefs and religion of the times. In this series of two concerts Karin Mikami and Tetsuo Ogawa will guide us through the lyrics and music of Poet's Love and The Fair Maid of the Mill, two of the most interesting Lied cycles.
挿絵: Das Muhlenleben, Wood engraving, after a drawing by Rudolf Schuster (1848-1922)
Performer's Profiles:
Karin Mikami (Piano and explanations)
Mikami graduated from the piano and education faculty, Munich National University and furthered her studies in piano performance at the London Royal Academy of Music. She has been in Japan since 1968, and in 1996 received her doctorate in humanities from Ochanomizu Women's University. She has lectured at the Graduate Studies Department of Kunitachi College of Music, Aoyama Gakuin, Sophia University and presently teaches at the Goethe Institute and is a professor emeritus at Jin'ai Women's College.
Tetsuo Ogawa (Baritone):
Ogawa graduated with a MFA degree in German Lied at Kunitachi College of Music and attended the Agency for Cultural Affairs Opera Course. He studied with various masters such as Yasusuke Hatano, Eric Werba and Klaus Ocker. He performed with the Tokyo Niki-kai Foundation, the Tokyo Chamber Opera Theater, and the Nissei Theater. Recently he has joined with pianist Karin Mikami to present German Lied in various lecture concert settings. He presently teaches at Kunitachi College of Music, Sophia University and Kichijo Women's High School.
IHJ Concert Series
The Traditional & Contemporary in the Present
Featuring Japanese Music by Non-Japanese Composers
Date: October 20, 2006 (Fri) 7:00 pm
Venue: New Hall, The International House of Japan
IHJ Members or Aura-J Tomo no Kai members, 3,000 yen (2,500 yen advanced sale)


*Discount rates are applicable for IHJ members and Aura-J Tomo no Kai members

 
Aura-J members: Seizan Sakata (shakuhachi), Reiko Kimura (21 stringed koto),Christopher Yohmei (shakuhachi), Erina Matsumura (koto), Yuko Kuwako (17 stringed koto), Tetsuya Nozawa (shamisen), Michie Kobayashi (koto)
Guest performers: Mika Kimula (voice), Hitomi Nakamura (hichiriki), Kaho Tosha (percussion)
Program: Godan Ginuta (traditional koto duet) by Kengyo Mitsuzaki
Hymn for Lou and Bill (shakuhachi & hichiriki)by Edward Schocker
but the rain… (shakuhachi & twenty-one stringed koto) by Peter Askim
The Distant Cry of the Deer (traditional shakuhachi duet)
Forbidden Circles (for female voice, shakuhachi , 17 stringed koto, percussion) By Byron Au Yong
Chiru (shakuhachi & shamisen), by Takeo Kudo
Hanayagi (koto), by Minoru Miki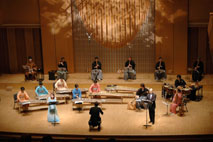 Aura-J is a group of highly disciplined musicians performing on Japanese instruments. Founded in 1998 by the composer Minoru Miki, shakuhachi player Seizan Sakata and koto player Reiko Kimura, Aura-J performs several concerts yearly and focuses on contemporary music written for traditional instruments and often includes guest performers of various Asian ethnic instruments. Aura-J's performances offer the best of both worlds: tradition combined with the modern. http://www.ora-j.com/
IHJ Artists' Forum
Exhibition & Artists' Talk
Dean Sameshima -Impromptu Work in Progress
Obsession, Retribution, Appropriation, Obliteration, Depression, Distribution, Confusion, Collaboration, Isolation, Annihilation
Exhibition period: August 3- August 26, 2006, gallery.sora
Open: Thu-Sat, 2-7pm- (map at http://www.gallerysora.com)
Artists' Talk (IHJ Artists' Forum): Sat. Aug. 26, 7:30
Place: gallery.sora. Address : 1-25-1, Shinkawa, Chuo-ku, Tokyo
Telephone : 03-5542-3615 Website : http://www.gallerysora.com

Artists' Talk (IHJ Artists' Forum)

Sat. Aug. 26, 7:30
Place: gallery.sora. Address : 1-25-1, Shinkawa, Chuo-ku, Tokyo
Telephone : 03-5542-3615 Website : http://www.gallerysora.com

The International House of Japan, in association with Taka Ishii Gallery and gallery.sora, are pleased to announce a new project by Los Angeles based artist Dean Sameshima. Presently in Japan on a 6 month US / Japan Creative Artist Residency, Sameshima is spending his final two months working on an exhibition within the space of gallery. sora. From Thursday, August 3, gallery.sora will be open to the public during regular gallery hours (2-7pm). Deanfs working process will continue during the month of August and visitors to the gallery may happen upon the artist at work, may find an installation in progress, or perhaps
view a completed body of work. The exhibition content will not be fixed in advance of or during the exhibition itself. A closing party and
Artists' Talk to celebrate the conclusion of Sameshima's residency in Tokyo and the close of the exhibition will be held on Saturday, August 26, from 7:30 PM.

Dean Sameshima -work is firmly rooted in a West Coast conceptual photographic tradition. Sameshima utilizes a conceptual vocabulary to mine intimate terrain. The artist's structural / conceptual devices include repetition, seriality and appropriation; a selection of past photographic series includes the documentation of anonymous landscapes and architectural facades (in fact sites of covert sexual activity), the re-photography of images published in fashion magazines (objects of idealized self-identification), as well as the appropriation of "self portraits" from internet websites.
Dean Sameshima's work has been featured in museum exhibitions including "Log Cabin", Artists Space, New York (2005), "Will Boys be Boys?", a traveling exhibition organized by Whitney Museum of Art curator Shamim Momim (2004-present) and "LA on My Mind : Recent Acquisitions," Museum of Contemporary Art, Los Angeles (2002). An artist's monograph, "Dean Sameshima" was published in Japan by fashion label Hysteric Glamour (2002). Vitamin(PH) upcoming (Phaidon Publishing)

IHJ Artists' Forum 
Experimental West Coast Music and its Flirtation with Asia
Talk/CD Concert by Edward Schocker


Saturday, June 10, 2006 6pm at Youkobo Art Space

Japan-US Friendship Commission Creative Artist composer Edward Schocker will explain the contemporary trends and history of West Coast American Music, using excerpts from CD recordings and a live performance to demonstrate and enliven the subject. This artist talk will illustrate how the West Coast (especially California) became a land where composers could break away from European trends and create a musical style of their own. By presenting musical examples and the philosophies of important 20th Century composers like Colin McPhee, Henry Cowel, Harry Parch, John Cage, Lou Harrison and their experiments with Indonesian, Japanese, Korean and other Asian music, Edward will show why this area is one of the creative centers of the world. No prior knowledge of music will be needed to enjoy this artist talk. Come with open ears.
The lecture will be in English with Japanese translation. The venue and co-sponsor is Yukobo Art Space Admission is free but reservations should be made through the International House of Japan (Tel: 03- 3470-3211; Fax: 03-3470-3170).
This program is funded by the Japan-Us Friendship Commission.

Youkobo Artspace : 3-2-10 Zenpukuji, Suginami-ku, Tokyo, 03-5930-5009. From the north exit of Nishi Ogikubo Station, JR Chuo Line, take the Oizumi Gakuen or Kamishakuji Bus from bus stop No. 2. Youkobo is right in front of the Zenpukuji stop. http://www.youkobo.co.jp/

IHJ Artists' Forum  
Marco Breuer
Notes, Queries
Talk and slide presentation by the artist

Friday, April 21, 2006, 7 PM
International House of Japan Lecture Hall Map
(Co-Sponsored by the Tokyo-American Center)
Admission free (reservations requested)

Marco Breuer makes photographs without using a camera. The German-born, New York-based artaist works with photographic paper directly, subjecting it to a range of destructive forces. Using slingshots, razor blades, paint strippers, and hot coals, Breuer creates photographic prints that are direct records of physical interaction with the material. Instead of pictures that illustrate something outside of themselves, we are confronted with images that speak of their own coming-into-being. In this slide lecture Breuer will discuss his work, his book SMTWTFS, and his most recent exhibition in New York City titled Notes, Queries. Marco Breuer has exhibited widely throughout the United States and Europe. His work is in numerous collections, including the Museum of Modern Art in New York; the New York Public Library; the San Francisco Museum of Modern Art; and the Staatsgalerie in Stuttgart, Germany. He teaches in the MFA program at Bard College. His publication SMTWTFS received wide critical acclaim and a Photo-eye Award for Best Photography Book of 2002. He is currently in Japan on a Japan-US Friendship Commission /NEA Creative Artists Exchange Fellowship.

Commemorative Concert Celebrating the International House of Japan Re-Opening
An Evening of Gagaku Music

Although gagaku, the traditional ensemble music and dance of the Japanese Imperial court, has changed significantly during its thousand year plus history in Japan, its intriguing rhythms, elegant dances and fascinating instrumental timbres still hold deep enchantment and appeal to the modern ear. To help celebrate the re-opening of the IHJ and renovation of its main structure, the renown gagaku performance group, Reigakusha, will perform a program of traditional and contemporary gagaku music. Explanation of the pieces and instruments will be provided in both English and Japanese. Come enjoy this stunning music while viewing the IHJ garden in the splendor of early April.

Date: April 11 (Tuesday), 7:00 PM (Doors open at 6:30)
Place: Downstairs Banquet Rooms, the International House of Japan
Program: Etenraku, Ichikostu-cho Netori, Ranryo-Ou, Shukoshi, etc.
Admission: Regular Rate: 4000 yen advance purchase, 4500 yen at the door
*Discount Rate: 2000 yen, advance purchase, 2500 yen at the door (members can bring one guest at discount price)


*Discount rates are applicable for IHJ members.

Ordering tickets: Please call or mail the Program Office with the number of tickets requested. We will send a postal transfer form, which can be paid at any post office. The receipt can be exchanged for tickets at the door (Please order by April 4th.)