Date: Saturday, October 27, 2012, 3:00 pm (doors open at 2:30 pm)
Venue: Garden, International House of Japan
Admission: 3,000 yen (under 30, IHJ Members: 2,000 yen)
Supported by the Asian Cultural Council (ACC), Kosakusha, Research Center for the Arts and Arts Administration, Keio University

*Will be held rain or shine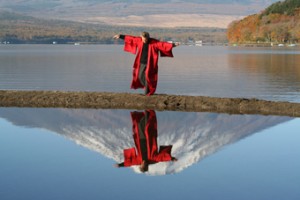 This year marks the sixtieth anniversary of the International House of Japan. Since its founding, the I-House has devoted its efforts to transcending cultural boundaries to promote intellectual exchange and true international understanding. Dancer Min Tanaka will present a dance commemorating the I-House as a crossroad of culture. The dance will take place in the famed I-House garden, designed by the legendary Kyoto gardener Ogawa Jihei VII. The I-House building, next to the gardens, was erected by three of Japan's most representative post war modernist architects. Such a convergence of landscape and architectural magnificence creates an appropriate stage for the transcendental, worldly style of Tanaka's dance.
Photo (C) Shiho Ishihara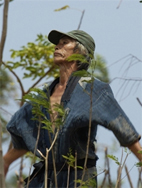 Min Tanaka
Born in 1945 and trained in classical ballet and modern dance, Mr. Tanaka is an avant-garde dancer and experimental choregrapher who was deeply inspired by Tatsumi Hijikata, the founder of Ankoku Butoh, Dance of Darkness. He started his own original solo work in 1966 and developed his unique style of dance performance called "Hyper Dance" in the 1970s. In 1981, he formed the Maijuku Dance Company. Later, he established the Tokason Agricultural Association Corporation and the Body Weather Farm to explore the origin of dance and essence of art through human engagement with nature and agriculture. After the phenomenal success of his international appearance at the "MA-Space/Time in Japan" Exhibition in 1978 which took place at the Louvre Museum, Paris Autumn Festival, curated by architect Arata Isozaki and composer Toru Takemitsu, for more than three decades, he has been actively involved in various collaborative works throughout the world in Europe, the United States, and former socialist and Third World regions. These activities as an acclaimed dancer have been beyond disciplinary as well as national boundaries with renowned artists, musicians, architects, photographers, writers, and philosophers including John Cage, Yoko Ono, Susan Sontag, Colin Wilson, Felix Guattari, and Cecil Taylor. Recently, he has been very active as an actor also. Among the many honors he has received is the Chevalier des arts et des lettres of France.
http://www.min-tanaka.com
Photo (C) Daizaburo Harada