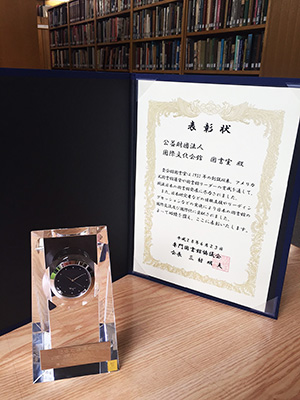 The I-House Library has received the Award for Organizations of Distinguished Services 2016 from the Japan Special Libraries Association.
JSLA, also known as Sentokyo, is a nationwide organization consisting of some 420 institutions including governmental authorities, local assemblies and the libraries and information centers of private organizations to promote professionalism and cooperation among special libraries.
The Library was recognized for its long-time contribution to the development and internationalization of postwar Japanese libraries since its establishment in 1953, as well as for its more recent endeavors to expand intellectual networks through such new attempts as its reading sessions and joint book expositions in collaboration with other special libraries.
We are very honored to receive this award and will continue to do our best to serve our patrons.