This event now concluded. Report available here.
*This event has finished. A report on this lecture is available.
Lecturer: Matsuyama Daiko (Deputy Priest, Taizoin Zen Buddhist Temple, Kyoto)
Date: Saturday, October 1, 2016, 1:30-3:00 pm
Venue: Lecture Hall, International House of Japan
Language:

Only available in Japanese

(without English interpretation)
Admission: Free

(reservations required)
In a world ridden with conflict in the name of religion, Matsuyama Daiko suggests the open and tolerant religious attitude of the Japanese as one way of overcoming such problems. He has organized Asia's first "InterFaith Marathon," and continues to lead various activities bridging different religions. As Zen Buddhist priest, he will speak on conflict in today's world and how we can arrive at possible solutions.
What is the "Nitobe Leadership Program"?
The Nitobe Leadership Program (Nitobe Kokusai Juku in Japanese) started in 2008 to train young professionals from various organizations and corporations to become public-minded leaders, equipped with a broad perspective to function in an international environment both in and outside the country. The program invites professionals of various fields to speak on their experiences, allowing participants (Nitobe Leadership Fellows) to deepen their understanding of such themes as globalization and leadership. This year, Fellows consider the theme, "The World of 2030: Initiatives Toward a New Society." Some of the lectures are open to the general public.
Report
Myoshinji Taizoin is a small, ancient Buddhist temple in Kyoto that has drawn visitors from around the world who want to experience zazen meditation and Japanese culture. The deputy priest at Myoshinji Taizoin, Matsuyama Daiko, has been the driving force behind organizing a number of such initaitives at the prestigious temple. Matsuyama has been involved in not only interfaith exchanges but also a broad range of activities that go beyond the framework of religion, such as his participation in the World Economic Forum. And during his talk he discussed the religious outlook of the Japanese people and the relation between contemporary religion and society.
Matsuyama was born the eldest son of the head priest of Myoshinji Taizoin. Although he was brought up in an environment where it was predetermined that he would one day take over the temple, his parents, rather surprisingly, decided to send him to a Catholic junior- and senior high school. As a university student he visited Ireland, and some of the local people he met there were taken aback that someone raised in a Buddhist family would be sent to a Catholic school. It is not unusual in Japan, however, for people to enjoy Christmas cake but at the same time to hear the bells being rung at Buddhist temples on Omisoka (New Year's Eve) and then pay a visit to a Shinto shrine on the following day. This eclectic approach might seem strange from the perspective of other countries, but Matsuyama believes it is a great asset of Japanese culture.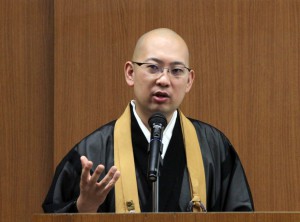 At a time when the international community faces conflict and intolerance, Matsuyama believes that Japanese people should confidently convey to other people their flexible attitude toward religion, reflected in the Japanese Buddhist concept of the non-duality of things, or funi in Japanese. As one example of what he would like to convey, Matsumyama points to the radio show he particpated in named "Eight O'Clock! Gods and Buddha," where clergy of different religious denominations took calls from listeners and gave advice regarding their problems. Another initiative he pointed to was the Inter Faith Ekiden marathon, where runners from different religious backrounds competed together on the same team.
Just prior to his lecture, Matsuyama attended a conference of world religious leaders at Assisi in Italy. He said that there was far less local media coverage of the event than in the past, which gave him a keen sense of how Europeans are drifting away from religion. At the summit, Pope Francis stressed that priests, monks, imams, and other religious figures need to reach out to others, and that it is important to share their thoughts using their own words, rather than preaching religious dogma, when approaching those who are not interested in religion. In response to the comments by the Pope, Matsuyama pointed out that it is necessary for religious figures to make more effort in building up and putting into practice their own religious "experience."
Matsuyama has been emphasizing the need not only for interfaith dialogue, but also for interaction with scientists. His motivation for this approach stems from the 2011 nuclear disaster in Fukushima. During his talk, he said with regret that religious persons should have made more effort to study science. "It is too late," he added, "if we wait until a technology has already been created and taken root in society." In recent years, there has been prominent technological innovation in the germline field, such as iPS cells. Although Matsuyama recognizes the amazing aspects of these cutting-edge technologies, he stressed the difference between "what can be done" and "what we choose to do." He pointed to this as one example of an area where religious people and society at large can think together and coexist.