In addition to the print version, some extra content is available here.
Book Review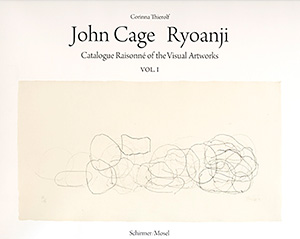 John Cage: Ryoanji
Catalogue Raisonné of the Visual Artworks, Vol. 1
Edited by Corinna Thierolf
Munich: Schirmer/Mosel, 2013.
240 pages, hardback.
John Cage is principally known as one of the great postwar American composers. His engagement with Zen is well known, as is his love of mushrooms. Less known is his visual art, a great body of etchings, watercolours, and drawings. In this first of three volumes of his complete visual artworks, Corinna Thierolf, curator of postwar art at Munich's Pinakothek der Moderne, reproduces the complete series of 170 pencil drawings "Where R = Ryoanji" that occupied Cage over the last decade of his life.
Cage began work on the series in January 1983 and continued working on it until his death in 1992. The initial impulse came from the French publishing house Editions Ryoan-ji, which asked him to create the cover for a French translation of his own Mushroom Book. However, the seeds of the series had been sown decades earlier, when Cage was studying Zen with Suzuki Daisetsu in the late 1940s, and especially when he visited Ryoanji's famous rock garden in Kyoto in 1962. The Zen garden—a rectangle of raked sand in which fifteen larger rocks are set—created a lasting impression on Cage.
All of the "Ryoanji" drawings consist of rectangular fields onto which the outlines of fifteen (or a multiple thereof) stones are traced. The choices of which stones to trace in which positions on the paper and which pencils to trace them with were all selected using chance procedures, chance being Cage's answer to Zen's call to kill one's own ego. There are further resonances with Zen, in both the shades-of-grey color scheme which calls to mind the sumi-e tradition, and in the rock shapes which evoke the enso circle motif prevalent in Zen art.
Cage also wrote four music scores called Ryoanji, which can be played by themselves or in any combination to create duos, trios, or a quartet. In these, Cage only traced section—rather than the whole—of the stones' shapes onto a grid indicating pitches over time. A percussion part accompanies the soloist(s) with conventionally-notated rhythms, aurally mirroring the regular lines of sand in Ryoanji's garden.
The history of these drawings, their connection with Zen, their method of creation, and their relationship with Cage's music are set out in a series of six short essays by Thierolf that precede the plates. In the end, however, the works speak for themselves. They demonstrate that Cage was as visionary an artist as he was a composer.
(Daryl Jamieson, composer; adjunct professor, Sophia University;
IHJ library member)