In addition to the print version, some extra content is available here. This time we present a full version of the essay contributed by Mr. Peter Grilli, President Emeritus of Japan Society Boston and longtime member of I-House.
My Second Home
by Peter Grilli
---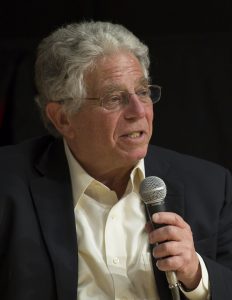 International House of Japan has been a "second home" for me and an important part of my life and work for nearly as long as I can remember. Looking back, my first encounter with the House dates from my school days in the mid-1950s, when I was taken there by my parents. My father, as a cultural-affairs officer in the postwar Occupation administration, had come to know and admire founder Shigeharu Matsumoto as early as 1946, and when I-House was established in the early 1950s he and my mother numbered among its earliest members. Later on, my mother—who was an art historian specializing in Japanese art—lectured regularly at the House, and I (as her unpaid assistant) often carried her slide projector and handled her art slides.
Though I had been living in Japan since 1947, little did I imagine at that point that my life's work would eventually become so focused on Japan and Japanese-American cultural exchanges, and consequently so intimately involved with International House. I left my home in Tokyo in 1959 to enter Harvard College as an undergraduate; though my passport identified me as a U.S. citizen, I remember feeling very much like a foreign student and wishing that I had taken advantage of I-House's programs in American studies to help me better understand my alien "homeland." Whenever I returned to Tokyo for school vacations or periods of research, the well-stocked library at International House was a haven for me, providing all the books and periodicals that I needed for my deepening study of Japan. Later, as an editor at Weatherhill publishing company (located just down the street in Roppongi), the library became professionally essential as a research source, and I-House was the venue of occasional book launches or publication parties.
Still later, when I was a program director at the Japan Society in New York, I-House was an indispensable partner as I worked closely on intellectual-exchange programs and various bi-national or multi-national cultural conferences and other projects. A highlight of that period was the 1982 second Hakone Conference, in which the Japan Society and I-House collaborated in bringing together leading Japanese and American artists of all sorts for an intensive series of discussions and exchanges.
Throughout my career, I-House has been important to me in many, many ways. Most vital, of course, have been the myriad friendships and personal encounters taking place there. Since the days of Matsumoto-sensei, successive I-House leaders—Maeda Yoichi, Nagai Michio, and Akashi Yasushi—have befriended me, encouraged me and inspired me. Close friends have been married at the House, and following my father's death in 1990 (after forty-five years of residence in Tokyo) I-House helped organize a memorable shinobu-kai and reception in his honor.
Nearly all of the documentary films about Japan that I have produced have had their Japanese premieres there. When my very first film, Shinto: Nature, Gods, and Man in Japan, was introduced at I-House in 1977, I was delighted to find in the audience the distinguished French cultural anthropologist Claude Lévi-Strauss, who was then staying at the House as an intellectual-exchange fellow. My most recent film, called Paper Lanterns (about Hiroshima and the American POWs killed by the A-bomb in 1945), was shown at the House in April 2016, an event co-sponsored by the U.S. Embassy, which was then preparing for President Obama's historic visit to Hiroshima the following month.
It is impossible to sum up in a few paragraphs all that I-House has meant to me as a personal and professional "home," and words cannot fully express my gratitude to the individual leaders and staff members who have made I-House the superb institution that it has been for more than six decades. As a younger resident of I-House, eager to explore Tokyo's exciting nightlife, I may have grumbled occasionally about the mongen or curfew that forced me back to the House by midnight. Now, in my mid-seventies, I grumble no more: the mongen has long since been abandoned and I am always grateful for the warm I-House bed awaiting me at 9:00 pm following a long, busy Tokyo day. In every conceivable way, I-House has truly been my Japanese home-away-from-home, and I am perpetually grateful for that!
Peter Grilli is President Emeritus of the Japan Society of Boston. Earlier, he served as a program director at the Japan Society (NY) and as Executive Director of the Donald Keene Center of Japanese Culture at Columbia University.