*This event has finished.
Lecturer: Tzvetana Kristeva (Professor, International Christian University)
Date: Monday, October 2, 2017, 7:00-8:30 pm
Venue: Matsumoto-Kabayama Room, International House of Japan
Language: English (without Japanese interpretation)
Admission: 1,000 yen (500 yen for students; Free for IHJ members and guests staying at I-House on October 1 or 2)
Seating: 80

(reservations required)
We are offering sessions for those interested in learning about Japanese culture in English. This time, we will be inviting a Bulgarian scholar of Japanese classical literature, Professor Kristeva, to talk about the beauty of waka poetry, the main media of communication one thousand years ago, with a focus on The Tale of Genji. She will follow the correspondence between the polyvalent poetic expressions and the ambiguities of the human heart.
Tzvetana Kristeva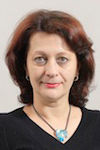 Tzvetana Kristeva is a Bulgarian scholar of classical Japanese literature and the semiotics of culture, with an MA from the University of Moscow and PhDs from both the University of Sofia and University of Tokyo. She has published, in Japanese, a book on the poetic language of classical Japanese literature (
Namida noshigaku
[The Poetics of Tears], Nagoya University Press, 2001) and a book on Japanese ancient thought interpreted through
waka
poetry (
Kokoro zukushi no nihongo
, Chikuma Shinsho, 2011). With Donald Keene, she published
Nihon no haiku wa naze sekai bungaku nanoka
[Why is Japanese Haiku World Literature?], Zen Shobo, 2014).
Professor Kristeva has been affiliated with several major universities such as Sofia University, Chukyo Women's University (currently known as Shigakkan University) and the University of Tokyo. She is currently professor of classical Japanese literature at International Christian University.
She translated both The Pillow Book (Makura no soshi) and Tsurezuregusa [Essay in Idleness] into Bulgarian in the 1980s, when Bulgaria was still behind the Iron Curtain, closed to the West, and translations of foreign literature were thus considered vital sources of information. In a country with a population of less than nine million people, both volumes enjoyed large print runs of 40,000 copies each, which were subsequently sold out.
---