Lecture Hall
The Lecture Hall in the annex are available for conferences, lectures and large and small group studies.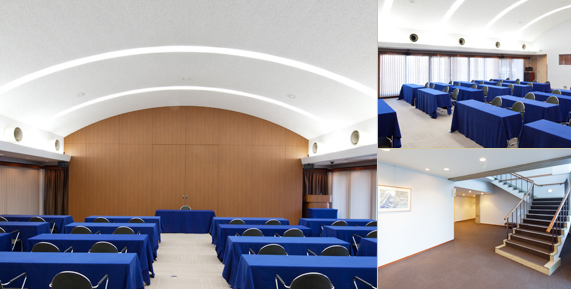 Location
Annex 2F
Size (sq.m)
145 m²
Capacity
Hollow-square style
50
Classroom style
80
Theater style
120
Room rates
Time slot
Regular price
Special price*
9 am-12 pm
1 pm-5 pm
6 pm-9 pm
80,300 yen
64,240 yen
full day
214,500 yen
171,600 yen
1 additional hour
27,500 yen
22,000 yen

The prices include consumption tax and are subject to a 10% service charge.
*Special price is applicable for IHJ members and those whose use of facilities meets the criteria of the public interest purposes of the I-House. Please contact the I-House for further information.
Audio equipment and alcoholic beverages are not available.
Request for a change in room layout is subject to an additional 20% charge.
(As of 1 April, 2023)
Reservations and Inquiries
Banquet Reservations
International House of Japan
TEL: 03-3470-4616 (10:00-18:00, Closed on Sundays & Holidays)
FAX: 03-3470-3210