From the Chairman
From the Chairman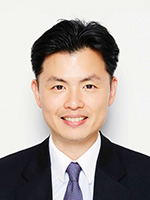 The International House of Japan will celebrate its 70th anniversary in 2022. The end of the second world war saw in Asia the independence of India, the birth of the People's Republic of China, and the eruption of the Korean War. It was at such a turbulent time that individuals from Japan and the U.S. founded I-House to help Japan return to the international community with the signing of the San Francisco Peace Treaty.
Within the liberal international order that subsequently emerged, Japan grew to become one of the most developed nations in the world. Japan, in turn, has strengthened the international order by advancing freedom, democracy and human rights in the world, thereby contributing to over half a century of peace and prosperity in the Asia Pacific region. I-House has played an essential role in this history, and all of us should be proud of this legacy.
Today, the international order is under threat. We are once again entering a period of instability with U.S.-China tensions, the rise of nationalism, growing protectionism, increased income disparity, and rapid advances in technology.
It is precisely at such difficult times, when governments find it difficult to work with each other, that we need institutions that can invest in people-to-people dialogue and collaboration across countries. I-House is uniquely positioned to play this role in Japan as a private, independent and international organization with the trust of stakeholders across countries. This is the historic role that I-House has played, and it is the role that I-House must play into the future.
We are grateful to our members who support our work. Our members are intellectual, international, and committed to building a better future. Members enjoy special privileges, engaging with world leaders in many fields, and forming communities of interest. Please let us know if you are interested in becoming a member.
Our work for cultural exchange and intellectual collaboration has never been more important. We look forward to working with all of you.