Support
The International House of Japan (I-House) celebrated its 70th anniversary in 2022. I-House was founded in 1952 by Shigeharu Matsumoto and John D. Rockefeller III to support Japan's return to the international community and the building of a new international order after World War II. There has lately been a marked destabilization of the international order that threatens the peace we have come to enjoy over much of the postwar period. We need once again to demonstrate the courage exemplified by our I-House founders and make a renewed effort to fulfill our mission, namely, to "Contribute to building a free, open, and sustainable future through intellectual dialogue, policy research, and cultural exchange with a diverse world."
Your support is essential for I-House to continue fulfilling this important role, serving as a center of intellectual exchange in the Asia-Pacific region and developing the kind of programs that meet the needs of the new era.
Photo: Programs to fulfill our mission
Donate
Please indicate your intention in the form below if there is any specific program, place, and/or item you would like to support. Donations to the I-House are eligible for an income tax deduction.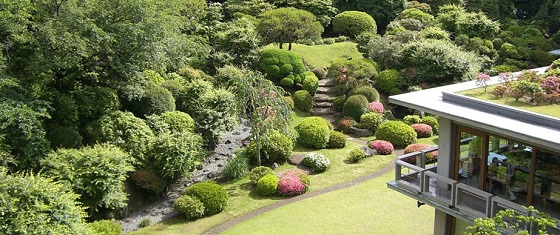 Photo: The House Garden designed by the seventh-generation famed Kyoto landscape artist Ogawa Jihei (also known as Ueji) has continued to charm people since the prewar period.
Please contact us if you kindly consider making a contribution.
International House of Japan
Tel:03-3470-9115 (Mon.-Fri. 9 am – 5 pm)
E-mail: okimochi#i-house.or.jp (please replace # with @)