Corporate Profile
Corporate Profile

Corporate Profile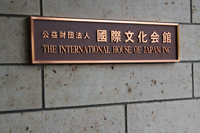 Articles of Incorporation

Directors, Auditors and Trustees
(As of January 1, 2022)

General Activities, Program Plans
Fiscal Year 2012: Annual Report
Fiscal Year 2013: Program Plans, Annual Budget, Annual Report
Fiscal Year 2014: Program Plans, Annual Budget, Annual Report
Fiscal Year 2015: Program Plans, Annual Budget, Annual Report
Fiscal Year 2016: Program Plans, Annual Budget, Annual Report
Fiscal Year 2017: Program Plans, Annual Budget, Annual Report
Fiscal Year 2018: Program Plans, Annual Budget, Annual Report
Fiscal Year 2019: Program Plans, Annual Budget, Annual Report
Fiscal Year 2020: Program Plans, Annual Budget


Adobe Reader is available here.
IHJ Annual Report
I-House has annually published the IHJ Annual Report (Japanese version: Kokusai Bunka Kaikan no Ayumi) on its programs and activities. From this year we will be merging the IHJ Annual Report into the annual report above.
Donations
Since the International House is authorized as a Special Corporation in the Public Interest, donations to the House by domestic corporations and individuals are tax-exempt in Japan.
Contact
Administrative Office
International House of Japan