We are deeply grateful to all those whose names are listed here for their generous contributions to our 70th anniversary.
If you are kindly considering making a donation, please refer to the following URL for procedures and tax benefits.
https://www.i-house.or.jp/eng/donate/
Donors' List (in chronological order, without titles) (Updated: October 20, 2023)
Yukihiko AMAGI
Ichiro ARAKI
Masami MIZUNO
Isao HORII
Noboru SAKAKIBARA
Teruo KISHI
Taisuke MIYAJIMA
Ryugo HAYANO
Masakuni HOSOBUCHI
Toshiaki TAGUCHI
Takatane KIUCHI
Amagi Co., Ltd.
Kenjiro EGASHIRA
Aiko NEGISHI
Mutsuo IWAI
Jiro YOSHINO
Tetsuya YASUKOCHI
Ernest Matsuo HIGA
Jalec Co.,Ltd.
Hospitality Management

 

Tsumie YAMAGUCHI
Yoshihisa KAWAMURA
Doris WONG NG SHEK MIU
Yuji SUZUKI
Reiko FUNABASHI-KINOSHITA
Shunichi HOSOKAWA
Masatsugu SHIDACHI
Takashiro FURUHATA
Taro KIMURA
Shoichiro ODAGAKI
Chizuko UENO
John W. DARCY
Toyoko McGOVERN
Kenjiro EGASHIRA
Sanwa Co., Ltd.
Charles D. LAKE II
Seiko LAKE
Shunji NISHIHARA
Tatsuhiko ANDO
Nippon Mirai Holdings Co., Ltd.
Steve BLOOM
Portland Japanese Garden and the Japan Institute
Haruki KAMIYAMA
Kiyoshi MUTO
Yukinori TAKAHASHI
Koichi SUGITA
Akiko MURAI
Mamoru DOI
Tsuyoshi NAGANO
Kamezo SAITO
Masami KOBAYASHI
Kiyoshi HAMADA
Randall COLLINS
Masahiro HORIE
Kazumi YAMAMOTO
Yoshinao ORIHARA
Makoto HASEGAWA
Kazuo JUMONJI
Isao IWAI
ETIC Inc.
Toshio OGOSHI
Sota YOSHINO
Makoto KUNIYOSHI
Yoshihide SOEYA
Debra HAZELTON & Lindsay ANDERSON
Hikaru KINOUCHI
Madeleine KIM
Akiyasu EGAWA
Shinichi ISHIKAWA
Masayuki TAKAYA
Yutaka SAWA
Sumiko KOBAYASHI
Ikuo MIYAHARA
Yoko HATTORI
Sotaro ISHII
Tamie TAKATSU
Fumiaki KUBO
Shoichi HASHI
Goji WADA
Yuko-Keiso Co.,Ltd.
Takako YOSHIMURA
Masayo TADA
Keiichi ISONO
Yasushi AKASHI
Masahisa IKEDA
Rie SENO
Seiko Holdings Corporation
William F. HONAMAN
Chris BRÜNGER
Ikuji NAKAYA
Nobuyoshi & Kayoko EHARA
Jin ARITA
Asako OSAKI
Masayoshi & Kyoko KONDO
James KONDO
Hiroaki FUJII
Wakako HARA
Ichiro MORI
Noriko BAN
Koji TSUCHIYA
Reijiro KAWABE
Hisho TAKAHASHI
Masahisa & Reiko IKEDA
Koichiro YOSHIDA
Shahani Associates Ltd.
Tsunao NAKAMURA
Shoyo NISHIKAWA
Hideki YOSHIMURA
Teruhide SATO
Hideki ENDO
Hiroshi KATSUMATA
Yua Roppongi Co., Ltd.
Katsunori SAGO
Fundraising Campaign of the Century
The International House of Japan (I-House) was established on August 27, 1952. It was a moment when John D. Rockefeller III and Shigeharu Matsumoto, who believed that an understanding of diverse values and cultures was the key to improving postwar international relations, finally realized their goal of advancing international cooperation.
On November 19 of that year, Prime Minister Shigeru Yoshida inaugurated a fundraising campaign for the construction of I-House. The campaign reached the goal of raising 100 million yen (equivalent to 2.7 billion yen today) at a time when the prime minister's monthly salary was just 110,000 yen.
Together with matching funds of US$676,000 from the Rockefeller Foundation, the
I-House building was completed in 1955. To mark the occasion, Yoshida donated a work of his own calligraphy, quoting from the Analects of Confucius: "Is it not delightful to have friends come from distant quarters?" This work now hangs in the I-House lobby.

The site of I-House formerly belonged to the Kyōgoku Clan, with ownership subsequently changing to Kaoru Inoue, Prince Kuninomiya, and the Akaboshi and Iwasaki families, before being passed on to I-House. The building was designed jointly by three prominent Japanese architects—Kunio Maekawa, Junzō Sakakura, and Junzō Yoshimura—and was registered as a tangible cultural property by the Agency for Cultural Affairs of Japan. The House Garden, designated a place of scenic beauty, was created for the Iwasaki family by famed landscape designer Jihei Ogawa VII and remains intact to this day. I-House has hosted such renowned global figures as Eleanor D. Roosevelt, Walter Gropius, and Jawaharlal Nehru.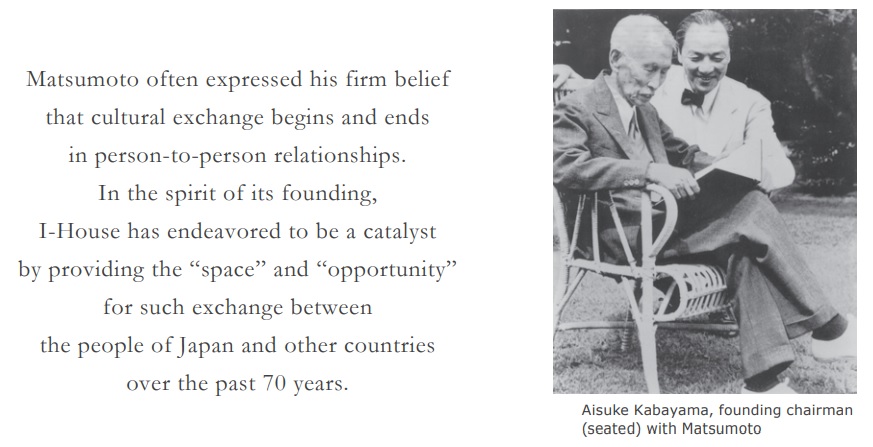 Achieving Our Mission
Contribute to building a free, open, and sustainable future through intellectual dialogue, policy research, and cultural exchange
with a diverse world
To realize this mission, I-House aims to become a center of intellectual exchange for not only Japan but also the Asia-Pacific region and to make a greater global impact. We will create and pass on to subsequent generations a "place" where people can co-create a new society and expand our programming. Without your continued support, I-House will be unable to carry out its activities.
Target Amount: 2 Billion Yen

Donor Recognition
Following honors will be bestowed to donors. (Click to enlarge)

Donation amounts are the cumulative totals through the end of March 2029 (prior notification is required). Please contact us for details.
*1 Donor Nameplate
*2 Medal with Dark Blue Ribbon
If you are kindly considering making a donation, please refer to the following URL for procedures and tax benefits.
https://www.i-house.or.jp/eng/donate/
For further information
Donation Office
International House of Japan
Tel:03-3470-9115 (Mon.-Fri. 9 am–5 pm)
E-mail: okimochi#i-house.or.jp (please replace # with @)