IHJ sponsors the IHJ Artists Forums series to provide a venue for the US-Japan Creative Artists Program Fellow to present their works and meet other artists. The I-House also produces occasional concerts and artistic events to promote mutual cultural understanding between Japan and the rest of the world.
[IHJ Artists' Forum/Live concert + fieldwork video screening]
Projecting Tradition into the Future & the Creative Voice Within
This event now concluded. Report available here.
Friday, June 7, 7:00 pm
Venue: Iwasaki Koyata Memorial Hall, International House of Japan
Artist: Jen Shyu (Composer, Vocalist, Multi-instrumentalist, Dancer, Producer; US-Japan Creative Artists Program Fellow)
Language: English (with consecutive interpretation)
Co-sponsored by the Japan-US Friendship Commission (JUSFC)
Admission: Free

(reservations required)
Shyu will offer the audience a window into her creative process with a lecture and video screening of her extensive fieldwork in traditional music, dance and ritual from her parents' native countries of East Timor and Taiwan, along with her research in Indonesia, Korea and Japan. She will talk specifically about her current research into noh and biwa and how learning aspects of these traditions has influenced her original music and theatrical works. Shyu will perform excerpts from her last solo work Nine Doors as well as excerpts from Zero Grasses (work-in-progress).
Report
Jen Shyu
2019 Guggenheim Fellow, 2019 USA Fellow, 2016 Doris Duke Artist, US-Japan Creative Artists Fellow, Fulbright scholar, groundbreaking multilingual vocalist-composer, multi-instrumentalist, dancer JEN SHYU (徐秋雁) has been named "one of the most creative vocalists in contemporary improvised music" (
The Nation
). She's worked with Anthony Braxton, Vijay Iyer, Wadada Leo Smith, Mark Dresser, and many others, and was the first female and vocalist as band leader on Pi Recordings. Her last two albums on Pi (
Song of Silver Geese, Sounds and Cries of the World
) landed in the "Top 10 Best Albums" of 2017 and 2015 by The New York Times, NPR, etc. A Stanford University graduate dedicated to traditional music study, she's performed her music at such venues as Carnegie Hall, Lincoln Center, and Metropolitan Museum of Art. Photo: Steven Schreiber
[IHJ Artists' Forum/Artist Talk]
Matter and an Experimental Mindset
Tuesday, September 17, 7:00 pm
Venue: Iwasaki Koyata Memorial Hall, International House of Japan
Artist: Brian Anderson (Industrial Designer; US-Japan Creative Artists Program Fellow)
Language: English (with consecutive interpretation)
Co-sponsored by the Japan-US Friendship Commission (JUSFC) 
Admission: Free 

(reservations required)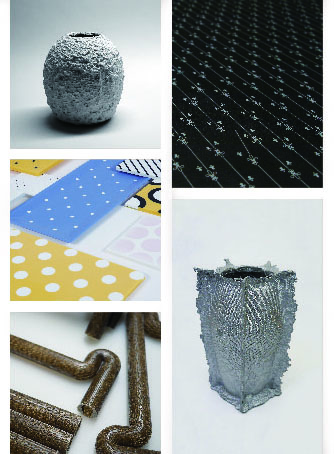 Recent narratives around fabrication and production reflect societal aspirations and fears. On the one hand, additive manufacturing and distributed manufacture promise to simplify logistics and localize production in empowering ways. On the other hand, we are reminded almost daily of the general wastefulness of inherited production practices and of our limited ability to re-circulate what we don't or can't use personally. It is increasingly prevalent that designers reconceive industrial waste as raw material, experiment with existing natural resources and less seemly biological and mineral byproducts, harness biology, and foster the production and sharing of knowledge and opportunities for co-creation. Today's designers seek to change the relationships people have with materials. While many citizens may feel a lack of agency or the knowledge it requires to respond with such ethical impulses, designers and artists are uniquely positioned to respond optimistically, pragmatically, and experimentally. Brian Anderson is an academic industrial designer, based at the University of Illinois at Chicago. His work centers on the history, nature, and structure of making from the scale of artisan and craftsman to that of small factories. In his talk Anderson will present several outcomes of the manipulation of matter in the context of design. studioba.org
[IHJ Artists' Forum/Artist Talk & Performance]
Ritual Retention : Holding and Creating Tradition
This event now concluded.

Thursday, July 25, 7:00 pm
Venue: Iwasaki Koyata Memorial Hall, International House of Japan
Artist: Aya Rodriguez-Izumi (US-Japan Creative Artists Program Fellow)
Language: English (with consecutive interpretation)
Co-sponsored by the Japan-US Friendship Commission (JUSFC) 
Admission: Free 

(reservations required)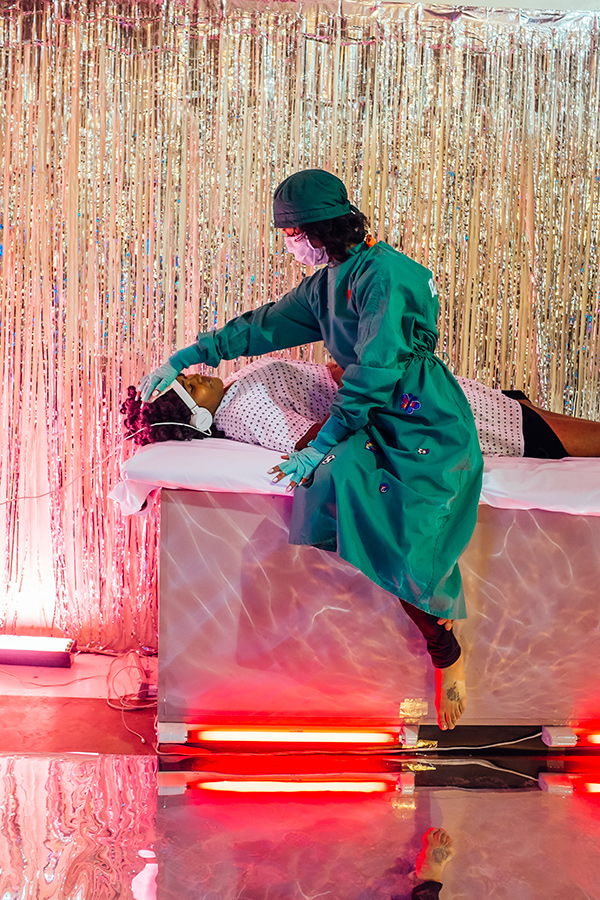 Aya Rodriguez-Izumi will weave and connect projects from her interdisciplinary practice which focuses on ritual, in its myriad and varied forms. She is interested in how common everyday activities and objects can take on a ritualistic significance. Rodriguez-Izumi will guide the audience through an overarching view of her work with a focus on the traditions of her Cuban/Puerto Rican and Okinawan heritage that inspire it. She approaches these ideas in a holistic way – installation, performance, sculpture, video and beyond are all utilized depending on the project's needs. She aims to create a transformative environment and experience for the viewer, and with this in mind this forum will end with a Q&A and an interactive group engagement. (Get Well Photo: Darnell Scott)
Aya Rodriguez-Izumi: An interdisciplinary artist whose work deals with ideas of trauma, ritual and cultural identity. She has exhibited in group and solo shows at MoCADA, the Knockdown Center, El Museo del Barrio, and Rush Arts Gallery among many others. She was the Emma Bee Bernstein Fellow at A.I.R. Gallery in New York in 2018-2019, a Jerome Foundation Fellow at Franconia Sculpture Park in Minnesota and a 2018-2019 Recipient of the JUSFC Creative Artist Fellowship where she is continuing her long-term endeavor, Project: Iceberg. She was born in Okinawa, Japan, and grew up between that island and East Harlem, NY, where she currently lives and holds a studio. She graduated from Parsons the New School for Design with a BFA in 2009, The School of Visuals Arts with an MFA in 2017.
iamaya.com
Archives
Inquiries
Program Department
International House of Japan
5-11-16 Roppongi, Minato-ku, Tokyo 106-0032
TEL: 03-3470-3211 (Mon.-Fri., 9:00 am-5:00 pm)
FAX: 03-3470-3170