*The Nitobe Leadership Program 2020 and its pre-application events have been cancelled due to the coronavirus outbreak.
The Nitobe Leadership Program initially started in 2008. It is designed to support young professionals of various fields and backgrounds to become public-minded leaders with a broad perspective.
By inviting experts from diverse fields who have put their transdisciplinary ideas into practice as lecturers, the Program provides its participants with a platform to examine various issues from different perspectives and take action for the betterment of society. Ten individuals under 40 years of age will be selected each year through screening of application materials and interview.
Nitobe Leadership Fellow Network
Participants who complete the program are certified as Nitobe Leadership Fellows and become part of the alumni network, currently consisting of 152 individuals. Through mailing lists and Facebook groups, fellows continue to exchange ideas and organize study sessions, The Nitobe Salon, based on themes of their interest.
Overview of the Nitobe Leadership Program 2020 [Cancelled*]
Through intensive dialogue with lecturers and among participants themselves, participants will examine the theme "Design and Take Action to Create Our Own Future: How We Can Transcend Shifting Borders." We are living in a time of transition, when the existing order is shaking with shifting borders of nations, gender, religion, and corporate activity. In today's world, where anyone can voice their opinions and individuals can be connected easily across physical boundaries, the flow of ideas and resources has greatly expanded and accelerated while the rules of creating things, be they goods or policies, have started to change. In other words, we are living in an era where anyone with ideas and the will can be a change-maker in the world.
This year, we are inviting Tokyo Vice Governor Manabu Miyasaka and Emi Yoneda, who has promoted social innovation through sports, specifically the J. League, as well as lecturers from various other fields to bring new knowledge and worldviews to the participants. In addition to regular lectures, there will be a study tour to the Tohoku area and an in-depth overnight discussion session.
Theme: "Design and Take Action to Create Our Own Future: How We Can Transcend Shifting Borders"
Term: June–December 2020 (total of 12 lectures; generally on weekend afternoons)
Tuition Fee: 130,000 yen (tax included)
Target Candidates: Individuals under the age of 40 (at the time of applying) who are enthusiastic about contributing to society, addressing and overcoming challenges with innovative ideas. Participants are required to attend all sessions during the program and must have a good command of Japanese to engage in substantial discussions with others. We welcome applications from people of all fields, industries, occupations, and nationalities.
Selection Process:
Stage 1: Screening of application materials
Please submit the following documents by 5:00 pm, May 7, through email (nitobejuku_ihj@i-house.or.jp).
Please send them in the PDF format, titling the file with your name.
1. Application Form
Japanese Only
【Nitobe Leadership Program】(PDF)
【Nitobe Leadership Program】(Word type file format)
2. Short essay
Please write an essay on the following topic either in Japanese (within 2,000 letters) or in English.(1,000–1,200 words) All documents should be A4 size and typed.
[Essay topic] What issue in society do you consider important and how can it be solved? Please refer to the following points:
・the issue and the reasons
・the impact on society of solving it
・the role you can take in solving the issue
・how participating in this program will help you to solve the issue
3. Summary of short essay
If the short essay is written in Japanese, please submit an English summary of 250-300 words. If the essay is written in English, a Japanese summary of around 500 letters should be attached.
Stage 2: Interview
May 30 or May 31 (conducted both in English and Japanese)
Selection results will be notified by email in the beginning of June.
*Guestrooms at I-House will be available on request with special rates for participants. Please ask for more details.
Events for those who are considering applying have been cancelled due to the coronavirus outbreak.

*Nitobe Leadership Program is supported by the MRA Foundation
Nitobe Leadership Program Website (Japanese)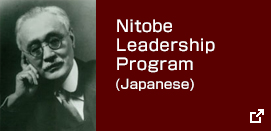 Public Lectures Archives
Inquiries
Program Department
International House of Japan
5-11-16 Roppongi, Minato-ku, Tokyo 106-0032
TEL: 03-3470-3211 (Mon.-Fri., 9:00 am-5:00 pm)
FAX: 03-3470-3170