*The Nitobe Leadership Program 2022 has been cancelled due to the coronavirus outbreak.
The Nitobe Leadership Program initially started in 2008. It is designed to support young professionals of various fields and backgrounds to become public-minded leaders with a broad perspective.
By inviting experts from diverse fields who have put their transdisciplinary ideas into practice as lecturers, the Program provides its participants with a platform to examine various issues from different perspectives and take action for the betterment of society. Ten individuals under 40 years of age will be selected each year through screening of application materials and interview.
Nitobe Leadership Fellow Network
Participants who complete the program are certified as Nitobe Leadership Fellows and become part of the alumni network, currently consisting of 152 individuals. Through mailing lists and Facebook groups, fellows continue to exchange ideas and organize study sessions, The Nitobe Salon, based on themes of their interest.
*Nitobe Leadership Program is supported by the MRA Foundation
Nitobe Leadership Program Website (Japanese)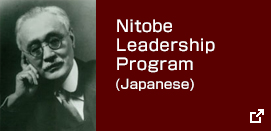 Public Lectures Archives
Inquiries
Program Department
International House of Japan
5-11-16 Roppongi, Minato-ku, Tokyo 106-0032
TEL: 03-3470-3211 (Mon.-Fri., 9:00 am-5:00 pm)
FAX: 03-3470-3170