Nitobe Leadership Program
The Nitobe Leadership Program (Nitobe Kokusai Juku in Japanese), started in 2008, is designed to train young professionals from various organizations and corporations to become public-minded leaders, equipped with a broad perspective to function in an international environment both in and outside the country. This program invites professionals of various fields to speak on their experiences, allowing participants (Nitobe Leadership Fellows) to deepen their understanding of such themes as globalization and leadership. In a rapidly changing world, both geopolitically and socially, the program provides a platform for the Fellows of various backgrounds to exchange ideas and reexamine their ideals of a better future.

Principal: Akashi Yasushi (Chairman of I-House)
Coordinator: Watanabe Yasushi (Professor, Faculty of Environmental Information, Keio University)
Members of the Steering Committee:
Chino Keiko (Contributing Editor, Sankei Shimbun)
Masaakira James Kondo (Visiting Scientist, MIT Media Lab)
Ogawa Tadashi (Director of Planning & Evaluation Division, Japan Foundation)
Watanabe Yasushi (Professor, Faculty of Environmental Information, Keio University)
Supported by: Shibusawa Eiichi Memorial Foundation and MRA Foundation

Nitobe Leadership Fellows
After the program, the Fellows become part of a network made up of past participants, currently numbering 127 individuals. Through mailing lists and Facebook groups, participants are able to exchange ideas on holding study sessions and talks based on themes of interest at the I-House. In addition, participants are given the opportunity to become an IHJ member without initial donation, helping to expand the IHJ community.

Overview of the 10th Nitobe Leadership Program (2017)
This year's Fellows will examine the theme "The World in Confusion: Exploring a New World Order." In 2016, we witnessed unexpected events and turmoil including Brexit and the result of the US election. It could be argued that a new framework/order for a new era is now necessary. The Nitobe Leadership Program is designed for the Fellows from diverse backgrounds to share insights to confront today's global challenges with open-mindedness and public awareness. Lecturers of various ages and fields of expertise such as Aoki Ryoko (Noh Performer), Najib El-Khash (Journalist), Makino Hyakuo (Mayor of Sabae City in Fukui prefecture), Mao Danqing (Professor at Kobe International University), Saeki Keishi (Professor at Kyoto University), Shibusawa Ken (Chairman of Commons Asset Management), and Watanabe Yasushi (Professor at Keio University) will be invited to the program to bring new knowledge and worldviews to the Fellows. In addition to regular lectures, there will be a study visit to Sabae City in Fukui prefecture and intensive overnight discussion sessions. There will also be a chance for the Fellows to interact with young leaders from other countries visiting Japan, providing an opportunity for the Fellows to reassess their personal goals and aspirations.
Theme: "The World in Confusion: Exploring a New World Order"
Term: June-December 2017 (total of 14 lectures; on weekends, 1:30–5:30 pm)
Tuition Fee: 72,000 yen (tax included)
Target Candidates: For those under 40 with at least 5 years of work experience in any field. The ability to speak and read Japanese as well as English will be necessary for discussions and reading assignments, but we welcome all nationalities who are enthusiastic in contributing to global society, addressing and overcoming challenges.
Briefing Session: Wednesday, April 12, 7:00 pm
Application Deadline: Monday, May 8, 5:00 pm
Selection Process:
First Selection: Written application
– Application Form
– Short essay: 2,000 characters in Japanese OR 1000-1200 words in English, on A4 paper, typed (If written in Japanese, it must have an English summary of 250-300 words. If written in English, a Japanese summary of 500 characters should be attatched.)
[Essay topic] Within the next 10 years, what do you plan to contribute in solving global challenges the world faces today? What are you currently doing in working toward achieving it? Please illustrate by touching upon what you aspire to accomplish through your life.
Second Selection: Interview (English and Japanese)
Curriculum
13:30-14:30 Lecture (some lectures are open to the public)
14:30-15:00 Q & A
15:00-15:20 Break
15:20-17:30 Discussion with the Fellows (closed)
Nitobe Leadership Program Website (Japanese)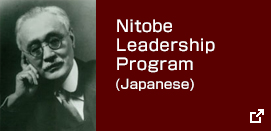 Public Lectures Archives
Inquiries
Program Department
International House of Japan
5-11-16 Roppongi, Minato-ku, Tokyo 106-0032
TEL: 03-3470-3211 (Mon.-Fri., 9:00 am-5:00 pm)
FAX: 03-3470-3170