On the occasion of its 70th anniversary, I-House has renewed its vision to become a center of knowledge exchange representing the Asia-Pacific region and to make a greater impact on a global scale. To realize this vision, we launched a fundraising campaign and have thus far raised some 400 million yen toward our goal of 2 billion yen. Donations have been made directly to I-House and also indirectly through the furusato nozei hometown tax donation scheme and the nonprofit American Friends of the International House of Japan. We would like to express our gratitude to all donors for their generosity. Chairman James Kondo had a conversation with one donor, Dr. Chris Brünger, who expressed his enthusiasm about the new initiatives being taken by I-House and shared his vision for creating a cutting-edge information center.
---
Interview with Dr. Chris Brünger
JAMES KONDO: We received a very generous gift from you last November, during our donation drive on the 70th anniversary of the reception hosted by Prime Minister Shigeru Yoshida that launched a fundraising campaign for the construction of I-House.
CHRIS BRÜNGER: I was really excited when I saw your pamphlet in April announcing many new things to come at I-House. Activities at I-House had been somewhat slow in recent years, so the news was quite refreshing. I wanted to make my contribution to your new initiatives.
KONDO: We're very grateful for your consideration, Chris. You chose the library as the preferred destination for the use of your gift. Did you have any specific ideas?
BRÜNGER: I envisioned remaking the library into a cutting-edge information center, not just a repository of great books.
KONDO: That's quite timely because we've been giving greater attention to information analysis and dissemination since last year, and we're actively investing in both human resources and physical equipment. We're also working with various international exchange organizations to preserve our archives of material dating from the start of World War II to the postwar period. We believe this is an important task in preventing another major war and in leaving behind a legacy for the next generation.
BRÜNGER: I wholeheartedly agree. My mother was born in Pomerania, near Danzig, now Gdansk, Poland, when it was still part of Germany. My mother's family became refugees, my father was blinded, and both my uncles were killed in World War II, and one of the reasons I wanted to go to Japan as a child was because I naively thought I could escape from the terror and tragedy of war. As a German, I've never forgotten that we were the ones who started the war, and I believe we need to do much more to preserve peace. I would like to suggest that I-House focus on promoting dialogue and exchange and on nurturing future leaders in Asia.
KONDO: Two researchers are currently dispatched by I-House to a partner think tank in Britain as an initiative in human resources development, but I agree that it's also crucial to expand this kind of exchange with our Asian neighbors.
BRÜNGER: In the wake of the devastation of World War II, Europe worked hard to build a peaceful and prosperous community, but the start of the Ukrainian conflict last year has dampened our hopes and has shown that the situation is actually quite fragile. Given the tense relationships with its neighbors, I am afraid, Japan, too, is not immune to war. Japan may be an island nation, but potential adversaries like Russia, China, and North Korea are just across the sea. It is therefore crucial to create space for dialogue with neighboring countries, and I-House is in a position to facilitate this. I've heard that you chose to accept your appointment as I-House chairman on the advice of a friend in Berlin, who urged you to return to Japan and to get to work right away on building peace. I was touched by this story.
KONDO: As you've suggested, the donations we've received will be used to create a space for intellectual exchange among our members. We also plan to strengthen our programs in areas that allow for member participation, such as in culture and art. We have many programs for dialogue with neighboring countries, not only on political and economic issues but also in culture and art.
BRÜNGER: That's great to hear. I'm particularly eager to see expanded exchange between Japan and South Korea. It would be wonderful to see more women participating in such programs. I've been involved in the fields of medicine and pharmacy in Japan for forty years and have come across so many talented Japanese women.
KONDO: We're really grateful for your input and support. We intend to keep our members updated on the progress of our fundraising activities, and we'd also like to hear what prompted our donors to make their gifts.
BRÜNGER: In planning for the next step of I-House's evolution, you might draw hints from the role Dejima played during Japan's period of isolation in the Edo period. When the German physician and scientist Philipp Franz von Siebold came to the Dutch trading post in Nagasaki in 1823, he brought with him a piano and some liqueurs to facilitate communication with the Japanese and created space for singing (karaoke!) and frank dialogue. Such dialogue and exchange across countries can contribute greatly to peace, so I hope your plans for expanded facilities will include such spaces.
KONDO: Drawing inspiration from the historical role played by Dejima is a wonderful idea in charting our future as a forum for international dialogue and a bridge to peace. Your experience and ideas are valuable assets for us, and I look forward to working with you in building a new legacy in the years to come.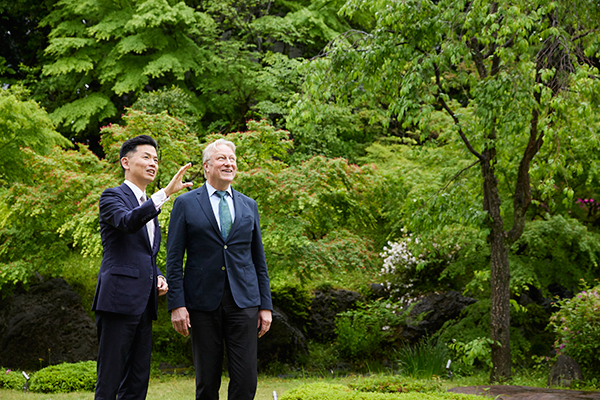 Supporting I-House through Donation
Your support is indispensable for I-House to continue fulfilling its important role and developing the kind of programs that meet the needs of the new era. Donations to I-House are eligible for a tax deduction in Japan. Furthermore, if you donate to I-House through the furusato nozei (hometown tax donation) scheme of Minato Ward, you will be eligible for an income tax refund and a resident tax credit. For US residents, your gift to I-House through the American Friends of I-House is tax deductible to the extent allowed by US law. Your continuing support through these programs would be greatly appreciated!
Donate directly to I-House
https://www.i-house.or.jp/eng/donate/
Make a donation through the furusato nozei scheme
https://www.i-house.or.jp/eng/programs/donations_furusato/
Make a donation through the American Friends of I-House (for US residents)
https://www.afihj.org/take-action