Footprints of Former Chairman Akashi Yasushi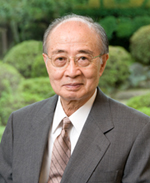 Mr. Yasushi Akashi assumed the chairmanship of I-House in June 2009, as the successor to the late Mr. Takagaki Tasuku. During his nine-and-a-half years of service until retirement in December 2018, Mr. Akashi devoted considerable efforts and leadership to the development of the organization. To express our deep gratitude for his tireless dedication and contributions, we would like to recognize some of his accomplishments and initiatives at I-House.
70 Years Postwar Symposium (2015)
To commemorate the seventieth anniversary of the end of World War II, the series of four symposia "70 Years Postwar Symposium Series: Thinking Together about the World and Japan" was held in cooperation with the Maureen & Mike Mansfield Foundation. With many participants attending, the sessions reviewed Japan and the world in the postwar period, from such perspectives as Japan's relations with the United States and China, and roles of culture as the basis for peace.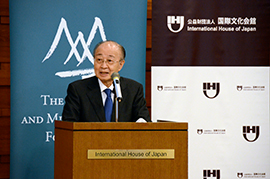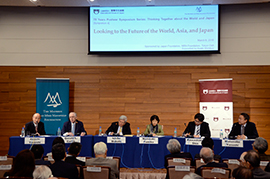 IHJ Sixtieth Anniversary Programs (2012)
The year 2012 marked the sixtieth anniversary of I-House. Several special programs were organized to commemorate the anniversary, including the symposia series "Japan in the World," the photo exhibition "The International House of Japan in the History of Cultural Exchange in Postwar Japan" and the garden concert "Beyond Boundaries: Min Tanaka Dances in the International House Garden." The symposia series, which consisted of six events, was joined by distinguished scholars specializing in Japanese politics and US-Japan relations, and its fruit were later published in book form.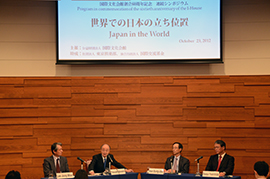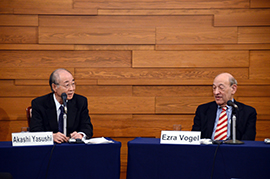 Nitobe Kokusai Juku (Nitobe Leadership Program) (2008-)
Mr. Akashi served as Principal of the Nitobe Leadership Program throughout the first 10 years of its operation, even before he assumed the position of Chairman at I-House. He engaged in impassioned discussions with the participants of every single cohort. In its 10 years so far, the Program has helped a total of 143 young professionals of various fields to become public-minded leaders and excel in an international environment.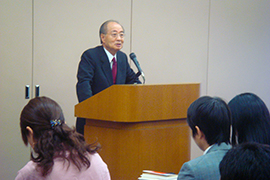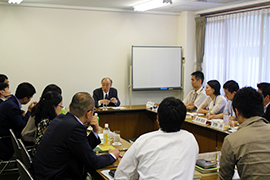 Members' Dinner (2012-)
The Members' Dinner started in 2012 to celebrate the sixtieth anniversary of I-House. It was held as a two-night event, inviting the renowned expert in Japanese literature Dr. Donald Keene and kabuki actor Ichikawa Danjuro XII as special guests. Now it has become an annual event where I-House members can get together and socialize. Various distinguished speakers have been invited as special guests, including former United Nations High Commissioner for Refugees Ms. Ogata Sadako, former Prime Minister Hosokawa Morihiro, and judo legend Mr. Yamashita Yasuhiro.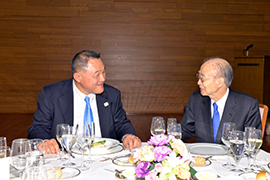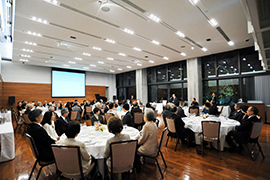 Foreign Policy Dinner Meeting (2009-)
Inspired by an older program at I-House "Foreign Relations Dinner Addresses" (1955-2003), Mr. Akashi launched a new project called the Foreign Policy Dinner Meeting, where a guest speaker and selected experts on foreign policy engage in an informal, off-the-record discussion on various foreign policy-related issues. Mr. Akashi has hosted thirty-five such meetings since its launch in December 2009.