Date: Wednesday, May 23, 2012, 7:00 pm
Venue: Iwasaki Koyata Memorial Hall, International House of Japan
Composer: Michelle Nagai
Performers: Nagai Kenta (Guitar), Tanaka Yumiko (Futozao shamisen),
Kimula Mika (Voice), Christopher Yohmei (Shakuhachi)
Admission: Free
Language: English & Japanese
*Co-sponsored by the Japan-US Friendship Commission (JUSFC)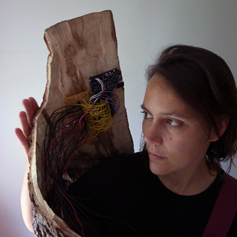 Composer Michelle NAGAI presents Songs on the Theme of Knowing, a collection of new music composed for Western and Japanese traditional instruments, and voice. Performed here for the first time, Songs on the Theme of Knowing draws on Nagai's study of rural village life in northeastern Japan (Niigata Prefecture), where she resides as a fellow of the Japan-United States Friendship Commission.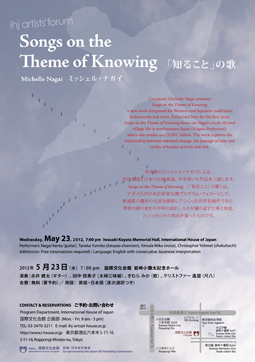 Two different compositions, both premieres, explore the relationship between seasonal change, the passage of time, and cycles of human activity and rest.
After Preface presents a setting of the opening work in Kenji MIYAZAWA's 1924 volume of free-verse poems, "Spring and Asura". The piece explores the rich imagery of MIYAZAWA's poetry and the mercurial temperament of Japanese weather and landscapes. Performed by Mika KIMULA (voice), Christopher Yohmei BLASDEL (shakuhachi), Kenta NAGAI (guitar), and Yumiko TANAKA (futozao shamisen).
Classification System for Rest and Work is a structured improvisation scored for any number of percussionists, played on this occasion as a solo by Marcos FERNANDES.