Date: Friday, October 12, 2012, 7:00 pm
Venue: Lecture Hall, International House of Japan
Performers: Jason Kahn (electronics), Akiyama Tetuzi (guitar),
Nakamura Toshimaru (no input mixer)
Admission: Free
Language: English (with consecutive interpretation)
Co-sponsored by the Japan-US Friendship Commission (JUSFC)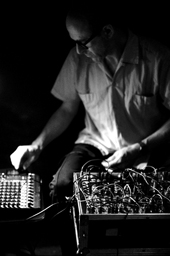 Jason Kahn, presently in Japan on the US-Japan Creative Artists Program, has been making recordings around Kyoto in an attempt to explore the cultural heritage of the city through its various sounds.
For the IHJ Artists' Forum concert, "Echoes of Bar Aoyama," he will recall the sonic memories of his time spent in Tokyo during 1997, when he played at the bar Aoyama, a hole-in-the wall concrete bunker-like bar situated at the mouth of the Aoyama underpass in Tokyo. In that bar he played with both Nakamura Toshimaru and Akiyama Tetuzi, with whom he has since made several CD recordings. This concert, at the close of Jason's fellowship, will bring these three musicians together again.
Kahn's website
http://www.jasonkahn.net/