Wednesday, July 10, 2013, 7:00 pm, Lecture Hall, IHJ
Writing and Direction: John Jesurun | Translation: Jonathan Scott
Performers: KASAGI Makoto (Philoktetes), MANAKO Keiji (Odysseus), NAKAMURA Takashi (Neoptolemus)
Assistant Director: YANO Yasuhito
Language: Japanese (reading) & English (discussion)
Co-sponsored by the Japan-US Friendship Commission (JUSFC)
Supprted by T Factory
Admission: Free | Seating Capacity: 70

(reservations required)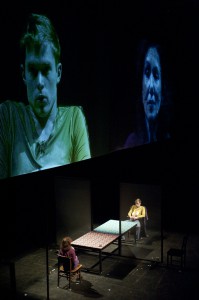 STOPPED BRIDGE OF DREAMS,
Part 1
John Jesurun, presently in Japan on the Japan-US Creative Artists Program, is a playwright, director and set/media designer, researching Ihara Saikaku for his piece
STOPPED BRIDGE OF DREAMS/Part 2
. Based in New York, he is well known as an innovative theater artist who explores a wide range of contemporary themes adopting mixed multi-media.
This Artists' Forum will present a reading of the Japanese translation of his play Philoktetes. This play, Jesurun's modern adaptation of Sophocles' classic on the Trojan War, has been presented internationally on numerous occasions, including a 2005 Kyoto Performing Arts Center production with the late noh actor Kanze Hideo. In addition to the reading, Jesurun will give a short visual presentation focusing on signature aspects of his work integrating the creation of text, direction, set and media design.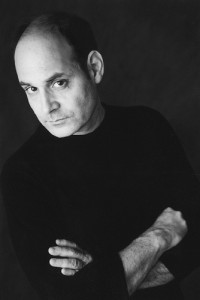 John Jesurun: His presentations mix elements of language, film, architectural space and media. The work is distinguished by his integrated creation of the text, direction, set and media design. Since 1982 he has written, directed and designed over 30 pieces including: the media trilogy of DEEP SLEEP (1986 Obie Award), WHITE WATER and BLACK MARIA, his 60 episode serial play CHANG IN A VOID MOON, FIREFALL and SNOW. His company has toured extensively in Europe and the United States. Fellowships include the NEA, Asian Cultural Council, Foundation for Contemporary Arts and the MacArthur, Rockefeller and Guggenheim foundations. His varied work includes Harry Partch's opera Delusion of the Fury at the Japan Society, Faust/How I Rose at Brooklyn Academy of Music and Jeff Buckley's music video Last Goodbye. His work is published by TCG, Performing Arts Journal, NoPassport Press and Theater der Zeit. His latest work STOPPED BRIDGE OF DREAMS/Part 1, premiered at La Mama in January 2012. The first two episodes of his new video serial SHADOWLAND can be seen on Vimeo.

His website and Vimeo.
---