A Commemorative Lecture by the 2008 Japan Foundation Awardee Kenneth B. Pyle
Emerging Political Generations in East Asia
Speaker: Kenneth B. Pyle, Professor, University of Washington
Date & Time: Thursday, October 2, 2008, 2:30-5 pm
*Following the one-hour lecture, a reception will be held at the Banquet Room.
Venue: Iwasaki Koyata Memorial Hall, International House of Japan
Admission: Free *prior booking essential
Language: English/Japanese (with simultaneous translation)
Cosponsored by the Japan Foundation
Kenneth B. Pyle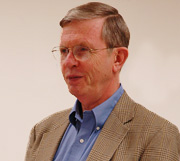 Born in 1936. Graduating from Harvard College in 1958, he took his Ph.D. on Japanese history from Johns Hopkins University in 1965. He is one of the leaders in the field of Japanese studies and the author of outstanding books on modern Japan and its political and diplomatic history. While being active at numerous research institutes and advisory panels, he held important positions to make substantial contributions to enhancing American people's understanding of Japan.
He founded the National Bureau of Asian Research (NBR) in 1989 to promote Asian studies and he also makes policy proposals and recommendations to administrative bodies. In November 2006, moreover, Kenneth B. and Anne H.H. Pyle Center for Northeast Asian Studies was founded. In 1999 the Government of Japan decorated him with one of its highest imperial honors, the Order of the Rising Sun, for his contributions to scholarship and cultural exchange.
His new book Japan Rising―The Resurgence of Japanese Power and Purpose, analyzing 150 years of diplomatic policies in Japan, was published In 2007.
A Public Lecture to Commemorate the Publication of Learning for Life: The Kumon Way
Japan's New Soft Power: The Growth of Terakoya-ism in the World
Speaker: Reiko Kinoshita, Journalist
Date & Time: Thursday, October 23, 2008, 6:30 pm
Venue: Iwasaki Koyata Memorial Hall, International House of Japan
Admission: Free
Language: Japanese
Cohosted by the Japan Society and Iwanami Shoten, Publishers
Terakoya, small-sized temple schools to teach children the three R's, reading, writing and arithmetic, developed in the Edo period, but now in the 21st century a modernized version of terakoya has spread overseas. The Kumon method has been accepted in 45 countries and areas, and over 4 million people are studying through this method. The journalist Reiko Kinoshita has looked at education as a new form of Japan's soft power, conducting research on the educational conditions in 17 countries and areas, trying to discover the secrets of the Kumon method. In commemoration of the publication by I-House Press of Learning for Life: The Kumon Way (originally published by Iwanami Shoten in Japanese as Terakoya Globalization—the Kumon Way ), she will give a talk on this new soft power.
Reiko Kinoshita
Since the 1990s, the journalist Reiko Kinoshita has been conducting research and reporting under the theme of "powers Japan lacks," bearing fruit in the publication of four books: Infuruensharu [Influential] (1991), Puraizu [The Prize] (1993), Ohbei Kurabu Shakai [The Club] (1996) and Amerikan Baburu [American Bubble] (2001) (all published by Shinchosha in Japanese). As Visiting Fellow of the Edwin O. Reischauer Center for East Asian Studies at the Paul H. Nitze School of Advanced International Studies (SAIS), Johns Hopkins University, she focused her research on the reconstruction of U.S.-Japan relations. At the International Women's Media Foundation (IWMF), she played a unique role from 1995 to 2005 as the sole Board member representing the Asia/Pacific region, working on the development of a network of women journalists active in that region, Africa, the Americas and Europe. Her other publications include Faasuto Chimu [The First Team; in Japanese] (Shueisha, 1993) and Terakoya Gurobarizeshon—The Kumon Way [Terakoya Globalization—The Kumon Way; in Japanese] (Iwanami Shoten, 2006).
Symposium
Akira Kurosawa's Dual Legacy: The film director as perceived at home and abroad
Akira Kurosawa's Rashomon is consistently ranked among the world's 100 greatest films. Yet, in 1950, Japanese critics did not consider it the best work of the year. In 1954, when Seven Samurai, made its debut, it did not win any significant domestic film awards either. In later years, Kurosawa was rewarded with many domestic honors "for making Japanese film known better abroad" but his legacy at home remains controversial, with many critics asking whether Kurosawa was truly understood abroad. This year, on the 10th anniversary of the death of this giant of world cinema, we will hold a discussion aimed at understanding some of the reasons for the gap between Kurosawa's dual legacy at home and abroad.
Date:Saturday, March 1, 2008
Program Fee: 1500 yen (Discount Rate*: 800 yen)
*Discount rates are applicable for IHJ member amd students.
Language: Japanese/English (with simultaneous translation)
Organizer: International House of Japan
Program
1:35 pm Film Showing: "Rashomon" (1950, monochrome with English subtitles, 90 mins.)
3:05 pm Coffee break
3:30 pm Keynote Speech by Andrew Horvat(Visiting Professor, Tokyo Keizai University)
4:00 pm Panel Discussion
Moderator: Andrew Horvat
Panelists: Chris Fujiwara (Film Critic), Kenji Ishizaka (Director of the "Winds of Asia" section of the Tokyo International Film Festival),
Teruyo Nogami (Author of "Waiting on the Weather: Making Movies with Akira Kurosawa"/Former manager of Kurosawa Productions)
Donald Richie (Film Historian/Author of "The Films of Akira Kurosawa")
Discussion/Q & A
5:45 pm Closing remarks
Andrew Horvat (Visiting Professor, Tokyo Keizai University)

M.A. Department of Asia Studies, University of British Columbia. Horvat has been a reporter for the Associated Press, Tokyo Correspondent for the Los Angeles Times and the Independent, and Tokyo Bureau Chief for American Public Radio. He has served as the president of the Foreign Correspondents Club of Japan and the Japan representative of the Asia Foundation.
Panelists
Teruyo Nogami (Former Manager of Kurosawa Productions)
In 1949, Nogami entered the Daiei Kyoto studio as a script writer and took part in Kurosawa's Rashomon. She participated in all of Kurosawa's films in his Toho period including Seven Samurai ("Shichinin no samurai"). Her books include Chichi he no rekuiemu (Requiem for father; in Japanese) and, Waiting on the Weather: Making Movies with Akira Kurosawa.
Chris Fujiwara (Film Critic)
Fujiwara has been a film critic for the Boston Phoenix, Osian's Cinemaya, and Film International, etc. He has participated in panel discussions on Japanese cinema such as at the Osian's-Cinefan Film Festival and on Yasujiro Ozu. He has lectured on film studies at Yale University, etc. His books include Jacques Tourneur: The Cinema of Nightfall.
Kenji Ishizaka (Programming Director of "Winds of Asia" section, Tokyo International Film Festival)
M.A. Waseda University in Film Studies. Ishizaka has organized and managed more than seventy projects of Asian and Arab cinema, including the Indonesian Film Festival 1993 and, the Thai Film Festival 2003 as film coordinator at the Japan Foundation until 2007. Currently a lecturer at Waseda University and Meiji Gakuin University.
Donald Richie(Film Historian)
Richie came to Japan in 1947 as a civilian member of the Occupation forces and became a feature writer for the Pacific Stars and Stripes. Now he is the foremost Western authority on Japanese cinema. His books The Films of Akira Kurosawa and A Hundred Years of Japanese Film: A Concise History have been bibles for foreign Japanese-movie fans.
I-House Lecture Series 2008
Let's Open Up Our Heads to "Kyoyo"~Examining its Unexamined Value~
It seems that "kyoyo" (being "cultivated", liberal arts) has been talked to death. The accepted wisdom is that "kyoyo" has been in decline for a long time but its value is beyond question. But why would it decline if it is of questionable value? Maybe"kyoyo"has not been really questioned in depth. Or, maybe it is not in decline but ignored and vanishing into thin air. In this series, we would like to break down the cliches related to "kyoyo"or through talks from lecturers of various backgrounds and perspectives, such as higher education, politics, body senses and the print media.
Coordinator: Takeo Funabiki (Professor, University of Tokyo)
Venue: Lecture Hall, International House of Japan
Admission Fee: all four lectures 5,500 yen (Discount Rate*: 1,800 yen), 1500 yen per lecture (Discount Rate*: 500 yen)


*Discount rates are applicable for IHJ members.

Language: Japanese
Organizer: International House of Japan
Sponsor: Japan Association for Cultural Exchange ; The Grew Bancroft Foundation
Lecturers and Themes
Monday, February 18, 7 pm
"Can 'Kyoyo' be Taught in College?"
Lecturer: Takeo Funabiki (Professor, University of Tokyo)
 
 
Monday, February 25, 7 pm
"Awareness of the Body as 'Kyoyo' ~About Communication'"
Lecturer: Toshiharu Takeuchi (Theatre Director)
 
 
 
Monday, March 10, 7 pm
"Politics and 'Kyoyo' "
Lecturer: Yasuhiro Tase (Professor, Waseda University)
 

  

Monday, March 10, 7 pm
Dialogue "Erosion of Print Culture?~Publishing and 'Kyoyo' in the Era of the Internet"
Lecturers: Tetsuo Matsuda (Senior Executive Director, Chikuma Shobo Publishing Company) x Kensuke Suzuki (Research Fellow, Center for Global Communications, International University of Japan)