[An edited version of this lecture is available in the IHJ Bulletin, Vol.27, No.2, 2007.]
Speaker: Professor Ben-Ami Shillony, Emeritus Professor of East Asian History
at the Hebrew University of Jerusalem
Moderator: Susumu Shimazono, Professor, University of Tokyo
Date & Time: Thursday, October 4, 2007, 7:00 pm
Venue: Lecture Hall, International House of Japan
Admission Fee: 1,500 yen (Students: 1,000 yen, IHJ Members: Free)
Language: English/Japanese (with simultaneous translation)
If we look back at the issue of peace and security in the 20th century, Auschwitz and Hiroshima were the momentous events for the Jews and the Japanese respectively. Beyond their geographical scope, even at the dawn of the 21st century, Auschwitz and Hiroshima have symbolic implications for peace-making in the world. It is interesting, however, to note that Israel and Japan took totally different paths in pursuing peace after the Second World War. The Jews choose to be militarily strong for their national security, whereas the Japanese stand with a pacifist constitution renouncing war. Now, Japan domestically faces an intensifying debate over revising its "Peace Constitution," in particular article 9, in parallel with the rise of nationalism and the problematic Prime Minister's visits to Yasukuni Shrine; and in the international arena it is being pressured to become "a normal" nation, making a military contribution to the maintenance of peace and security in the world. In comparing their paths up to now, Prof. Shillony will talk on whether these two different peoples with many similarities can learn from each other's past and what they can do in contributing to world peace.
Dr. Shillony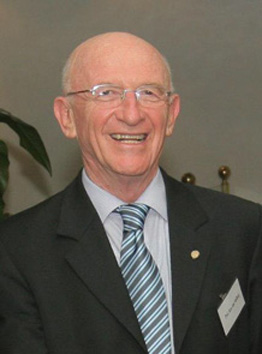 Born in Poland in 1937 and an immigrant to Israel in 1948, Prof. Shillony is a noted scholar of East Asian and Japanese studies in the Middle East. After receiving his Master's degree in history from Hebrew University, he spent 2 years studying the Japanese language at International Christian University in Tokyo, and then earned his Ph.D. in Japanese history at Princeton University under the supervision of Professor Marius B. Jansen. His writings on the Japanese monarchy and emperor system as well as on the cultural traits of the Jews and the
Japanese from a comparative point of view are widely recognized as groundbreaking studies. In 2000, the Order of the Sacred Treasure, Gold and Silver Star (Kun-nitō Zuihōshō) was bestowed on him for his longtime dedication to promoting Japanese studies abroad. His major publications include Enigma of the Emperors: Sacred Subservience in Japanese History (Global Oriental, 2003), The Jews and the Japanese: The Successful Outsiders (Charles E. Tuttle, 1992), Politics and Culture in Wartime Japan (Oxford University Press, 1981), and Revolt in Japan: The Young Officers and the February 26 Incident (Princeton University Press, 1973). These books have also appeared in Japanese translation.
Dr. Shimazono
Teaching at the Graduate School of Humanities and Sociology, Faculty of Letters, University of Tokyo, Prof. Shimazono specializes mainly in religious studies, ranging from comparative studies of new religious and spiritual movements to bio-ethics and the meaning of life and death for human beings. His publications in English include From Salvation to Spirituality: Popular Religious Movements in Modern Japan (Trans Pacific Press, 2004) and Religion and Society in Modern Japan, (ed. with Mark Mullins and Paul Swanson, Asian Humanities Press, 1993).