From 2001 to 2006, with a grant from the Japan-US Friendship Commission and support from the US Embassy, a select number of the artists who came to Japan on the US-Japan Creative Artists Program engaged in collaborative projects with their Japanese counterparts. The only requirement for these projects were that they involve local artists in Japan. The venue, style, content and execution of the project was left entirely to the artists.
This grant allowed for a total of sixteen projects, involving several dozen artists. The following are summaries of their projects.
The Creation of an Original Yuzen
Kimono by Karen LaMonte and Shinichiro Minami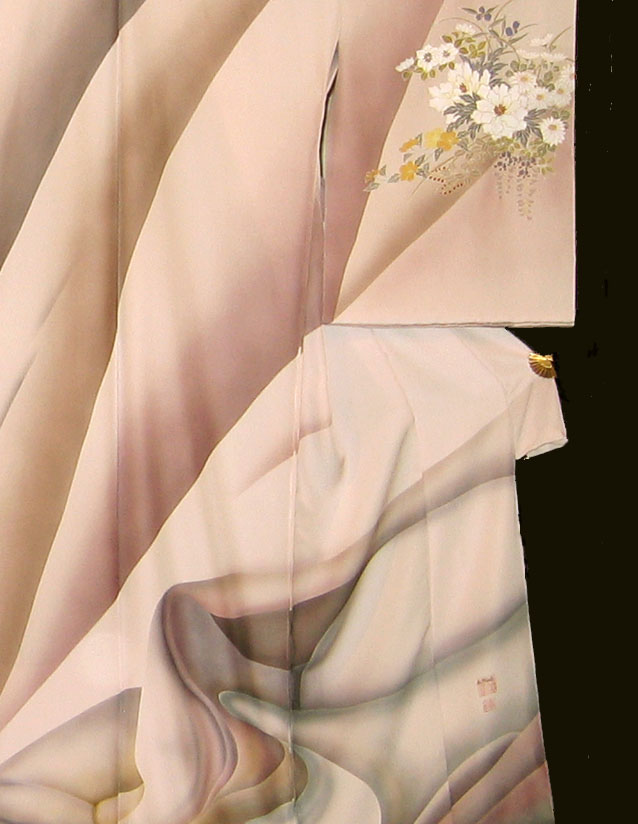 Karen LaMonte, a recipient of the US-Japan Creative Arts Fellowship,collaborated with the famous Kyoto kimono designer Shinichiro Minami to create a Yuzen kimono, bringing contemporary design to an ancient kimono dyeing technique.
Exhibition period: Dec. 27,2006 (noon) to Jan. 15th, 2007, in the International House of Japan Lobby. The exhibition is free and open to the public.
2005
A reading by R. Zamora Linmark from My Tokyo Notebook, a work-in-progress detailing his experiences, and the lives of Filipinos, in Japan. With photos by Shinya Ochida.
R. Zamora Linmark
Born in Manila and educated in Honolulu, R. Zamora Linmark is the author of Rolling The R's (Kaya Press) and Prime Time Apparitions, a poetry collection forthcoming from Hanging Loose Press. He is the recipient of a National Endowment for the Arts and two Fulbright grants to the Philippines. He is currently living in Tokyo, on a U.S.-Japan Friendship Commission grant, where he is at work on a documentary and an experimental notebook detailing his experiences in Japan as a Filipino American artist.
Shinya Ochida
Ochida was born in Hiroshima in 1973 and entered the Design Faculty of the Kyushu Institute of Design, where he studied industrial design. Later, in 1994, he studied at the Pratt Institute in New York. His work experience includes employment at Urban Design Consultants Inc. and Em Environmental Design Systems, Inc. He presently works as a freelance commercial photographer and also photographs actors, dancers and musicians. His major exhibitions include the 1995 "Viva-Mexico" exhibition at Saint Mark's Foto/Grafik in New York and a 1996 exhibit entitled "The phrase," held at the Nikon gallery in Fukuoka.
Supported by the Japan US Friendship Commission Collaborative Projects Grant and the International House of Japan Artists' Collaborative Project Grant
日時: January 14. 2005 17:00-20:00
会場: VOICE GALLERY, Kyoto
With cooperation from:The Hosotsu River Rafting Collective, Takatsu Shoukai Inc., Kyoto Sanjou Radio Cafe, Voice Gallery,Kyoto Saga Arts University
US-Japan Creative Arts Fellow Adam Frelin joined with the young Kyoto-based artist Shun'ichi Ogawa to make a short video of rafting the Hosotsu River between Kameoka and Kyoto's Arashiyama.The work is a humorous yet transcendent experience of the beautiful river landscape combined with a unique spoundscape. The work was premiered at Voice Gallery in Kyoto.
Eight costumed violin players were gathered in one of the long wooden boats which regularly ply the Hosotsu River. As they descended the river, all the violins entoned just a single note, B flat.The idea of the project was to recreate the topography of the river through sound. The stretch of river between Kameoka and Arashiyama contains both violent rapids and areas of calm water, so the actual tone altered as the boat rocked back and forth through the rapids or softly glided over the still sections. This creative and intellectually stimulating work met with a very successful premier and will eventually be made commercially available.
2004
Date: Wednesday, December 22, 2004 7:00 PM
Venus: THE INTERNATIONAL HOUSE OF JAPAN
Price: Free
Laure Drogoul's public art project, "OlfactoryFactory," involved the collecting and mapping the smells of Tokyo with a mailing survey and her rolling "scentorium" (a cart specially designed to collect smells). With these tools and the results of the survey, she created a "smellscape" of Tokyo which she presented in a collaborative performance involving music, dance and performance art at the I-House.
Photo: Toshiaki Mihashi
Collaborators:
Naoko Maeshiba (choreographer/ butoh dancer)
Audrey Chen (cello, voice)
Catherine Pancake (percussion, inventions):
"OlfactoryFactory" website can be viewed at  
Date: September 22, 2004, (Wed.), 7pm (Doors open at 6:30)
Venue: International House of Japan Garden
Musicians
Composition, Guitar:Ray Sandoval (Recipient, US-Japan Creative Artist Exchange Fellowship)
Piano: Chiharu Kuroki
Bass: Tetsuya Mashine
Percussion: Tomoyuki Yamada / Kenji Matsuura
Latin guitarist Ray Sandoval joined together with a group of Japanese Latin music players to present an evening of music in the gardens of the I-House. Shakuhachi master Hozan Yamamoto joined in on two pieces that Ray composed. Ray, who is half-Japanese, was in Japan to research Japanese folk music and incorporate it into his future compositions.

MusiciansF

Composition, Guitar:F Ray Sandoval (Recipient, US-Japan Creative Artist Exchange Fellowship)
Piano: Chiharu Kuroki
Bass: Tetsuya Mashine
Percussion: Tomoyuki Yamada / Kenji Matsuura
Special guest musician: Hozan Yamamoto (Shakuhachi, Living National Treasure)
Latin guitarist Ray Sandoval joined together with a group of Japanese Latin music players to present an evening of music in the gardens of the I-House. Shakuhachi master Hozan Yamamoto joined in on two pieces that Ray composed. Ray, who is half-Japanese, was in Japan to research Japanese folk music and incorporate it into his future compositions.
Exhibition period: June 1, 2004-June 13, 2004
Place: Taisei Ishida Hall ITP Creators Bldg. Ogawa Nishi Iru, Maruta Machi Dori, Sakyo-ku, Kyoto.Tel: 075-211-9151
Thomas Beale, sculptor in Japan on the Japan-US Friendship Commission Creative Artists' Exchange Program, worked with Kyoto based urushi artist Takeshi Igawa to create an innovative sculpture made from the wood of old buildings torn down in Kyoto. It is a bit difficult to discern from this photograph, but the black object is the wood sculpted by Thomas. Takeshi Igawa covered this piece with black urushi Japanese lacquer and tiny specks of gold The shiny polish enabled the viewers to see their own reflection. The center of the black circle, however, was dulled, The following site contains more information about the exhibit (in Japanese)
2003年
Exhibition Period: Nov. 21–Dec. 1,2003
Place: International House of Japan Lobby
JUSFC Creative artist Ellen Oppenheimer and Japanese quiltist Yoko Ueda collaborated on creating two quilts that were shown in the lobby of the I-House. Each artist began by making a quilt base, then sent the base to the other for completion. The resulting quilts were enriched by the collaboration of ideas and techniques and transcended what the individual could accomplish alone.
Left)
Kyoto Collaboration
Ellen Oppenheimer
Right)
Waterscapes Yoko Ueda
Collaborators: Text, concept: Sawako Nakayasu
Music: Mamoru Hoshi (bass)Tomomi Adachi (computer music)
Dance: Chiko Katsube
Date: October 15, 2003 19:30
Venue: Kagurazaka, die pratze
This project, conceived and directed by JUSFC creative artist Sawako Nakayasu, engaged the literary and the performing arts by using text as a key ingredient in an evening of performance featuring dancers and musicians. Current technologies in computer music, along with traditional musical and literary devices, both formulated and improvised, were utilized to enliven the dialogue spoken (and written) in both English and Japanese. Absurd questions posed to the audience, for example, "What is the same size as an ant?," created a sense of disengagement from the normal audience/performer relationship and encouraged audience participation.
| | |
| --- | --- |
| | |
Nandlal Nayak: Musical direction, vocals, dholak Indian folk drum
Wendy Jehlen: Choreography,Dance
Norihiko Akagi: Percussion
Tohen Hibiki: Wadaiko
Habib Khan: Sarangi, alguja, morchang Indian folk instruments
Atsuko Kida: Koto juushichigen
Kohinoor Langa: Kartal Indian folk percussion instrument
Takashi Sakai: Computer
Kentaro Uchida: Bass
Christopher Yohmei: Shakuhachi
Date: June 6, 2003 19:00
Venue: International House of Japan Garden
As part of the US-Japan Friendship Commission Artists' Collaborative Project, Nandlal Nayak, Wendy Jehlen and a variety of Japanese, American and Indian artists presened a multicultural collaboration of drumming, music and dance. Japanese musicians include some of the leading percussionists of both western and Japanese drumming, 13 and 17 string koto, shakuhachi, electric bass and computer manipulation. As special guests, two world-renowned Rajastani folk musicians came to Japan for this project. It brought together musicians and instruments both traditional and contemporary; folk and classical musical styles. The music was heavily percussive and draws on the strength of the wadaiko drums, Nayak's Indian folk dholak, West African drums, the intensity of the Rajastani kartal and the South American cajon drum. To this was added the fascinating and endless rhythmic variations of electronic percussion and various folktales of Japan interpreted through the electronic bass and koto. Melodies from Japan and Rajasthan played on the shakuhachi, sarangi and flute were woven into this musical fabric. More than 100 audience enjoyed the harmonious sound and rhythum of multicultural instruments.

A Collaboration with New York City/Tokyo Artists: experimental performances with modern dance, butoh dance, shakuhachi and dholak Indian drumming
Yoshito Ono, Perry Yung, Kinya Sogawa, Laurie Sogawa, Maura Donohue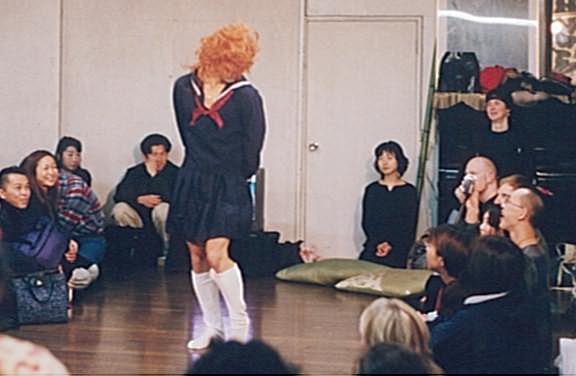 UMI YO UMI YO! was a contemporary performance collaboration of butoh dance and experimental theater that developed out of Perry Yung's US-Japan Creative Arts Fellowship in Japan. Studying under butoh masters Yoshito and Kazuo Ohno and shakuhachi master, Kinya Sogawa, Perry received special privilege and insight into the profound world of the Japanese culture. His relationship with his teachers was especially rich and complex because of issues surrounding Asians born in Caucasian America. Perry's collaboration was conceptualized directly from the video documentation of his interactions with Yoshito and Kinya and driven by thSe idea of cross cultural relationships and identity appropriation.
Guest Performers: Kazuo Ono, Nandlal Nayak, Anabel Cameron-Lewis, Keiko Hashimoto, Motoko Sasaki, Hideyo Nozawa, Michiyuki Kato, Anika Z. Nayak, Wendy Jehlen, Shoko Ishikawa, Birgit Binder, Tokuhiko Akagi, Yuki Takahashi, Toshio Mizohata (Lighting)
Date: April 5, 2003 (Sat) 15:00
Venue: Kazuo Ohno Dance Studio (Yokohama)
2002年
Lyrics: Kenny Fries
Composition: Yuka Takechi
Voice : Mika Kimula
shakuhachi : Christopher Yohmei
Date: November 22, 2002 7:00 PM
Venue: The International House of Japan Lecture Hall
Poet and non fiction writer Kenny Fries, in Japan on the Japan-US Creative Artists' Exchange Fellowship, collaborated with composer Yuka Takechi and vocalist Mika Kimula in a concert of poetry set to music. "In the Gardens of Japan" featured a series of poems inspired by several of Japan's famous gardens.
Fries described the process of writing his impressions of Japanese gardens:
Before arriving in Japan in May, 2002, I had not written a poem in over four years. Years of writing nonfiction made the medium of poetry seem incapable of expressing as much as I wanted to express.
This changed soon after I arrived in Japan. I was overwhelmed by an abundance of new cultural experiences and constantly faced with unfamiliar but emotionally encompassing sights and sounds. Among these experiences, two images began to stand out and pervade my thoughts: the irises of Meiji Jingu and the voice of singer Mika Kimula.
I began spending more time in the gardens of Japan. What emerged was a sequence of poems that on the surface describe what can be found in the gardens. However, just as Japanese gardens suggest a microcosm of what it means to be alive in a mortal world, the poetry pointed to deeper meanings below the surface.
I also wanted to explore how my English words might reverberate to the sounds of traditional Japanese music, especially vocal music. Could my poems become song? The idea occurred to set the poetry to music, featuring Mika's voice.
Japanese gardens take you from the entrance, lead you through various meanderings and finally return you to the beginning. Likewise, my encounters with Japan led me back to poetry that, like the gardens, hold within them an entire world.
Borrow the hills. The algae-filled pond
is the sea; three stones

its islands. To recreate the world, first
take it apart. Swallowed

in green, the water scooped
in your hands is the moon.
May 30 (Thu), 2002 7:00 pm-
IHJ Lecture Hall
| | | |
| --- | --- | --- |
| Two performance and installations artists active in Japan, James Luna (American Indian) and Lee Wen (Singaporean) premiered their collaborative video work, "Alter Native," an interactive dialogue about their experiences and views as "native" people living in Japan. The two artists, having met in Japan away from their ethnic and cultural origins, came to realize the need to re-examine various issues such as upholding traditional values in the face of globalization, cultural stereo-types and ethno-centric thinking. Through the video, they questioned commonly held perceptions of political and social identity and engaged in an exchange of ideas. The two artists also presented performances along with the video showing. This Collaboration event was co-sponsored by the Tokyo American Center. | | |
Eros: July 22, 2001 Kazuo Ohno Dance Studio (Yokohama)
Decay of the Angel: August 3, Morishita Studio (Tokyo)
In her dance, Maureen Fleming seeks to blur the lines of cultural boundaries through imagery that explores universal aspects of the soul's journey.
Decay of the Angel brought together collaborators from the fields of ikebana, photography and dance. Fleming's choreography was structured around a stream of compositions consisting of what she terms 'archetypal moments,' which slowly devolved each into the next. Utilizing Taniguchi's giant sculptural ikebana objet as both backdrop and platform, Fleming-standing still or moving very little throughout the work-Naitoh's photographs projected on the backdrop. The result was a stunning visual effect suggesting series of moments, each one symbolizing the patterns of life experience.
Fleming recognized similar such 'archetypal moments' in the work of her collaborators and brought them together to create images where the sum total of the elements (movement, light, costume, sculpture, sound, and projection) added up to one, grand 'archetypal moment.'
June 20, 2001 International House of Japan Artists' Forum (Tokyo)
The composers Yoshihide Otomo and Gene Coleman are both known internationally for their involvement in the new and experimental music scene. Both have worked as composers, performers and also curators and organizers of various festivals and events involving new music. They also share an interest in experimenting with the use of traditional Japanese instruments in the context of this new music. This collaborative project was a unique exploration of the boundaries of sound.
They created new pieces for an international ensemble that included three members of the Gagaku group "Reigakusha" and three members of the Viennese experimental music group "Polwechsel". Their compositions in sound and invited the audience to experiement with new ways of listening. The music went beyond the "normal" use of harmony, melody and rhythm and created fascinating landscapes of sound and noise that merged traditional Japanese aesthetics and the western avant-garde in ways that were dynamic, meditative and personal.
March 14, Shinjuku Station South Exit (Tokyo)
Shopping Crawl March 17, Yoyogi Park (Tokyo)
Performance/Lecture April 9, Nishiogi Wenz Studio (Tokyo)
JUSFC artist William Pope.L is internationally known for his thought-provoking street performances that require long periods of concentration and physical endurance. The three performances he undertook in Tokyo had as their theme the expression of two cultures-Japanese and African American-through a troubled interaction. Pope.L also stressed the themes of homelessness, melancholy and endurance. The artist believes that what sets people apart is what ultimately brings them together, but togetherness nor harmony are not always beautiful and stereotypes are not always valid: Japanese people are not always polite; black people are not always savages.
Pope.L and his collaborators set up a series of performances to express these viewpoints. The venues included two two public places with a high volume of foot traffic (Shinjuku Station South Exit and Yoyogi Park) and a private performance space (Nishiogi Wenz Studio).
March 6-11, 2001 Galerie 16 (Kyoto)
While observing the works of the younger Japanese artist, JUSFC visual artist Barbara Allen noticed a strong yet indirect similarity between Terada and her own works. Their collaboration involved several visits between the two artists' studios in preparation for the exhibition. The exhibit, which ran for six days in one of Kyoto's well-known galleries, attracted a high number of visitors and attention from the local press.
One of the most valuable aspects of this particular collaboration was that it brought a young, emerging Japanese female artist in contact with a veteran American artist. Shuko Terada got to exhibit her work in the context of an established, international artist while Barbara Allen had the chance to highlight her work in a fresh perspective in a foreign country. Both intend to continue the collaboration with a similar exhibition in the US.
Inquiries
Program Department
International House of Japan
5-11-16 Roppongi, Minato-ku, Tokyo 106-0032
TEL: 03-3470-3211 (Mon.-Fri., 9:00 am-5:00 pm)
FAX: 03-3470-3170