Tuesday, July 2, 2013, 7:00 pm, Iwasaki Koyata Memorial Hall, IHJ
Performers: William Roper (Travel Tuba), Nozawa Tetsuya (shamisen)
Christopher Yohmei (shakuhachi), Leza Lowitz (poetry)
Program: Bleu, Cloud Hidden Whereabouts Unknown
My Mother's Mother, Optics, Darkest Night
Music composed and arranged by William Roper and Glenn Horiuchi
Video collaboration with Joseph Santarromana
Language: English & Japanese (with consecutive interpretation)
Co-sponsored by the Japan-US Friendship Commission (JUSFC)
Admission: Free | Seating Capacity: 70

(reservations required)
In this Artists' Forum, composer and performer William Roper, presently in Japan on the Japan-US Creative Artists Program, presents a program of solos, duos and trios for tuba and traditional Japanese instruments. Roper's work is based in narrative and autobiography. In Roper's music, listeners can hear how he navigates from one piece to the next through the use of similar tonal reference points. The listener is free to make associations between these points or not. What is important is how the listener arrives at the immediate present in the musical experience. All of the compositions in the program were influenced by his long association with Asian-American artists.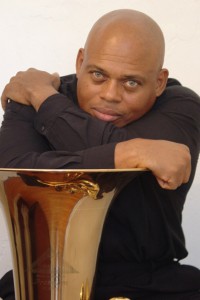 William Roper is a multidisciplinary artist based in Los Angeles. As a performer of the tuba, his professional experience ranges from the symphony stage to free improvisation groups. He has toured North and South America and Europe as soloist and as a member of jazz, rock and classical ensembles. He has released several recordings as a leader and co-leader. He has played or recorded with numerous artists and ensembles including the Los Angeles Philharmonic, Los Angeles Master Chorale, Elton John, Leon Vlatkovich, Vinny Golia, Wadada Leo Smith, Glenn Horiuchi and many others. In addition, he has played on several major motion picture soundtracks. His works have been commissioned for the Gloria Newman Dance Theater, Dance L.A. and SASSAS. His compositions have been performed in the U.S. and Europe. Roper is a visual artist as well, utilizing the media of painting, assemblage, video and performance art. These works have been exhibited both in the U.S. and Europe.