*Due to technical issues, this program has been postponed, with proposed alternative dates in July 2015.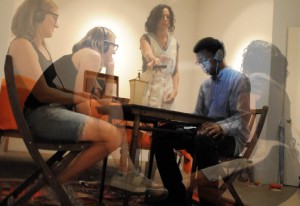 George Ferrandi's Immersive Synchronized Sound Play
Date: Saturday, April 25, 2015
Sessions: 6:00, 6:20, 6:40, 7:00*, 7:20, 7:50, 8:10, 8:30*, 8:50, 9:10, 9:30 pm (* 7:00 and 8:30 sessions will be in English)
Duration: 10 min
Location: Rooftop, International House of Japan (4F – no elevator access)
Meeting location: Annex Lobby, International House of Japan
Artist: George Ferrandi (Visual and Performance Artist, US-Japan Creative Artists Program Fellow)
Language: English or Japanese
Admission: Free
Seating: Up to 9 participants for each performance
* Priority will be given to participants who have made reservations.
Recommended age: adults and young adults
*In the event of rain, performance will be held indoors.
Co-sponsored by the Japan-US Friendship Commission (JUSFC)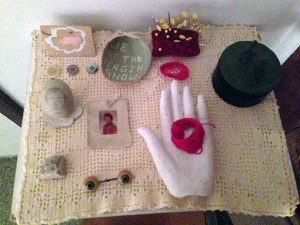 Join us after dark on the rooftop of the I-House, for an experience that is somewhere between a celestial bed-time story and a séance. Through carefully synchronized headsets, 9 participants at a time will become both quiet listeners and stellar performers in a 10-minute narrative experiment centered on dramatic changes in the night sky.
---