This program has finished.
Date: Thursday, September 29, 2016, 7:00 pm
Venue: Iwasaki Koyata Memorial Hall, International House of Japan
Artist: marksearch [Sue Mark & Bruce Douglas] (Interdisciplinary artists; US-Japan Creative Artists Program Fellows)
Moderator: Hayashi Akio (Managing Director, inVisible)
Language: English & Japanese (with consecutive interpretation)
Co-sponsored by the Japan-US Friendship Commission (JUSFC)
Admission: Free

(reservations required)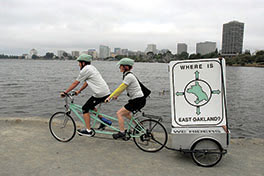 Who holds the containers for social memories?
How is traditional knowledge passed through generations?
What ways can tradition move through healthy transformations as communities change?
Join a visual discussion to learn about cultural research team marksearch's exploration of these big questions. As unconventional tourists, marksearch has been learning about ritual, traditional craft, and daily life practices as well as visiting generations' old trade shops, historic reenactment villages, and living museums in urban and rural Japan. While in residence at Sanki Bunko, marksearch has been exploring various methods of cultural preservation in Kanazawa. They are interested in understanding the process of machiya renovation: who decides to live in these historic homes, which architects specialize in their detailed renovation, what kinds of craftspeople and carpenters are needed in the reconstruction process and what municipal public policies are in place to encourage saving these historic homes. They will connect their current research in Japan with their previous projects in the US and other countries. Hayashi Akio, director of art festivals in various regions of Japan including the Beppu Contemporary Art Festival and Tottori Geijū-sai, will join the conversation.
Profile: marksearch (Sue Mark & Bruce Douglas) engages people in collaborative expressions of local history to expose and deepen bonds between people and their environments. Through cross-disciplinary projects, they create temporary and permanent sculptural structures for improvisational collaboration in public spaces. On-the-street interactions offer people an opportunity to create a lasting neighborhood narrative that connects local history with the lived experience of a particular place.
---