*This event has finished.

Date: Friday, September 30, 2016, 7:00 pm
Venue: Lecture Hall, International House of Japan
Artist: marksearch [Sue Mark & Bruce Douglas] (Interdisciplinary artists; US-Japan Creative Artists Program Fellows)
Guest Artist: Nakamori Akane (Suisei-Art, Kanazawa)
Language: English & Japanese (with consecutive interpretation)
Co-sponsored by the Japan-US Friendship Commission (JUSFC)
Admission: Free

(reservations required)

*This workshop is open to a maximum of 15 participants with past experiences or an active interest in community-based art initiatives.

*Participants are welcome to bring and share materials or stories from their own experiences in community-based work. It can be physical, such as a small object, tool or artifact used in the project, a visual such as a photo, drawing, or diagram, or it can be intangible, such as a short story that describes an important experience from the project.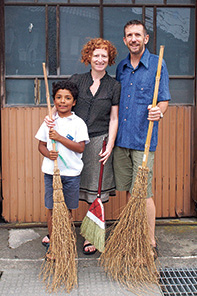 As socially engaged artists shift away from working in the known spaces of museums and galleries, many interesting challenges arise. Creating positive experiences for non-traditional art audiences requires new approaches and sensitive communication. California-based cultural researcher team marksearch (Sue Mark & Bruce Douglas) has worked collaboratively and extensively with communities in the US and other countries, and in this dynamic workshop with Nakamori Akane, will unpack the process of creating a socially engaged experimental project in a small, historic Kanazawa neighborhood. The workshop will include opportunities for participants to share their experiences and insights in the growing field of community-based art practices.
Some themes to be explored include:
• Artists' responsibilities to develop sensitive works in a community
that is not their own
• Development of healthy relationships with institutional partners
• Strategies for accessible communication with local residents
• Ways to measure success
Profile: marksearch (Sue Mark & Bruce Douglas) engages people in collaborative expressions of local history to expose and deepen bonds between people and their environments. Through cross-disciplinary projects, they create temporary and permanent sculptural structures for improvisational collaboration in public spaces. On-the-street interactions offer people an opportunity to create a lasting neighborhood narrative that connects local history with the lived experience of a particular place.
---