This event now concluded. Report available here.
Thursday, May 17 2018 7:00 pm
Venue:
Iwasaki Koyata Memorial Hall, International House of Japan
Artist:
Laurel Nakanishi (Writer; US-Japan Creative Artists Program Fellow)
Language: English (with subtitles / consecutive interpretation)
Co-sponsored by the Japan-US Friendship Commission (JUSFC) 
Admission: Free 

(reservations required)
Hawaii-based writer Laurel Nakanishi will discuss her work teaching poetry to children in schools across the US and Nicaragua. Through stories and research, she will trace the ways in which students are transformed through writing. This interactive presentation will feature poetry pedagogy, student work, and a short collaborative poetry-writing exercise.
(Photographs are courtesy of the artist.)
Report
Arts education has a major impact on learning and the social development of schoolchildren, and poetry plays as important a role in U.S. arts education as drama, visual art, music, and dance. Hawaii-based writer Laurel Nakanishi, who was visiting Japan as a US-Japan Creative Artists Program Fellow, discussed her experiences in teaching poetry to students. Participative exercises were held thereafter.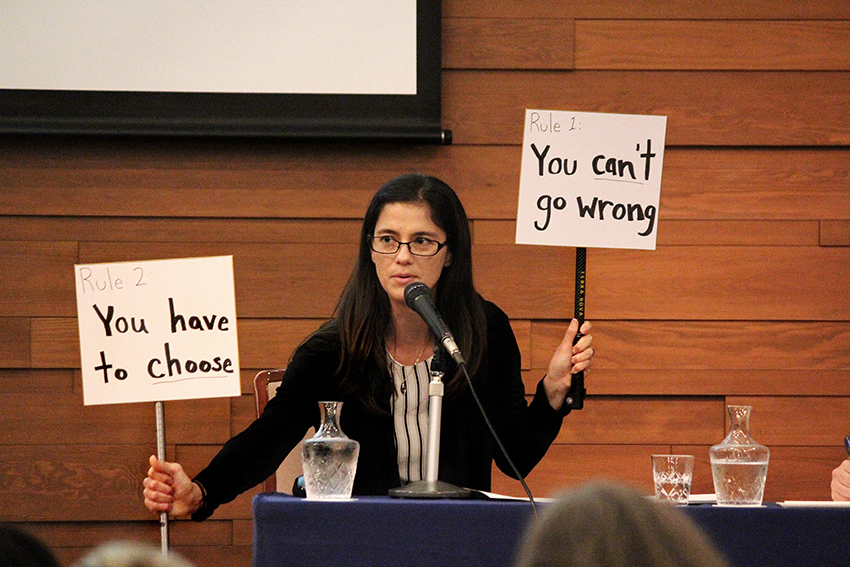 How is poetry a good influence on students?
After receiving MFAs in poetry and writing, Nakanishi launched an array of educational programs related to poetry in the U.S. and Nicaragua. Through such extended experience, she has realized the positive impact of poetry on children. The teachers and principals that she works with have commented: "These poetry classes have motivated children." "Students are more concentrated and willing to express themselves after poetry classes." "Poetry classes are a method of building our students' confidence and self-worth." In fact, over the last three decades, studies have shown that arts education yields not only academic benefits but also social and even health benefits. Nakanishi points out social attitudes and behavior developed through poetry leads to social interactions in classrooms, schools, and whole communities.
Poetry has no one correct answer
Feelings differ from person to person, as does mode of expression. However many students find this confusing. Used to classes where there is one correct answer, they are puzzled at first by the freedom to express their own ideas and to let loose their own imagination, Nakanishi says. It seems that some students even take a few weeks before being able to write. However, once they get accustomed to expressing themselves in their own words, their stories and experiences overflow so that they get to be confident and proud of their works by the end of the semester. This confidence and motivation also have a good impact on other schoolwork and social behavior. Nakanishi, who noted the need for skillful teaching in order for students to enjoy these benefits, has developed her own approach based upon the seven practices of effective arts education of Harvard Project Zero. The aim is to draw creativity, joy of writing, and a desire to express themselves in poetry from students. She emphasized the importance of students developing their own "creative voice."
Let's express our inner child!
After the lecture, Nakanishi led the audience in exercises of reading and writing poetry, ones designed to advance the careful observation, five senses, and imagination crucial for poets. In the reading exercise, she used a short poem with a garden as theme. First of all, everyone closed their eyes and imagined that they were in a garden. Then they declaimed by using full gestures so as to feel the rhythm and dynamism of poetry. In the writing exercise, they worked on metaphor and imagery, creating metaphors for three colors using the five senses and imagination. Her two simple rules were: "You can't go wrong (no matter how odd it might be)." and "You have to choose (from infinite options)." She then posed these three questions: "What if red is sound?" "What if yellow is smell?" "Where does blue take you to?" Everyone put down their expressions on colored sticky notes, which were put up on a whiteboard so everyone could share them. It seemed they had created a whole collaboration poem together.