For over two decades, various publications were issued in order to disseminate the fruits of the program, to exchange and share ideas with non-Asian counterparts, and to expand the ALFP network within and beyond the region.
ALFP Brochure (digital version)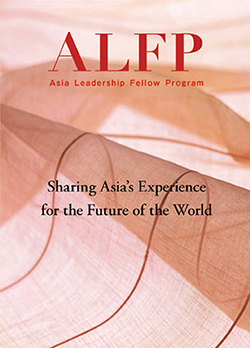 Sharing Asia's Experience for the Future of the World (PDF)
This is the digital version of the ALFP brochure "Sharing Asia's Experience for the Future of the World"—which traces the history of the ALFP from 1996 to 2019. (Published in December 2020)
Contents
P1  Preface
P2  About ALFP
P3  A Brief History of ALFP
P4  Roundtable Talk: Intellectual Exchange in Asia—The History and Significance of the ALFP
(with Ogawa Tadashi, Tanami Tatsuya, Lee Jong Won, and Takenaka Chiharu)
P18 The Thinking of Asian Public Intellectuals Today: Reuniting with the Asia Leadership Fellows (contributed by Ogawa Tadashi)
P27 Fellows' Voices
P30 List of ALFP Fellows
P32 Number of ALFP Fellows by Country/Region
By looking back on the ALFP's activities for the past quarter century and reviewing both the significance and remaining challenges of the program, we hope to lay a foundation for the further development of cultural exchange in Asia.
Proceedings of the ALFP Special Symposium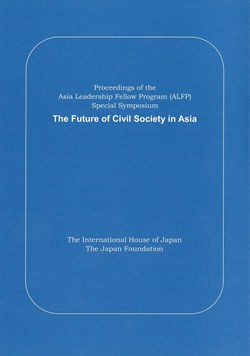 The Future of Civil Society in Asia (PDF)
This is the proceedings of the ALFP special symposium held on February 6, 2013.
[Panel 1]
New Politics and Civil Society in Asia
[Panel 2]
The Future of Asia, the World and Humanity from Japan after 3.11
[Panel Discussion]
Challenges and Possibilities of ALFP: What Can Civil Society in Asia Do for the Next Decade?
ALFP Alumni Publication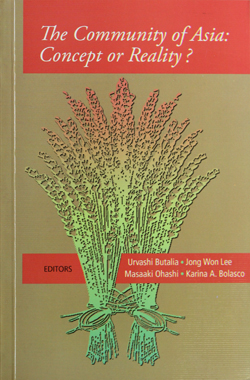 The Community of Asia: Concept or Reality?
Selected writings by the ALFP fellows were edited into book form and published in May 2006. The book consists of five chapters:
1) Rethinking Asia as a Community;
2) Governance, Democracy and Human Rights;
3) Markets, Development and Happiness;
4) Memory, Religion and Culture, and
5) Public Intellectuals in a Changing Asia
In each chapter the fellows addressed the various questions and explorations that had resonated among them during the preceding ten years. It was hoped that the fellows' critical discourse in search of the betterment of Asia, emblematic of the richness of Asia's intellectual resources, as well represented in the ALFP network, would be disseminated throughout the region and the rest of the world through this publication.
---
ALFP Secretariat
c/o Program Department, International House of Japan
5-11-16 Roppongi, Minato-ku, Tokyo 106-0032
Tel: +81-3-3470-3211
E-mail: program*i-house.or.jp (Please replace * with @ when sending.)