IHJ Japanese Music Series Vol.10
Shōmyō Sutra Chanting
—The Wisdom of the Voice: Traditional Japanese Buddhist Chant sung by Sen'nen no Koe
Friday, March 25, 2011, 7:00 pm, Iwasaki Koyata Memorial Hall, IHJ
Performers: Arai Kōjun and other priests from the Shingon Sect
Admission: Regular Rate:3,500 yen (Discount Rate*:3,000 yen)


*Discount rates are applicable for IHJ members.

*Reservation is needed.
Language: English & Japanese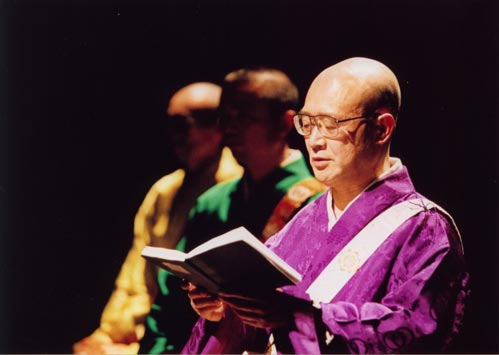 Shōmyō is the song-like chanting of sacred Buddhist texts (sutras) whose origins reach back to the Hindu Vedic hymn chants of ancient India. Shōmyō entered Japan in the 6th century and reached a zenith during the Heian Period (8-12th centuries), subsequently informing almost all of the traditional vocal arts of Japan. Nowadays shōmyō is rarely heard outside of temples, but Sen'nen no Koe, a group of monks highly proficient in this ancient art, will perform shōmyō ceremonial singing for the final concert of the IHJ Japanese Music Series. For this performance, they will re-create a typical Buddhist service known as the nikahōyō (Shingon Sect), which includes a wide variety of chanting styles and content.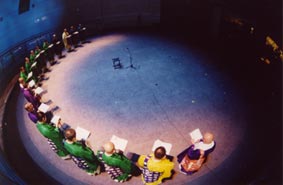 Explanations of the chanting will be provided in English. The rich vocal tapestries of shōmyō provide an opportunity to escape the din of everyday life and enter into a world of spiritual sounds.
IHJ Artists' Forum
ISAK IMMANUEL: Stations of Appearance
Between Exhibition and Performance
A Collaboration of Dance, Video, and Photography
Thursday, December 9th, 2010 7:00 PM, Iwasaki Koyata Memorial Hall, IHJ
Isak Immanuel (performance, video, photography), Kaseki Yūko (performance), Katsura Kan (video performance), Ishide Takuya (video performance), Kamimura Megumi (video performance)
Admission: Free (reservations required)
Language: English and Japanese
Co-sponsored by the Japan-US Friendship Commission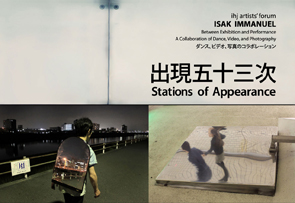 Developing layers between looking and the ambiguous markers of place, "Stations of Appearance" unfolds as a performance sketchbook in images, choreographed tableaux, and improvisations. The work pieces together its own map, from observations and interventions in the public transit space of cities along the Tokaido line, between Tokyo and Kyoto, and in places falling off.
The work developed from Isak Immanuel's Japan-US Creative Arts Fellowship and his research on movement and dance relative to spatial-corporeal representation, orientation, and transformation, including a focus on Noguchi Taiso as an inquiry to changing forms and images. Noguchi's words, "Everything in this world has the same home town—it is gravity," provide a resource for movement and search for the sense of place.
IHJ Japanese Music Series Vol.9/The Works of Hirose Ryouhei, No. 1
A Passionate Creativity with Japanese Instruments
Wednesday, November 24, 2010, 7 pm (Pre-concert lecture from 6:30 pm), Iwasaki Koyata Memorial Hall, IHJ
Performers: Endō Chiaki (koto), Obina Kuniko (koto), Kawahara Taeko (17 stringed koto), Kezuka Mariko(koto), Komiya Mizuyo(koto), Zen'yōji Keisuke(shakuachi) , Hisamatsu Ayako (koto and song),Fujiwara Dōzan (shakuhachi)
Pre-concert Lecture: Hirose Ryouhei and the Shakuhachi, by Tamura Takuo (Moderated by Christopher Blasdel)
Admission: Regular Rate: 3,500 yen (Discount Rate*: 3,000 yen)


*Discount rates are applicable for IHJ member, foreigners and students.

Language: English & Japanese
Co-sponsored by the Hirose Ryouhei Concert Series Committee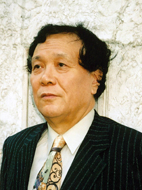 Hirose Ryouhei was one of Japan's most prolific and internationally minded composers of the late 20th and early 21st centuries. As a young composer active during the phenomenal boom of shakuhachi music in the late 60's, Hirose created over 40 compositions of new music for the shakuhachi, koto, 17 stringed bass koto and the 25 string koto. He also composed numerous works for western string ensemble, chamber music, recorder and choral groups. Hirose's compositions were a prototype of the quintessential Japanese idea of sound, based on musical values reflective of his pan Asian outlook. His passionate musical creativity was most evident when composing for traditional Japanese instruments; a passion that continued throughout his career. This concert series of Hirose's works (the first of which is held as part of the IHJ Japanese Music Series) aims to transmit the composer's passion for Japanese instruments to the younger generation and inspire others to follow in his path of creativity.
IHJ Artists' Forum
On the Periphery of Architecture
Robert Hutchison talks about work at the boundaries of Architecture and Art
Thursday, October 7th, 2010 7:00 PM, IHJ Lecture Hall
Admission: Free (reservations required)
Language: English and Japanese
Co-sponsored by the Japan-US Friendship Commission

Robert Hutchison is an architect and Principal of Hutchison & Maul Architecture based in Seattle, Washington. Hutchison is in Japan for five months as a recipient of the 2010 Japan-US Creative Artists Fellowship. While in Japan, Hutchison is researching architects and artists whose works cross both disciplines. Ongoing projects include conducting interviews of selected artists and architects for book publication, as well as his own "peripheral projects" which focus on photography and film.
Hutchison is keenly interested in works by architects which deviate from the discipline of architecture. His own firm, Hutchison & Maul Architecture, has created numerous projects peripheral to their main architectural work. For this Artist's Forum, Hutchison will provide an overview of his firm's work and a brief discussion pertaining to his ongoing research of Japanese architects and artists.
---
from left to right)
-Hole House #1, 2004, Project executed by Hutchison & Maul Architecture
-Artisan Barn Grain Silo Interior, Uniontown, Washington (Photograph by Robert Hutchison)
-Japan Fluorescent Light Pole Series, Ise-shi, 2010 (Photograph by Robert Hutchison)
IHJ Artists' Forum
An Abundance of Crows
John Haptas & Kristine Samuelson

Friday, July 9th, 2010 7:00 PM, IHJ Lecture Hall
Admission: Free (reservations required)
Language: English with consecutive Japanese interpretation
Co-sponsored by the Japan-US Friendship Commission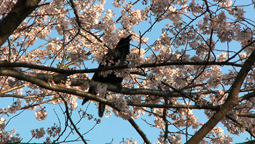 John and Kristine, recipients of the Japan-US Creative Artists' Grant, are filmmakers who collaborate in making documentary essays. On a previous trip to Japan, they were impressed by the large number of crows living in Tokyo's urban environment. Their research led them to the realization that the way crows and people live together in Tokyo can teach us a lot about Japanese society and ourselves. In this forum, the two filmmakers will discuss their concept of the documentary essay illustrated with clips from previous works and their current work-in-progress. An Abundance of Crows, that includes interviews with such diverse people as a Buddhist priest, an ornithologist, and a homeless activist.

John Haptas and Kristine Samuelson: Their award-winning documentary essays have been screened at festivals throughout the world, from Sundance and San Francisco to London, Rio, Belgrade, India, Germany, and South Korea. They have appeared on PBS and cable television and at museums like MOMA in New York.
IHJ Artists' Forum
Musical Words–Two American Poets at IHJ
Sam Hamill + Leza Lowitz, Poetry Reading
Musical Accompaniment by Christopher Yohmei Blasdel on the Shakuhachi

Monday, May 17, 2010, 7:00 pm, International House of Japan Library
Admission: Free (reservations required)
Language:  English with consecutive interpretation.
(The works will be read in English with texts provided.)
Co-sponsored by the Japan-US Friendship Commission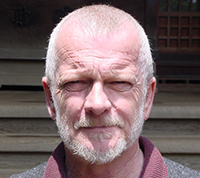 Sam Hamill was raised and lived mostly in western USA, but his worldview was influenced by the great Chinese and Japanese masters. His poems draw from both traditions and reflect an ascetic sense of humility and thankfulness. He writes in a distinctive style of English that is both musically evocative and highly disciplined. Sam was a recipient of the Japan-US Creative Artists' Fellowship in 1988, and in the ensuing 22 years since his fellowship has become an extremely important voice in American poetry.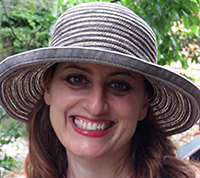 Leza Lowitz is an American expatriate writer residing in Japan for over ten years. Her deeply lyrical, often startlingly confessional poetry reflects her lifelong study of Zen and yoga, and her exploration of what it means to be human and live with an open heart. Her co-translations have focused on the personal aspects of Japan-U.S. relationships, for example the changing role of Japanese women in literature, art and society and the effects of war and the desire for reconciliation in contemporary Japan.
Christopher Yohmei Blasdel is a 38-year resident of Japan who has committed his life to the study of Japanese music and sounds. He frequently accompanies poets, dancers, painters and other musicians. His role with the shakuhachi in this reading is to question, coax and cajole music from words.
  Please join the three artists for an evening of the spoken word set to music.
IHJ Artists' Forum
Moving Sounds–Connecting Cultural Threads
A Concert Featuring Jane Rigler and Friends

Tuesday, April 6, 2010, 7:00 pm, Iwasaki Koyata Memorial Hall, International House of Japan
Performers: Jane Rigler (flute), Mizushima Kazue+Shinohara Motoko+
KIKU (Stringraphy), Ishikawa Kō (shō), Nakamura Hitomi (hichiriki)

Admission: Free (reservations required)
Language: English and Japanese
Co-sponsored by the Japan-US Friendship Commission
Flutist/composer Jane Rigler arrived in Japan late last year on the US-Japan Creative Artists' Exchange Program. During her time in Japan, she has studied such traditions as noh dance, aikidō and Buddhism to deepen her understanding of sound, movement and Japan's spiritual spaces. Her collaborators for the IHJ Artists' Forum concert include two gagaku musicians and the Stringraphy ensemble; musicians who create music by playing silk strings stretched across the performance space. Guided by structured improvisation, this unique ensemble will explore the fantastic juxtaposition of space and time while providing opportunities for the audience to attentively roam throughout the performance space and discover new ways in which slow, precise movements inspire and shape sound into a personal experience