We would like to introduce the book "Bunka koryū wa hito ni hajimari hito ni owaru : watashi no Kokusai Bunka Kaikan monogatari" by Mr. Mikio Kato, who was former executive director and had been engaged the International House of Japan for a long time.
This book was introduced on the book review column of Yomiuri Shimbun.
Mikio Kato was associated with the International House of Japan for over half a century, having joined I-House when it began recruiting new employees in 1959 and subsequently serving as program director, executive director, and special advisor. In 2000, he began chronicling the history of I-House, publishing the 50-year history of I-House in Japanese in 2002 and the 55-year history in English (The First Fifty-five Years of the International House of Japan: Genesis, Evolution, Challenges, and Renewal) in 2012. He also authored The Rockefellers and Japan: Five Generations Spanning the Pacific in Japanese in 2015. He was awarded the Foreign Minister's Commendation in 1993 and the Japan Foundation Special Prize in 2003 for his longtime contributions to international cultural exchange. To many of his acquaintances, he was known as "Mr. I-House."
Unlike the earlier "official histories," this latest book, published shortly after the author passed away in July 2020, is a memoir full of personal insights and anecdotes. He begins his story with his employment at I-House and a description of the working environment and continues with his experiences of studying and training in the United States and recollections of the various projects with which he was involved. In many ways, his personal struggles and rewards are those Japan itself experienced in advancing international cultural exchange in the postwar years. As the book's title suggests, the key to promoting such exchange is building on one personal encounter after another—an adage that the author himself fully embodied.
The appendix contains a draft of the speech he delivered when he was awarded the Japan Foundation Special Prize that perfectly encapsulates his vision regarding the value of international cultural exchange. The book is certain to be of great interest not only to those engaged in cultural exchange but to many others as well.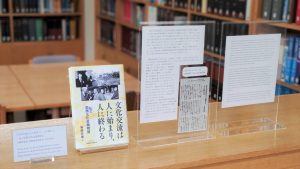 Bunka koryū wa hito ni hajimari hito ni owaru : watashi no Kokusai Bunka Kaikan monogatari
Mikio KATO
Shimbun Tsushin Chosakai, 2021

[日本語棚||I-House Related]

Period: Friday, June 18 – Saturday, July 31, 2021
Place: The Library, International House of Japan