This event now concluded. Report available here.
*This program has finished.
Lecturer: Lim Jie-Hyun (Professor, Sogang University)
Discussant: Torsten Weber (Senior Research Fellow, German Institute for Japanese Studies)
Moderator: Ashiwa Yoshiko (Professor, Hitotsubashi University)
Date: Tuesday, July 3, 2018, 7:00-8:30 pm (Doors open at 6:30 pm)
Venue: Lecture Hall, International House of Japan
Language: English (without Japanese interpretation)
Admission: 1,000 yen (students: 500 yen, IHJ members: free)
Seating: 100

(reservations required)
Germany's Vergangenheitsbewältigung ("overcoming the past") after World War II and South Africa's Truth and Reconciliation Commission after apartheid are some of the post-conflict reconciliation efforts we have witnessed in the modern era. What can East Asia learn from the successes and challenges of these efforts? Prof. Lim Jie-Hyun, a Korean expert on contemporary European history, will talk about history reconciliation and memory issues in East Asia, comparing the situation with European countries such as Germany and Poland.
Prof. Lim argues that today's world often faces "victimhood nationalism," which explains the competition of national memories over the historical position of victims. It can be an obstacle to reconciliation efforts, as well as a key to understanding the memory conflict in East Asia. This lecture will explore the possibilities of coexistence of, and dialogue among, competing memories and probe for the mnemonic solidarity to enable history reconciliation in East Asia.
Torsten Weber (Senior Research Fellow, German Institute for Japanese Studies)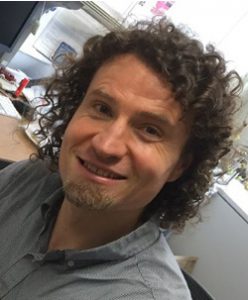 Historian of modern East Asia and a Senior Research Fellow at the German Institute for Japanese Studies (DIJ Tokyo) where he is also Head of the Humanities Section. He holds an M.A. in Chinese Studies from the University of London and a Ph.D. in Japanese Studies from Heidelberg University. His research focuses on the history of Japanese-Chinese relations and interactions from the modern to the contemporary era, including the politics of history and memory. He has recently published
Embracing 'Asia' in China and Japan: Asianism Discourse and the Contest for Hegemony, 1912-1933
(Palgrave Macmillan Transnational History Series, 2018) and has contributed an article on history controversies and war apologies to
The Palgrave Handbook of State-Sponsored History After 1945
(eds. B. Bevernage and N. Wouters, Palgrave Macmillan, 2018).
Ashiwa Yoshiko (Professor, Hitotsubashi University)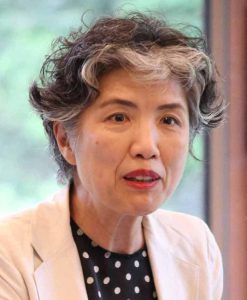 Professor of Anthropology and director of the Center for the Study of Peace and Reconciliation. She studies cultural values and systems in regard to issues of conflict, art, religion, memory, representation, modernity, globalization, and cultural policy, mainly in Sri Lanka, China, North America, and Japan. Her publications include
Making Religion, Making the State
(Stanford University Press, 2009, co-ed.) and
Heiwa to wakai no shiso o tazunete
[Ideas on Peace and Reconciliation] (Otsuki Shoten, 2010, co-ed.). She has been a visiting scholar at Harvard University, Columbia University, and other institutions overseas.
Report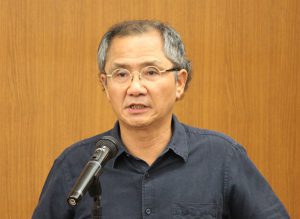 Professor Lim, who proclaims himself to be a memory activist, has delved into transnational history beyond boundaries of nationality and ethnic group. At the I-House Lecture on July 3, he talked about history reconciliation and memory issues in East Asia.
The Holocaust at Auschwitz and the atomic bombing of Hiroshima are two of the biggest and worst calamites of World War II, but a peace march was conducted between these two cities, Professor Lim noted. Organized in the year of the Cuban Missile Crisis, 1962, by Sato Gyotsu at Nipponzan Myohoji temple, a Japanese army veteran who devoted himself as a peace activist after the war, the Hiroshima-Auschwitz peace march was fulfilled on January 27, 1963, coincidentally on the very same day of the Auschwitz liberation. Professor Lim valued this march as "really rare (in the sense that) one can see solidarity of victims in Auschwitz and Hiroshima even during the Cold War."
"Now in 2018, 55 years after the peace march, how has 'mnemonic solidarity' developed?" Professor Lim, who revealed the lecture's starting point was this question, clarified that in the 1970s and '80s a nationalism of heroes dominated but since the 1990s a nationalism of victims has been escalating instead, explaining the reason as "they need to be recognized as innocent to gather international interest." Nowadays, the phenomenon is heating up in a competing in number of victims, a hierarchization or nationalization of victims, around the world, he noted.
For instance, he pointed that, for part of the people of Poland, where 3 million Jewish lost their lives during World War II, it matters a lot whether total Polish victims number 5 million or 6 million, since non-Jewish citizens are resisting their suffering being seen as less than that of Jewish citizens. Furthermore, speaking of the nationalization of victims, he cited non-American victims as an example of those who have been forgotten in the memory of the September 11 attacks.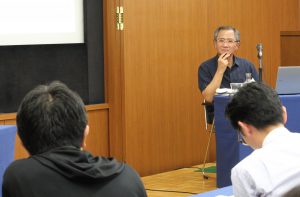 Professor Lim noted this kind of nationalism of victims has limits. He provided a new path to reconciliation in East Asia based on history issues with these words: "Memories are not a zero-sum game. By recognizing other's suffering or victims, we may increase our sensibilities on our own suffering. I think that if we take the multidirectional memory approach perhaps we may reach a certain memory solidarity."