[IHJ Artists' Forum/Artist Talk]
For Example
As the son of a carpenter, Jesse Schlesinger is deeply connected to carpentry and architecture. For the duration of the JUSFC Fellowship Schlesinger traveled the country meeting and working in residence with artisans of many different media. These include woodworking with the Kochia Craft Design Laboratory and Ako Woodworking in Hokkaido, glassblowing with Studio Prepa in Nagano, the textiles of mina perhonen in Tokyo, the cuisine and organic farms of a restaurant/chef Masayo Funakoshi of Farmoon in Kyoto, and metal and woodworking with Dwell in Kagoshima. During this time he created a series of small sculptural works utilizing the materials and techniques of the different artisans. The culmination of this work is a January exhibition in Tokyo at Curators Cube comprised of the sculptures, an archive of collected objects and projected 35mm slides taken during his travels.
In this artist talk, he will discuss his experience and work with these artisans.
Jesse Schlesinger is a multidisciplinary visual artist working in sculpture, drawing, time-based performance, and photography. Jesse's process-driven aesthetic explores the inherent qualities of material and place, such as spatial dynamics, historical precedent, architectural context and engagement, wonder, and the viewer's experience. Jesse's sculptures and site-specific installations have utilized wood, stone, fiber, steel, plaster, and found objects—materials often derived from the site of the work or related to an aspect of the site's history. Jesse's upbringing as a second generation carpenter, with a focus on traditional craftsmanship, and his continued involvement with small organic farming, influence the philosophy of his creative work and ethic.
[IHJ Artists' Forum/Dance Performance & Talk]
BUSCARTE (Searching for You)
BUSCARTE (Searching for You) is a performance that contemplates the forensic anthropology findings in the case of the 43 students from Ayotzinapa who were forcibly disappeared in Guerrero, Mexico in 2014. The ongoing search for the students has led to the discovery of other mass graves that reveal the epidemic proportions of the hidden violence. The work contemplates the effect of the trauma of forced disappearance on ever-widening circles in the community.
An inquiry of reality and fiction, experimentation and matter-of-facts, BUSCARTE is an elegy, a cathartic dance, a tapestry of motions and emotions in a quest to make visible that which cannot be looked at directly. BUSCARTE is created in collaboration with composer and sound designer Adria Otte who uses voice programming and processing technologies to transform the breath into an immersive soundscape.
All photographs by Scott Tsuchitani
ABOUT THE ARTISTS:
Founded in 2001, NAKA Dance Theater creates interdisciplinary performance works that explore ritual, cultural studies, and contemporary socio-political and environmental issues. Through dance, storytelling, multimedia installations and site-specific environments, NAKA builds deep partnerships with communities, engages people's histories and folklore and expresses experiences through accessible performances that challenge the viewer to think critically about social justice issues. NAKA brings together and creates rapport among diverse populations, encouraging dialogue and civic participation.
José Navarrete is a native of México City. He has a B.A. in Anthropology from UC Berkeley and an M.F.A in Dance from Mills College. Navarrete has studied dance with Sara Shelton Mann, Taiko with Hiroyuki Nakagawa and Argentine Tango with Nora Dinzelbacher. He is the recipient of a Bessie Schönberg residency at The Yard, a Djerassi residency, a CHIME Mentorship with Jess Curtis, and a CHIME Across Borders fellowship with Ralph Lemon. Navarrete has taught performance in Mexico, at local high schools and colleges, and at Yerba Buena Center for the Arts. He currently curates Live Arts in Resistance (LAIR) —a series of artist residencies and performance showcases for artists of color working at the intersection of art and social justice at Oakland's Eastside Arts Alliance.
Debby Kajiyama's interests lie in the intersection of cultural studies, social justice, and performance. She is inspired by influential teachers Jimi Nakagawa and Nora Dinzelbacher; the movement research of Kira Kirsch, Sara Shelton Mann and Nita Little; and the passion of Susanne Takehara and the cultural workers of Oakland's EastSide Arts Alliance. Since 2001, she has created six full-evening programs and numerous shorter works with NAKA that have been presented nationally and internationally. Kajiyama has also performed with Dandelion Dancetheater, the Dance Brigade, Rosy Simas Danse, and Somei Yoshino Taiko Ensemble. She has been an artist-in-residence at the Djerassi Resident Artists Program, an Irvine Fellow at Montalvo's Lucas Artists Residency Program, and a recipient of an ACTA Apprenticeship to study Taiko with Jimi Nakagawa.
Adria Otte is a composer, multi-instrumentalist and sound designer whose musical practice began with classical violin studies, continued as an electric guitarist in rock bands, expanded with free improvisation, electronics and traditional Korean drumming, and currently integrates all of the above. She recently received an MFA in Electronic Music and Recording Media from Mills College and her current projects include sound design for dance, theater and video, and the electro-acoustic duo, OMMO.
[IHJ Artists' Forum/Artist Talk]
Work / Not Work: Redrawing Boundaries by MODU
NYC-based studio MODU's Hoang and Rotem present their innovative architecture, which harnesses the changeability of weather to create engaging, interactive spaces that highlight each site's environmental and social potential.
Phu Hoang and Rachely Rotem co-direct MODU, an interdisciplinary design studio based in New York City that specializes in design that connects people to the environment. The practice's client list includes Design Museum Holon, Creative Time, Art Basel Miami Beach, Duggal Visual Solutions and numerous private projects. The studio has completed projects in New York, Miami, Beijing, Tel Aviv and Sydney and has won design awards and competitions sponsored by Architectural League of New York (2009) , the Beijing Architecture Biennial (2013), American Institute of Architects (2016), and the American Academy in Rome (2017). In addition to their practice, Hoang & Rotem are also active in teaching and research, having taught at institutions like Columbia University, Pratt Institute, Rhode Island School of Design and Massachusetts Institute of Technology. MODU also conducts research concerning architecture and weather, which has received grant funding from the New York State Council on the Arts (2012) and the Robert Rauschenberg Foundation (2013).
[Upper left: 2015/Playgarden: Courtyard with Classrooms That Open Onto It] [Upper right: 2010/Exhale: Public Dance Performance] [Bottom: 2015 / Cloud Seeding: 30,000 Balls Made from Recycled Plastic]
[IHJ Artists' Forum/Artist Talk] Expanding Kyokai: Kamiyama AIR
Trained and licensed as an architect, Quynh Vantu explores the relationship between buildings, space, and the body using dynamic architectural forms that bring about communication. Working between art and architecture, Vantu's interdisciplinary practice is devoted to spatial experimentation and site specificity, drawing influences from the places she visits.
Vantu will tell us about her experiences as an artist in residence in Kamiyamacho (Tokushima prefecture), where she has been since January working on her permanent installation Kyokai, an architectural work of public art.
Quynh Vantu received her Master of Architecture from Cranbrook Academy of Art (2009) and her Bachelor of Architecture from Virginia Polytechnic Institute and State University (2001). She has been awarded numerous grants and awards both nationally and internationally, including a Worldstudio AIGA Grant (2009), the Stewardson Kefee LeBrun Travel Grant-AIA NY (2009–10) and a DAAD Stipendium, Berlin, Germany (2010-11). She has been awarded several artist residencies, including at the Bemis Center for Contemporary Arts in Omaha, Nebraska (2010); the Skowhegan School of Painting and Sculpture in Skowhegan, Maine (2012); the McColl Center for Art and Innovation in Charlotte, North Carolina (2014); Kamiyama AIR in Kamiyama, Japan (2015); and Nanji – Seoul Museum of Art in Seoul, South Korea (2016). She was the recipient of a DAAD Stipendium to study at Olafur Eliasson's Institut für Raumexperimente in Berlin, Germany (2010–11); a Fulbright Fellowship to study in the UK (2012–13); a University College London Scholarship to pursue a Ph.D. at the Bartlett School of Architecture (2014-18); and a grant from the Graham Foundation for the Advanced Studies in Fine Arts (2016).
Photographs are courtesy of the artist.
[IHJ Artists' Forum/Artist Talk]
Can I Write This?—Engaging Children Through Poetry
Hawaii-based writer Laurel Nakanishi will discuss her work teaching poetry to children in schools across the US and Nicaragua. Through stories and research, she will trace the ways in which students are transformed through writing. This interactive presentation will feature poetry pedagogy, student work, and a short collaborative poetry-writing exercise.
(Photographs are courtesy of the artist.)
Laurel Nakanishi was born and raised in Alewa, on the island of Oahu, Hawaii. Nakanishi is the author of the award-winning chapbook, Manoa|Makai, and her poetry and essays have appeared in national magazines, such as: Orion, Gulf Coast, Fourth Genre, Black Warrior Review, Bayou, and the Montana Natural History Magazine, among others. She has received fellowships from the Fulbright Foundation, Japan-US Friendship Commission/National Endowment for the Arts, and Greta Wrolstad Foundation. 
Nakanishi has taught poetry writing to children in Hawaii, Nicaragua, Montana, and Miami. In 2012, she founded a community arts organization in Nicaragua, NicaArts, which she continues to direct. In 2015, she founded O, Miami's Sunroom—a community poetry program that continues to thrive in Miami, Florida. Nakanishi received her MFA in poetry from the University of Montana and her MFA in creative non-fiction from Florida International University.
-Event Report-
Arts education has a major impact on learning and the social development of schoolchildren, and poetry plays as important a role in U.S. arts education as drama, visual art, music, and dance. Hawaii-based writer Laurel Nakanishi, who was visiting Japan as a US-Japan Creative Artists Program Fellow, discussed her experiences in teaching poetry to students. Participative exercises were held thereafter.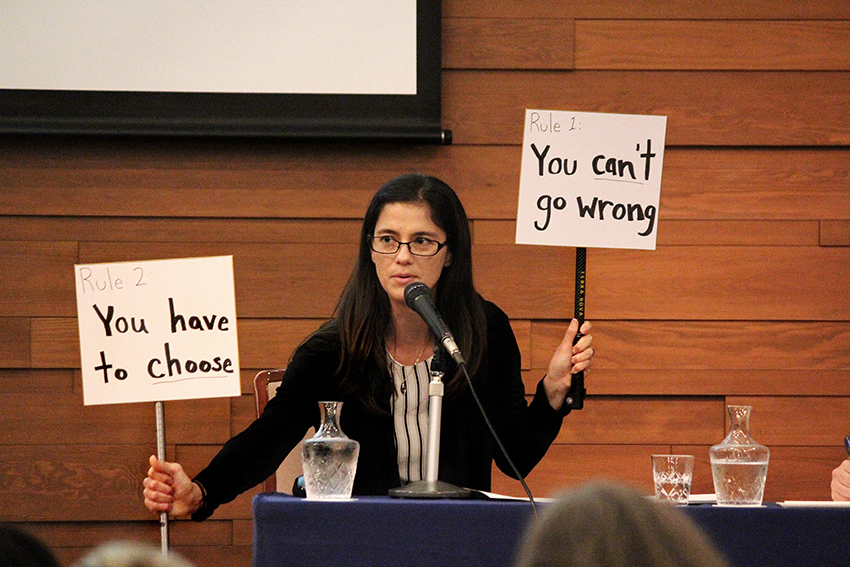 How is poetry a good influence on students?
After receiving MFAs in poetry and writing, Nakanishi launched an array of educational programs related to poetry in the U.S. and Nicaragua. Through such extended experience, she has realized the positive impact of poetry on children. The teachers and principals that she works with have commented: "These poetry classes have motivated children." "Students are more concentrated and willing to express themselves after poetry classes." "Poetry classes are a method of building our students' confidence and self-worth." In fact, over the last three decades, studies have shown that arts education yields not only academic benefits but also social and even health benefits. Nakanishi points out social attitudes and behavior developed through poetry leads to social interactions in classrooms, schools, and whole communities.
Poetry has no one correct answer
Feelings differ from person to person, as does mode of expression. However many students find this confusing. Used to classes where there is one correct answer, they are puzzled at first by the freedom to express their own ideas and to let loose their own imagination, Nakanishi says. It seems that some students even take a few weeks before being able to write. However, once they get accustomed to expressing themselves in their own words, their stories and experiences overflow so that they get to be confident and proud of their works by the end of the semester. This confidence and motivation also have a good impact on other schoolwork and social behavior. Nakanishi, who noted the need for skillful teaching in order for students to enjoy these benefits, has developed her own approach based upon the seven practices of effective arts education of Harvard Project Zero. The aim is to draw creativity, joy of writing, and a desire to express themselves in poetry from students. She emphasized the importance of students developing their own "creative voice."
Let's express our inner child!
After the lecture, Nakanishi led the audience in exercises of reading and writing poetry, ones designed to advance the careful observation, five senses, and imagination crucial for poets. In the reading exercise, she used a short poem with a garden as theme. First of all, everyone closed their eyes and imagined that they were in a garden. Then they declaimed by using full gestures so as to feel the rhythm and dynamism of poetry. In the writing exercise, they worked on metaphor and imagery, creating metaphors for three colors using the five senses and imagination. Her two simple rules were: "You can't go wrong (no matter how odd it might be)." and "You have to choose (from infinite options)." She then posed these three questions: "What if red is sound?" "What if yellow is smell?" "Where does blue take you to?" Everyone put down their expressions on colored sticky notes, which were put up on a whiteboard so everyone could share them. It seemed they had created a whole collaboration poem together.