In 2015, Japan marked the 70th anniversary of the end of World War II. Yet as we look around the world today, there is endless strife and violence. In this context, we invited internationally active photographer Ishiuchi Miyako to speak at the Asia Leadership Fellow Program coorganized by I-House and the Japan Foundation, to give her views, from the perspective of the arts, on "War and Remembrance," a theme shared by all Asian nations. Comments by critic Wakamatsu Eisuke and opinions from ALFP fellows round out our report.
[September 2015]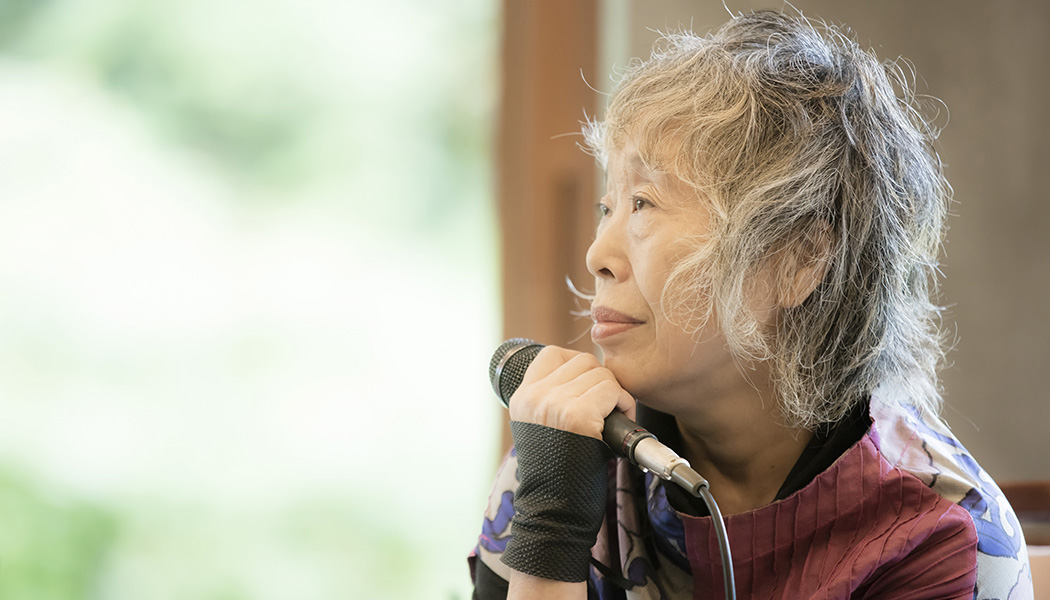 Ishiuchi Miyako's series ひろしま / hiroshima is one in which she photographed objects left behind by victims of the atomic bombing of the city—the majority of them being articles of clothing that the victims were wearing at the moment of the explosion. Burnt, torn, these pieces of clothing testify to the horrifying intensity of the blast and heat radiation. But what Ishiuchi pursues through her viewfinder is not the horror of Hiroshima. A polka-dot blouse, a floral-patterned skirt, delicate embroidery, a carefully mended seam—these orphaned articles of clothing speak quietly of the modest everyday life of their lost owners. The warm but penetrating gaze of the artist, listening closely and attentively to the silent voices of these objects, arouses a variety of thoughts and feelings in the heart of the viewer.
The Death of a Single Girl
Ishiuchi Miyako: The work you will see today, ひろしま / hiroshima, is made up of photographs of objects left by atomic bomb victims—and when I say this, I think the image most people will have is of black and white photos. That was true for me, too. Most of the photos taken of such objects up to now have been monochrome. But when I visited the Hiroshima Peace Memorial Museum and saw the original objects, I realized that they of course had colors and patterns—that they were the fashionable things worn by young women of the time. In other words, what I saw were not historical relics but the ordinary daily lives of young women. We tend to speak of the atomic bomb deaths as mass death, involving tens of thousands of people. But I wanted to think in terms of the death of a single girl—and that was where this project began.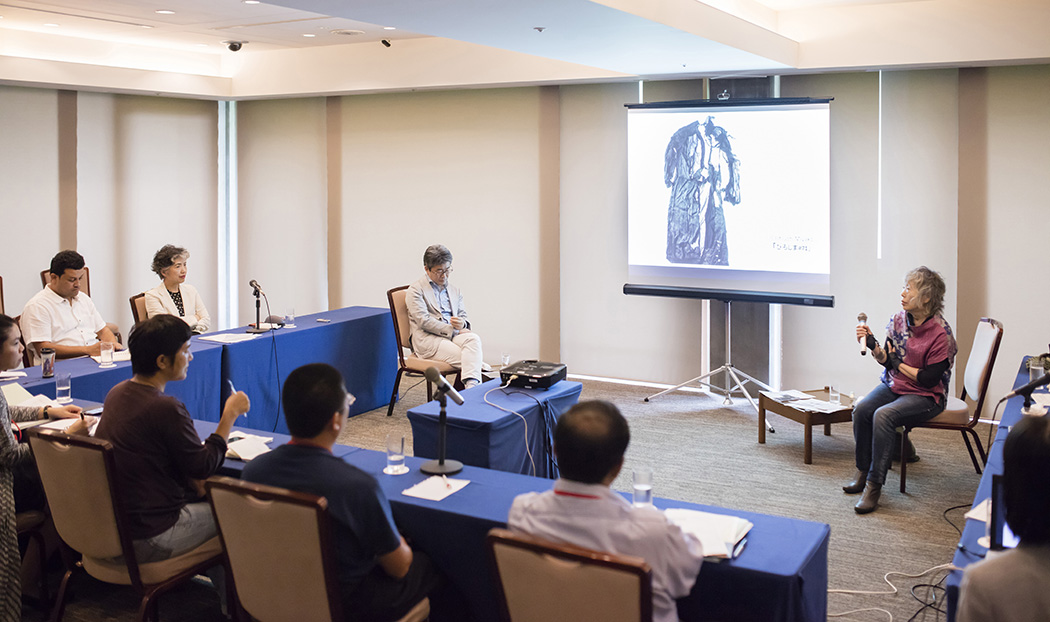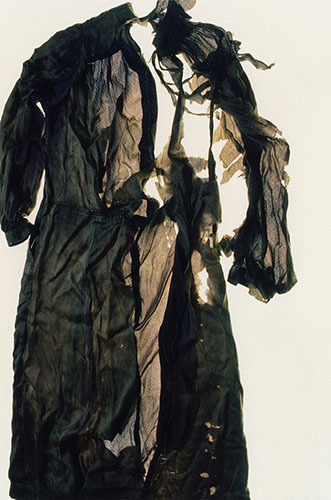 ©Ishiuchi Miyako hiroshima #71
Ishiuchi: This dress is the very first photo I made in the series. The moment I saw it I thought, "That looks just like Comme des Garçons!" Later I was quite startled to learn that when the Comme des Garçons line designed by Kawakubo Rei was first shown in the Paris collections in the early '80s it was labeled "Hiroshima chic." These pieces of clothing have been folded up and wrapped in paper for storage, but when I photograph them, I arrange them to look their best, their most beautiful, and it was the same with this dress. When I place them on the light box, it is as if the body is showing through from beneath the material. And this brings home to me that if I had been alive at that time, this is what I might have been wearing.
After I began shooting ひろしま / hiroshima, I became acutely conscious that my work was being made with a woman's eye. I think that "history"—Hiroshima included—is something that in the final analysis has been made by men. And to date, the world of Hiroshima has mostly been photographed from a male point of view. Point of view is essentially an individual thing, unrelated to gender. And up to this point I had not particularly thought of myself as a female photographer. But this series made me think it might be all right to consciously state that this was work done by a woman. And now I take some pride in the fact that this was the first attempt to look at Hiroshima from a woman's perspective, to grasp it with a woman's body.
Art Weaving a New Narrative
石内: Prior to shooting this series I had never been to Hiroshima. For me, Hiroshima was not a tourist site: if I was to go there, I had to do it to make photographs. But since so many photographs had already been taken, I didn't feel particularly compelled to take more. Then an editor who had seen my series Mother's [a collection of images of Ishiuchi's late mother's possessions] came to me with a request to take these pictures. I had no personal history with Hiroshima, so I wondered why I was being asked to do it, but this became my first encounter with these relics.
The Hiroshima Peace Memorial Museum has more than 19,000 pieces of such memorabilia and even now new items are received every year, as people who own them gradually grow older and unable to care for them and donate them to the museum. This silk blouse is one of the most recent items, donated to the museum last summer. Originally it was pure white [the color changed to pink after the bombing]. I am told that a young woman sewed it by hand as a wedding present for her elder sister.
Really, though, I have no interest in such personal stories. You can't photograph the past. And I am not photographing these objects as pieces of history. For me, this is only the pink blouse I encountered last summer. If pressed, I might almost say that it was like meeting a young woman last summer for the first time. Of course photographs are fated to be a record of something. But for me the act of photographing is closer to creating than recording: it expresses the way that I see something.
Hiroshima is always burdened with such heavy themes—remembrance, opposition to war, aspirations for peace. But all of the photos I have set my hand to thus far are quite remote from recording or remembrance, and for ひろしま / hiroshima as well I wanted to avoid such key words. What can I do to distance the work from predetermined images and to liberate it—this is my operating principle.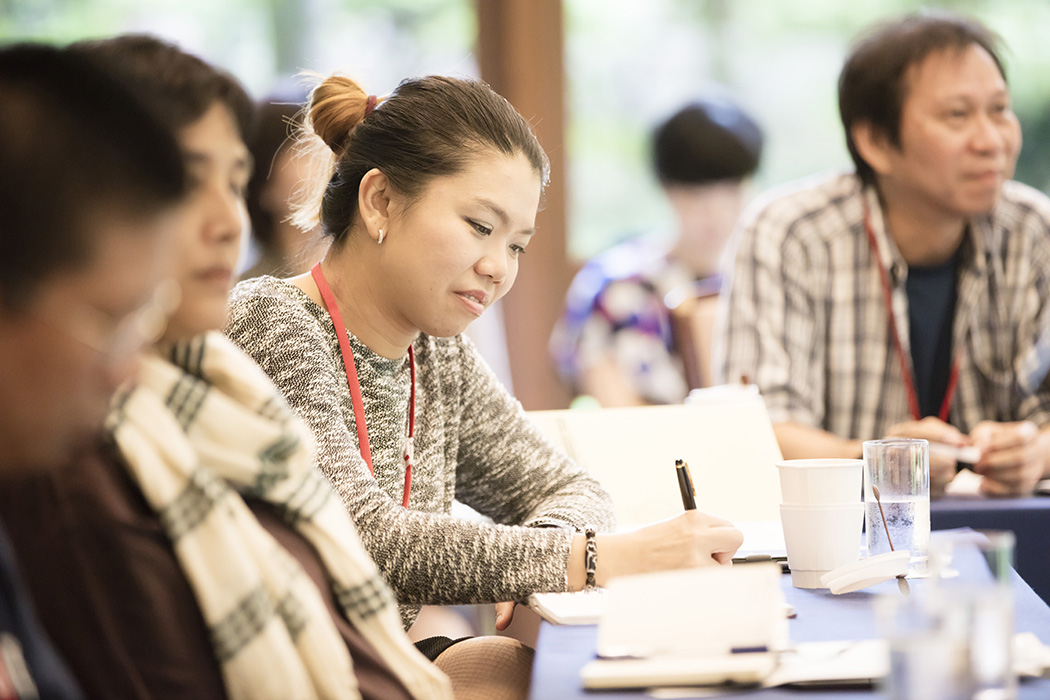 Seeing the Scars of History in Beauty
Ishiuchi: The objects I have photographed are relics of the atomic bombing, and are stained and damaged. But are they ugly? I think not. If they were not in fact beautiful, I would not be able to press the shutter button. Somewhere within me is the desire to reveal their beauty; as I take my photos I am saying to them, "I can see it, I understand." The objects themselves cannot speak, but by photographing them, I feel that I am empowered to convey the voice that resides within them.
Some have criticized my work for making these relics too beautiful. But they were more beautiful before the bomb was dropped. And if you look closely at the printed photos, the evidence of the bombing is clearly there to see. I do not caption any of these photos. I want people to stop in front of them and wonder what they are about. Hiroshima is now iconographic. But when I relate to it, I do not want it to be as information or data. I made ひろしま / hiroshima from the perspective of—and with the responsibilities of—an artist, which is to say, I was conscious first and foremost of beauty.
This year is the 70th anniversary of the end of the war. This has drawn attention once again to my ひろしま / hiroshima series, but I personally don't feel this 70-year mark to be particularly meaningful. The postwar period is not really over. Its history continues. As long as new items continue to be delivered to the Hiroshima Peace Memorial Museum, I will go on taking pictures of them as my lifework.
Thoughts on ひろしま / Hiroshima
Critic Wakamatsu Eisuke is a man of words, but not because of his eloquence or narrative skills. Rather, his sincere and thoughtful approach to the limitations of language and the working of things that cannot be expressed in words has spoken to the hearts of many. We asked him to comment on his feelings regarding Ishiuchi's ひろしま / hiroshima series.
Wakamatsu Eisuke: When first viewing the work of Ishiuchi-san, I too had trouble sorting out my feelings at seeing such beauty in the relics of such a horrific event. Contemporary people, myself included, always want to interpret what they feel. We see something, and immediately want to put our feelings into words. But when people encounter one another in a truly intimate way, words don't seem to be that necessary. In fact, sometimes putting things into words reduces our experience of what is really happening. There are things in our world that are inexpressible in words. But that does not mean they don't exist. Silence, too, speaks much.
Izutsu Toshihiko, one of the leading philosophers of 20th-century Japan, once said, "Language has more than one level. All words have depths." According to Izutsu, the surface level is "realistic" and corresponds to the world of ordinary reality. The second level is "narrative" and refers to stories and legends. The third level is "imaginal"—a word coined by the French scholar of Islamic mysticism Henry Corbin to refer to a realm linking the present world with other worlds.
Sometimes we become embroiled in conflict in the realistic world and seek dialogue in the narrative world. But I think genuine peace lies in the imaginal world. And here I would define peace as accepting the hand of someone you cannot forgive. If we can shake hands only after we have forgiven someone, then humanity will never be able to join hands. But how can we bring the feelings of the imaginal world into our everyday world—this is what I would like to join you all in thinking about today as we experience the work of Ishiuchi-san.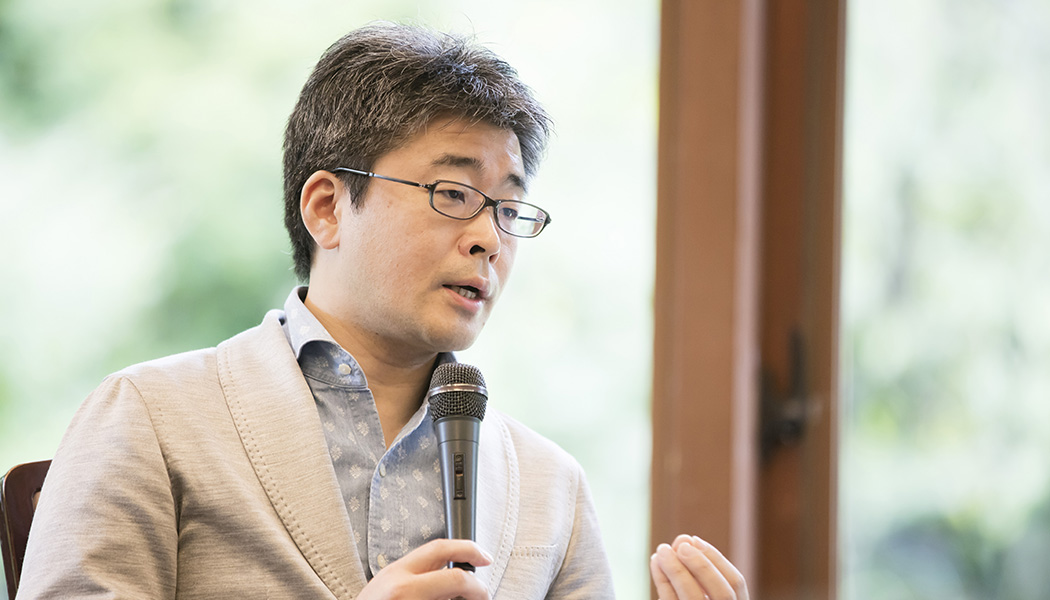 Wakamatsu Eisuke Critic
Born in 1968. Editor-in-chief of the literary journal Mita Bungaku and a member of the Yomiuri Shimbun book review committee. He has written and lectured widely on the relationship of the living to the dead, and his essays, collected in Tamashii ni fureru:Daishinsai to ikite iru shisha [Touching the Spirit: The Great Earthquake and the Dead Living Among Us] (Transview, 2012) and other books, have received considerable attention. He has also written a number of studies of modern thinkers, including Izutsu Toshihiko.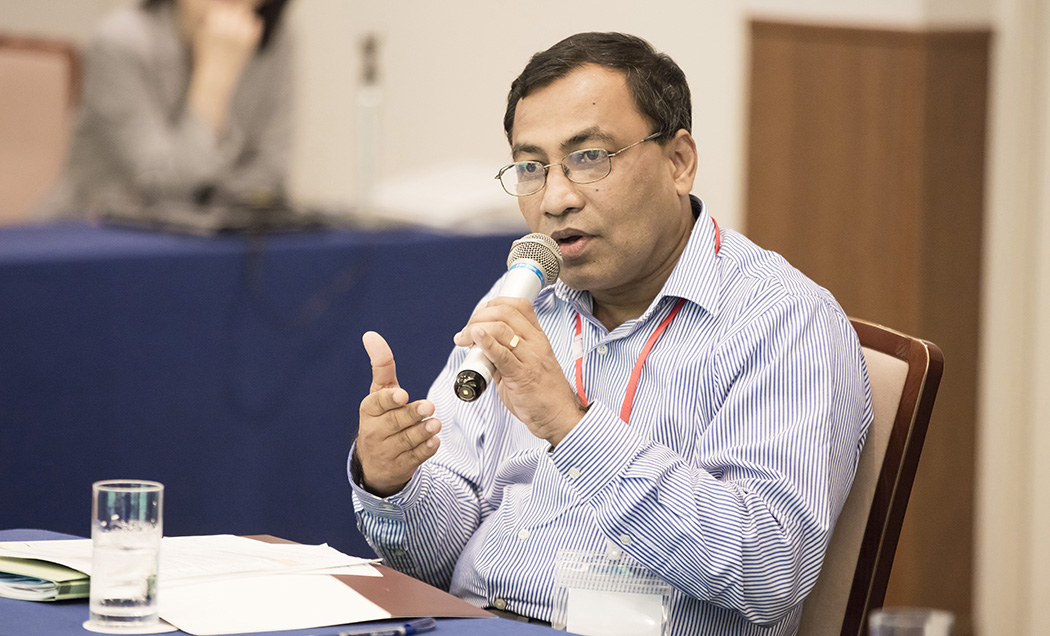 In 2015 I-House welcomed eight ALFP fellows. Journalists, environmental activists, poets, professors—their specialties may differ, but they have all come to Japan to think about the common issues facing contemporary Asia. The Filipina poet Dinah Roma touched on the idea of levels of language and said that art is just what subsumes all three levels: "By engaging in a dialogue with the relics as actual objects, Ishiuchi-san elicits a new narrative, and through the medium of photography elevates this into the imaginal realm. Art is precisely what is present in the process of this elevation, and I believe it will offer a fresh look at history."
Meanwhile, Arulanantham Sarveswaran, a peace researcher from Sri Lanka, where ethnic conflict from 1983 to 2009 claimed the lives of large numbers of people, raised this question: "Whether it is art or remembrance, anything that conveys the reality of war is probably useful for peace education. But what about regions where conflicts have ended only recently?" His comment hinted at the reality of how difficult it can be to make progress in reconciliation.
This session was moderated by Ashiwa Yoshiko, professor at Hitotsubashi University, and elicited a variety of key words corresponding to the theme of "war and remembrance"—history, symbols, violence, records, and reconciliation. It is to be hoped that the conversation begun here can be deepened throughout the program, and contribute to the resolution of the common issues facing Asia and the world in the future.
ALFP: The Asia Leadership Fellow Program is a program jointly developed by the International House of Japan and the Japan Foundation. It provides specialists from various fields in Asia with an opportunity to reside for two months at I-House in Tokyo, and engage in dialogue with one another and with Japanese counterparts on the issues confronting Asia and the world. In 2015, eight ALFP fellows were selected from China, India, Indonesia, Japan, Malaysia, the Philippines, Sri Lanka, and Thailand.
---
This session was conducted in Japanese and English on September 10, 2015.
Editing: International House of Japan, Program Dept.
Photographer (ALFP session): Aikawa Ken'ich
©2019 International House of Japan
---
To view other articles, click here.