India's urban economy is zooming ahead. Meanwhile rural poverty and city waste continues unabated. Anshu Gupta, a social entrepreneur, is doing his part to tackle those problems. The "Clothing Man," as many call him, has developed a social business that repurposes old clothes from urban zones as payment for rural communities working on development projects. Gupta recently made a trip to Japan through the 2017 Japan-India Distinguished Visitors Program. During his stay, he sat down to talk with Koga Yoshiaki, the leader of a project teaching Indian children about the environment and health through Japanese picture books and "read-aloud" sessions.
[September 2017]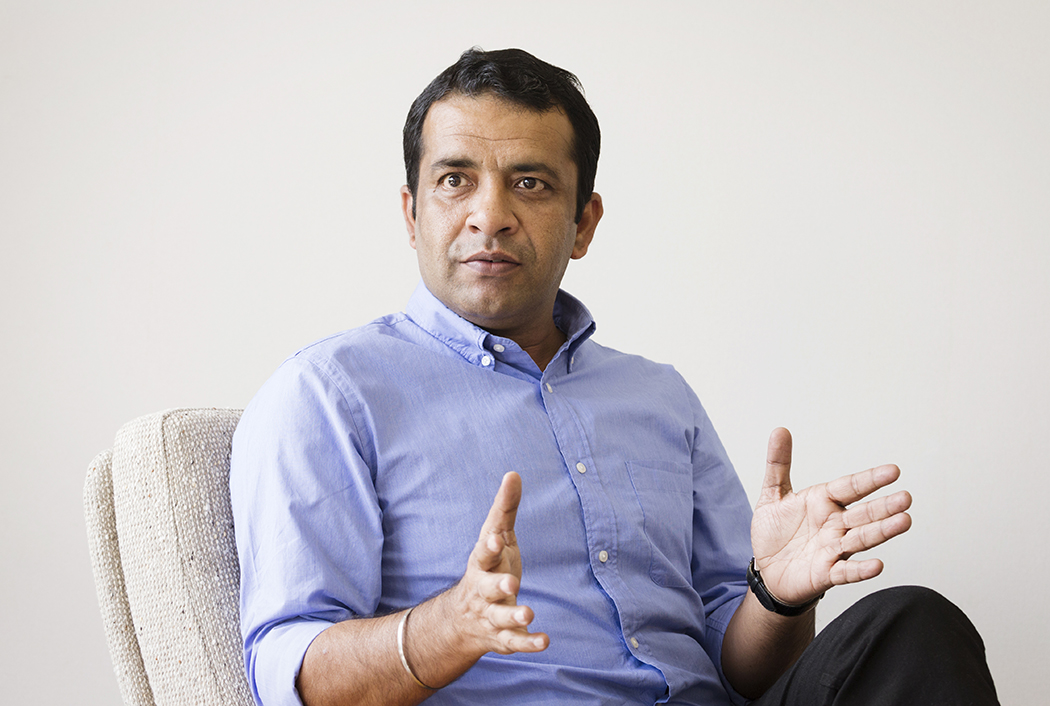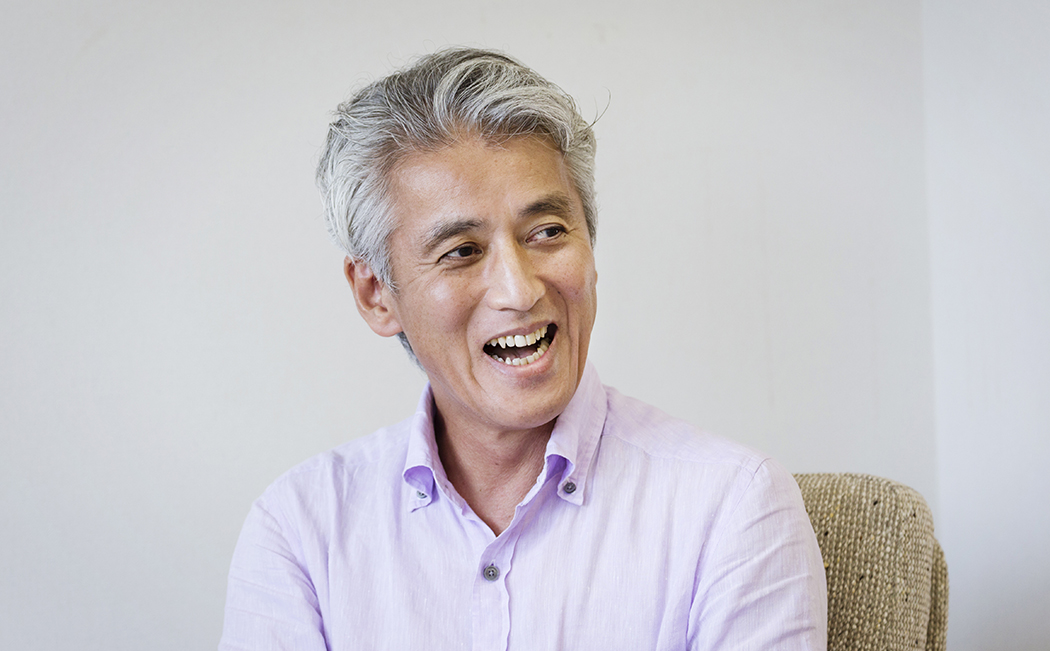 Koga Yoshiaki Director, International Business Dept., Kodansha
Born in 1964, Koga Yoshiaki is the director of Kodansha's International Business Department. Started out as a reporter and later an editor for Shukan Gendai and Friday. He also launched Courrier Japon in 2005, serving as the magazine's editor in chief, and produced an Indian remake of Star of the Giants [Suraj: The Rising Star] in 2012. More recently, in 2016, JICA agreed to fund Koga's idea for a "read-aloud" project that would benefit environmental and health-related education in India through picture books. He now spends about one third of his time in India.
Koga: How did you get into social business?
Gupta: I'd never thought clothes would play such a big role in my life. Back when I was a journalist, I met a man whose full-time job was to pick up unclaimed dead bodies. He got paid about 20 rupees, which I think comes to about 30 yen, and 2 meters of white cloth for every dead body. In summer, he would pick up 4 to 5 dead bodies a day across a radius of 4 to 5 kilometers of area, whereas in winter, the number would go up to 10 to 12 dead bodies a day. His little daughter, who was about five, actually said that when she felt cold, she'd hug the dead body and sleep. I was shocked. I realized that winter was a disaster for so many people in absence of adequate clothing. It's a highly preventable cause of death and suffering.
In 1998, we started Goonj as a way to bring attention to the basic needs of people like clothing and to turn the urban surplus material into a huge resource for solving some difficult issues. When you talk about three basic needs, you say food, cloth, and shelter but nowhere in the list of global issues do you find mention of clothing.
Koga: India has so many NGOs. What makes Goonj unique?
Gupta: Our "Cloth for Work" project isn't a charity effort. We're actually doing hard-core rural development work-making bridges, building and developing roads, digging ponds and wells, filling gaps in rural education. After they work, each participant gets a sackful of material for a family's needs, as a reward for their efforts.
From the beginning, we wanted to move away from the idea of "charity" and to bring attention to the self-respect and dignity of people in the villages. In 1991, I made a trip to Uttarakhand, where an earthquake had happened. What the experience showed me was that the biggest asset of village people is their self-respect, their dignity. If people have that, we don't have the right to do charity. You don't find beggars in the villages; begging is a city phenomenon. For us dignity is the keyword and charity takes away dignity. It was not easy at first for us to have villagers—who are not accustomed to building public facilities in their villages and receiving goods as a reward for their work—understand our concept. There were those who didn't want to receive used goods from us. We work with grassroots organizations who have a strong connection with the community, which also helps open up conversations and address issues.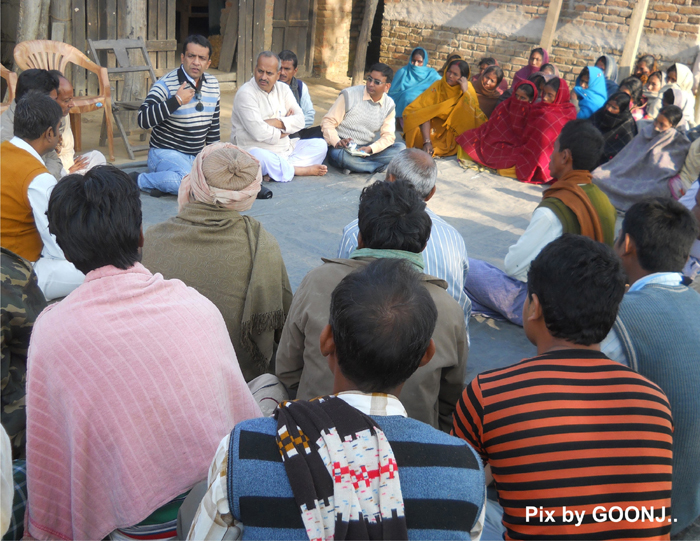 ©Goonj
Koga: When I visited your office in India, I was under the impression that you were actively seeking out other people's opinions. Is that your personal philosophy?
Gupta: In the field of social business, a problem often seen is that we don't listen to the people we're trying to work for. We decide what the problem is. We decide what the solution is. We don't hear what the people actually experiencing the struggle have to say. How come we don't understand that people in the villages, the people in the community, can also find solutions—and often much better solutions? Sitting in Tokyo, sitting in Delhi, how do I know the answers?
In Indian villages, traditional wells are still important, for example. We city-dwellers think that the way we get water in the city—pipes—is the solution, but that's not necessarily true. If something in the urban system fails, people in the city have lots of resources to revive it. Villages, though, don't have the kinds of technical resources that we have. If we just bring them the water system and then the system fails, they won't ever be able to use it again.
If we hadn't gone to the villages ourselves, we wouldn't have been able to pick up on certain pressing issues, either. For example, we found a lack of sanitary products among women and many young girls skipping school for several days—it creates a barrier to good education. Seeing how we could contribute to a solution, we started thinking up ways of converting used cotton cloth into basic pads that would make life easier for women.
Koga: If you wanted to hear what people had to say and then use that input to transform society, you might have been able to do it as a journalist as well. Why did you decide to do social business instead?
Gupta: I think spreading awareness about something and talking about something, while important, just represents one part of the job. The other important part is having doers, the people who take action. If there's one person with an idea, you need 10 doers to make it happen. If you keep doing that, the process eventually spreads the message to thousands of people. I believe that this world, right now, doesn't need thinkers any more. It needs doers. The key is just to do something, whether it's big or small. I know that you're a journalist but you are doing your projects, too, right?
Koga: I am. When I was in college, I made a trip to India and loved how the people there had such a strong, palpable vitality. The experience planted a seed in my head—it really made me want to start a business in India someday. After working on the Indian remake of Star of the Giants, a popular Japanese animated show, in 2012, I came out of the effort looking for another project that would meet social needs on an even broader scale and reach people at a deeper level. I eventually started a picture book "read-aloud" project last year, creating an eco-educational program that would introduce kids to the Mottainai Grandma [Shinju Mariko, Kodansha, 2004] series. Environmental pollution is one of India's most serious concerns, and efforts are underway to tackle the issue. In 2014, for example, the Modi administration implemented the "Clean India Campaign"—an initiative aiming to construct toilet facilities and bolster the country's infrastructure through investments equivalent to 2 trillion rupees.
The biggest challenge, though, isn't just installing more facilities. To me, the key is changing the way people perceive the problems. That's why I started to see publishing as a great avenue for effecting social change. If we could make more people aware of the mottainai mindset, a Japanese idea that basically covers the "four Rs" [reduce, reuse, recycle, and respect], I knew we'd be able to help today's kids develop an understanding of just how precious the things and the nature around us really are.
Gupta: That's a great idea. It's a lot like the Goonj concept, actually. We deal with almost 3 million kilograms of material every year, like used clothing, footwear, school materials, and general goods. What we're trying to promote, though, is the idea that we all talk about recycling, but can we get into optimum utilization before we recycle? Take a water bottle in the city. A kid uses it for six months, and maybe the cartoon character on the design looks outdated or the color fades, you can still use the bottle. If it goes to a village, it can still enjoy village life for another six months before it gets recycled.
Koga: India has one of the largest populations in the world, with estimates suggesting that the cities alone produce more than 100 million tons of general waste a year—and roughly 40% of that total just sits there. When I went to Delhi last month, I climbed up a mountainous pile of unprocessed garbage that rose almost 10 stories high!
Gupta: India has always been a country of recycling, actually. It's so unfortunate that we've created so much of a mess on the roads. It has a lot to do with plastic and packaging. In India, we don't have much food waste—dogs and cows will eat leftovers because they're on the road, too. Most of the waste is the endless amount of plastic packaging coming from the biggest companies, and no one is stopping them.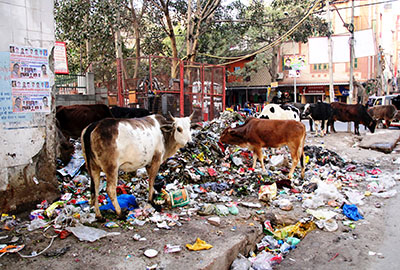 ©Koga Yoshiaki
Koga: Now that we're talking about recycling, I remember how the chai tea in town used to come in unglazed cups that you could just smash apart and throw into the street after you finished your drink. The clay would eventually break down and return to the soil, essentially. Now, though, everything's plastic; they just roll around on the ground, unable to degrade naturally.
Gupta: With a developing economy and a growing population, India doesn't have all the open land it used to. If you see the history of India, we were one of the cleanest possible, greenest possible countries. We just need to revive that. We don't have to innovate anything new in India. We just need to revive our very beautiful tradition, our culture, educational system, and the way we used to live.
Koga: When I visit schools, a lot of teachers and parents tell me that our program helps them remember things that had faded from memory. Although the country used to have a recycling-oriented mentality, economic progress has made that perspective seem less and less relevant. Bringing back the basic mottainai spirit could help India cultivate change for the better, I think. What are the other issues that you think India needs to deal with?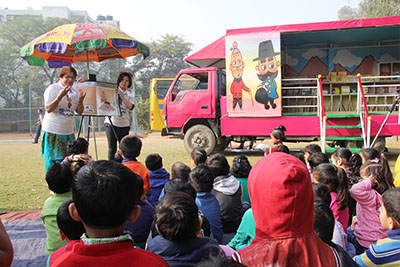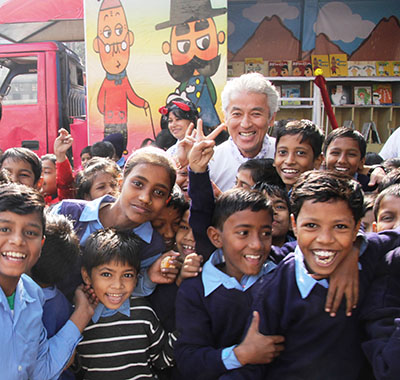 At a "read-aloud" session in a public school in Delhi.

Gupta: If we don't take care of the villages in India, we'll only make things worse because our country still lives in the villages. The largest employment sector is still agriculture. But if you look at the last few years or decades, you'll see that like many other countries, we've also grossly ignored our villages. If we can develop better water resources for agricultural use, we'd be able to boost and expand local employment and reduce the migration of people to cities—which will help solve the slum problems, too. Right now, people are moving to cities in a kind of forced migration, not migration by choice. We have to go back to the roots as a nation. If you want to solve the problems, then, let's focus on agriculture, focus on water, and focus on people in the villages.
Koga: What are your next goals for Goonj?
Gupta: Ever since we started, I've always wanted Goonj to grow as an idea—and not just as an organization. For that to happen, we want people to replicate it, take it to their geographies around the world, make corrections and add new elements. It's all about spreading the message as far and wide as possible.
Japan-India Distinguished Visitors Program
Launched in 2012 to commemorate the 60th anniversary of diplomatic relations between Japan and India, the program aims to strengthen the relationship between the people of both countries by inviting distinguished and influential individuals from India to engage in dialogue with counterparts in Japan. I-House organized this program jointly with the Japan Foundation and invited four distinguished fellows in 2012–16. This program is being co-sponsored by Shahani Associates Ltd. from 2017.
---
This dialogue was conducted on September 8, 2017.
Editing: International House of Japan, Program Dept.
Photographer (interview): Sasaki Ko
©2019 International House of Japan
---
To view other articles, click here.