Imagine what people with disabilities could co-create with others. Imagine the artistic possibilities. That's the vision that drives Yoshie Kris, who has a leg disability herself, as she continues to break down barriers between the disabled, the performing arts, and society at large. In addition to working on the Yokohama Paratriennale—an international exhibition of contemporary art by people with disabilities and professionals from across the spectrum—and on the flag handover ceremony at the Rio Paralympics, Kris is also one of the eight creative directors for the Tokyo 2020 Games ceremonies. We recently had the chance to talk with Kris about her many collaborative initiatives.
[September 2018]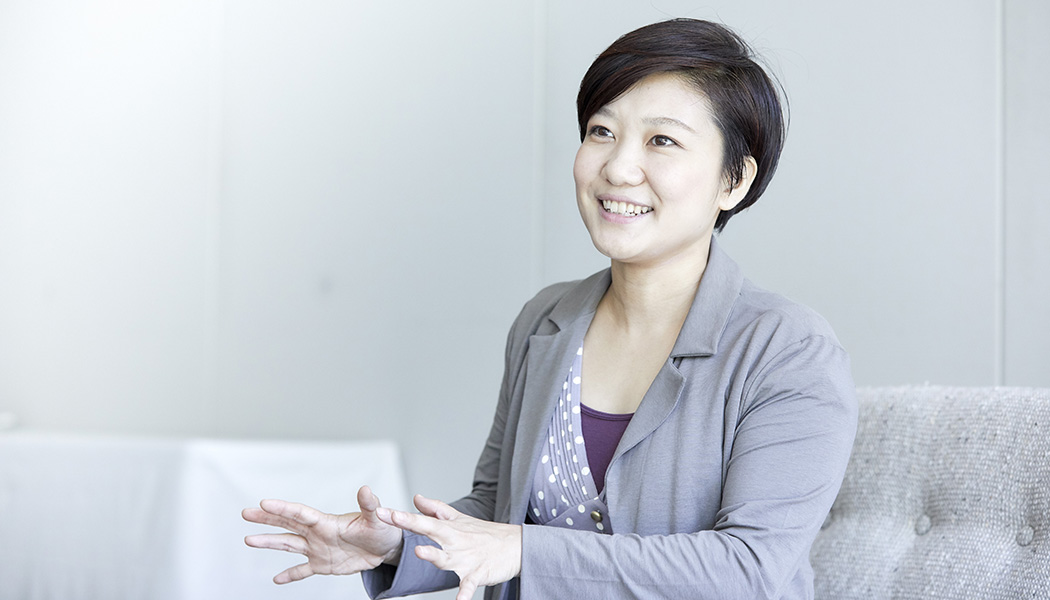 We've heard that you dreamed about directing an Olympic ceremony as a teenager.
That's not completely true. I'd been interested in world peace and the performing arts since I was a kid, and I'd always been hoping to find a career that'd let me fuse them together. When I saw the opening ceremony for the Lillehammer Winter Olympics on TV, I felt like I'd found my calling: there were about 3,000 people of all ages and backgrounds joining together in a message of peace. That's when I started thinking about staging something like that myself someday—and that's what I spent most of my teens and twenties working on. But in 2010, when I was 33, my doctor found a malignant fibrous histiocytoma—a type of cancer —in my right knee. That was serious and I had to rethink everything I'd done up to that point; it was like pushing a reset button. The experience changed my whole outlook on life. Instead of just chasing after my goals and dreams for the future, I decided to focus on the here and now. I fought my way back and worked to master the things I had the ability to do. I just took things step by step, and found myself with an opportunity to work on the Olympics and Paralympics. So honestly, it doesn't feel like a "dream come true." Everything just kind of worked out that way.
Your diagnosis was obviously a big turning point for you. How did you transition back into the working world?
I just happened to get an offer to be the director of a project to facilitate product co-creation by people with disabilities and artists. My interest in helping out wasn't so much about the fact that I had a disability myself; it was more about my determination to do whatever kind of work I could. When I got started, though, it was such an eye-opening experience: I got so much insight into the daily realities and problems that people with disabilities have to deal with and what needs to be done societally. I focused on the issues at hand, one by one, thinking about the best ways to make everyone happier. Before I knew it, I was in deep—and loving it.
That led to the creation of Slow Label, which eventually began branching out to stage productions after the London Paralympics in 2012. The Paralympic ceremonies and cultural programs were huge successes on so many fronts, even in the context of disability arts. The artistic director had brought a truly diverse mix of professional artists with disabilities of all kinds, to create such unique productions. Seeing that, I thought how interesting it would be to go into performance design— and collaboration between the disabled and nondisabled. Just then Yokohama City contacted us about putting together an event and we proposed an international celebration of collaborative art by artists and people with disabilities.
And that was the "Yokohama Paratriennale." Could you tell us how that came about?
For the first Paratriennale in 2014, we organized workshops featuring the artistic director at Candoco Dance Company. Candoco, which took part in choreographing the London Paralympics opening ceremony, is a top diversity-oriented troupe in the United Kingdom. The workshops were the kind of opportunity that doesn't come along that often, so I figured that people would be clamoring to sign up. The strange thing, though, was that there were several applications from non-disabled people— but hardly any from people with disabilities. I wanted to know why, so I brought some artists to facilities for the disabled on outreach projects. Then the residents dance and sing like they're having the time of their lives. As soon as you try to organize an event for the disabled and non-disabled in a public space, however, everything changes. It's like big, intimidating walls go up. If we didn't do something to get rid of those barriers, I knew the creative process would never even get off the ground.
A "barrier" can occur on a physical level—like not having a wheelchair ramp—an informational level, or a mental level. If you've got a visual or intellectual impairment, informational barriers stand between you and details on an event. There are plenty of barriers on the mental side, too: feeling apprehensive about doing things with non-disabled people or worrying that your child's disabilities might cause problems in a group setting. It's hard to get past "doing the same thing in the same way" as other people, a core concept of education in Japan. That's why we decided to build environments where people could feel safe and started training two types of specialists in 2015: "access coordinators" and "accompanists."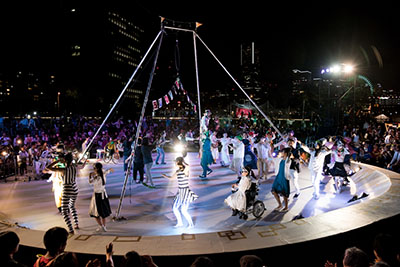 At the Yokohama Paratriennale in 2017 ©Kato Hajime
What do access coordinators and accompanists do, specifically?
Access coordinators help eliminate the barriers preventing people from getting to the stage. From translating relevant information and offering route guidance to helping to assure family members, access coordinators make the production environment as accessible and worry-free as possible. Once a performer with disabilities makes it to the stage, the accompanists—co-performers—provide the necessary support for the actual performance. Their job is all about understanding each performer's physical characteristics, acting as go-betweens for the director, the disabled performers, and the non-disabled performers, and giving performers enough physical support so that the audience won't notice any near tumbles or awkward movements onstage—but also making those elements a unique part of the overall presentation. The job requires both an artistic sensibility and versatile communication abilities. With those specialists on board, you can spark amazing creation out of unique personal characteristics. The more skilled the coordinators and accompanists are, the broader the range of disabilities a production can accommodate.
From there, you went on to be the advisor for the flag handover ceremony in Rio.
At the Paralympics, the performers all have different disabilities, different degrees of severity, and different ranges of motion. Creating a good performance hinges on making the most of those individual characteristics, the traits that give the performers their unique identities. It's the opposite of how you'd develop a production for the Olympics, where the aesthetic centers on tightly wound, high-precision choreography. Our experience with the Paratriennale event had given us a lot of insight into staging, and I think that's what led the Rio organizers to contact us. I undertook to be the stage advisor and put together a cast featuring nine performers with disabilities—including people in wheelchairs, people with impaired vision, people with prosthetic legs, and people with Down syndrome—along with six professional dancers and four accompanists.
Flying from Japan to Rio takes about 36 hours, which is exhausting for anyone. After we managed to get there, we met with even more challenges: lackluster security, water pollution, mosquitoes carrying the Zika virus. We needed to make sure that our performers could take the stage in the best condition possible—but there were plenty of obstacles in the way. Just getting people at the hotel was complicated. Some people needed a bathtub; some people didn't; some people needed shower chairs; some people needed hot water for their liquid meals. For every disability and every degree of impairment, there's a different set of needs. Everyone needs to be on the same page about that information, but people with disabilities sometimes feel nervous about sharing their needs, or staff members back off out of concern for privacy. Therefore we had our access coordinators talk things through with everyone in the cast, got all the relevant facts, and came up with possible solutions. We would have liked to do more, but we did our very best within the various constraints. More than anything, we were just lucky to be able to go to Rio and test out our way of doing things.
How did your experiences in Rio affect your approach back home?
In addition to recruiting new performers and further training the specialists, we've also started working to help performers enhance their physical abilities. The performance at Rio was around eight minutes long and involved 10 to 20 people, and that was already pretty demanding. At the Tokyo 2020 Games, though, the routines might be much longer and bigger in terms of scale. That affects both the physical and artistic sides, so we had physical therapists, occupational therapists, and trainers team up with directors and choreographers to develop unique training methods. We're also trying to work aerial elements into our routines, so we've invited trainers from the London Games over to learn how to teach the maneuvers to people with disabilities.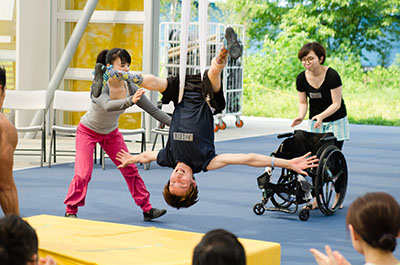 What is the environment for performers with disabilities like abroad?
Europe and the United States are ahead of the curve, I'd say. It's not because they've got a special cultural or artistic edge, though; it's more about the fact that they value the idea of personal independence more than we do in Japan. That mindset fosters a natural motivation, I think, a stronger drive to be self-sustaining. In the West, non-disabled people and people with disabilities on the whole go about their lives in the same modes. They even take part in the arts and play sports at the same rates, more or less. There are far more people who enjoy the arts and sports, which means that there are more high-level performers. There are lots of different artistic directors, too. We ourselves have had people like Catherine Magis who leads a circus troupe of people with intellectual disabilities in Belgium, Pedro Machado, the director of Candoco, and Jenny Sealey, co-artistic director of the opening ceremony at the London Paralympics, as guest instructors, and they all approach things differently. Whereas Catherine makes exceptions and tries to be as accepting as possible, Pedro takes a tough stance, not giving anyone any special treatment [laughs]. Working with foreign instructors has helped us fill a big experience gap. It gave us an opportunity to learn different styles and explore our own approach.
With the 2020 Tokyo Games approaching, Japan has been making an effort to get people with disabilities more involved in sports and cultural activities. The government has even created related laws and systems. But they only go so far—most of them just focus on recreational activities at facilities for the disabled. The world of parasports is full of top-flight athletes, big budgets, and training centers. You don't get those kinds of resources if you're on the cultural or artistic side. Although I can't make any big generalizations about Asian countries, given all the different economies and circumstances, I doubt there are that many performers with disabilities in Asia. In devout Buddhist countries like Thailand and Laos, for example, the belief is that disabilities are karmic punishments for wrongs in past lives, which exposes people with disabilities to severe discrimination. There's still a long way to go in Asia, I'd say.
What are your hopes for the Tokyo Olympic and Paralympic Games?
I hope the events can spark encounters and collaborations between people with and without disabilities. There are certain things that we can only get through doing things with others—whether you are disabled or non-disabled. People with disabilities can develop crucial social skills, which expand their options for the future. Non-disabled people benefit, too, gaining eye-opening insights that can reshape their approach to day-to-day life, work, and the community.
The ceremony directors haven't released any concrete details yet, but I think the biggest challenge in creating the ceremonies will be uniting the four productions into a coherent whole. Should we have people with disabilities at the actual Olympic opening and closing ceremonies, too? I sure hope so; after all, real diversity and real inclusion mean welcoming people of all kinds into all facets of life, not just the Paralympics. To keep the core concepts meaningful and consistent, we'll do whatever we can to give other creative directors, including the chief director Nomura Mansai and choreographer MIKIKO, the support and confidence they need to put on a dazzling show.
---
This interview was conducted in Japanese on September 19, 2018.
Interviewer: Sasayama Yuko (Program Department, International House of Japan)
Photographer (cover and interview): Aikawa Ken'ichi
Special thanks to Tendo Co., Ltd.
©2019 International House of Japan
---
To view other articles, click here.