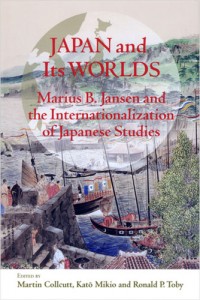 Japan and Its Worlds: Marius B. Jansen and the Internationalization of Japanese Studies
Edited by Martin Collcutt, Kato Mikio, and Ronald Toby
2007 / 312 pages / hardcover
ISBN 978-4-903452-08-1
A collection of papers presented at the Jansen Memorial Conference in 2001 and other essays on the man and work of Marius B. Jansen.
3,143 yen / Special price*: 2,200 yen (inclusive of tax)
*Special price is applicable for IHJ members.


A prominent historian of modern Japan, the late professor Marius Jansen is known as the author of the highly acclaimed work Sakamoto Ryoma and the Meiji Restoration. He played a pioneering role in the internationalization of Japanese studies through his innovative scholarship and teaching, and was admired in Japan and Europe as well as the United States, not only for his contributions to the study of Japanese history, but for the way he tied Japan's historical experience to the larger frames of inter-Asian, trans-Pacific, and indeed global history. The essays complied together in this volume—all written by old friends and former students—are centered on major themes running throughout his work. Four essays look at historiography and changing frameworks for interpreting Japan's modernization, the rapid transition from feudal Tokugawa society to modern industrial power in just a few decades. Two others emulate Jansen's commitment to history rooted in the particulars of local life, while the remaining pieces exemplify Jansen's focus on the relationship between Japan and its various worlds—the many complex, overlapping, and often synergistic relationships between Japan and its Asian neighbors, and the wider world.
In such a range of essays Japan and Its Worlds provides a fitting tribute to Marius Jansen's humanity, sharp wit and dry humor, and remarkable ability to synthesize and elegantly present complex historical issues. Reflecting Professor Jansen's close association with the International House of Japan for more than forty years, the book also most appropriately includes an essay on the genesis and formative years of the International House and the role Jansen played therein.