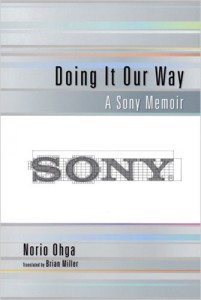 Doing It Our Way: A Sony Memoir
By Ohga Norio (Former CEO, Sony Corporation)
Translated by Brian Miller
2008 / 144 pages / hardcover
ISBN 978-4-903452-11-1
Originally published in Japanese in 2003 in a somewhat different form by the Nihon Keizai Shimbun as Sony no Senritsu.
2,095 yen / Special price*: 1,466 yen (inclusive of tax)
*Special price is applicable for IHJ members.


"'Maximize the brand value of the four letters of the Sony name.' As the company's newly named president in 1982, that was how I answered journalists who asked about my management priorities. I had inherited the devotion to conscientious branding evoked memorably by Sony cofounder Akio Morita.
"Sony has retained the venture-business vitality that animated the company in its earliest days as a start-up. That lasting vitality is a tribute to Morita's consistent emphasis on emphasizing capability and performance over academic credentials and on localizing our approach to business in markets around the world.
"The passion evinced by cofounders Masaru Ibuka and Morita persuaded me to abandon a career as an operatic baritone. Morita suggested that a job at Sony needn't oblige me to abandon music as a serious avocation. In fact, it meant new challenges daily and a lifelong race across the planet. Not until late in my career did I regain the time to devote myself anew to music. Decade after decade passed as if in the batting of an eye. But that is simply evidence of the continuing excitement that is Sony. I hope that this book will convey some of that excitement."
–From the author's Prelude