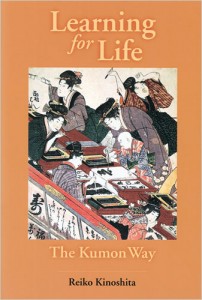 Learning for Life: The Kumon Way
By Kinoshita Reiko (Journalist)
First English edition / 2008
250 pages / hardcover
ISBN 978-4-903452-13-5
Originally published in Japanese in 2006 by Iwanami Shoten Publishers as Terakoya Globalization.
3,143 yen / Special price*: 2,200 yen (inclusive of tax)
*Special price is applicable for IHJ members.


Education is under pressure throughout the world as globalization and technological revolution create a new Learning Society in which citizens can never stop learning new skills in work and life. In this volume, the journalist Reiko Kinoshita examines how a Japanese learning program, the Kumon Method, has quietly spread worldwide in response to this changed environment.
What is the secret of the Kumon Method, now in use by over four-million students in forty-five different countries? It developed out of the math worksheets that a teacher, Toru Kumon, made for his own son, but Kinoshita sees its roots in the self-study methods used in the terakoya, temple schools in Japan in the Edo Period (1600–1868), in which the children of commoners learned reading, writing, and arithmetic. Kumon students work at their own pace, learning new skills but also learning new attitudes of self-confidence and autonomy.
But perhaps the real secret to the worldwide success of the Kumon Method can be found in the belief of Toru Kumon that there are no borders in learning, that we continue to grow by striving to be better.
From in this volume's blurb