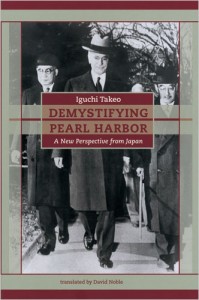 Demystifying Pearl Harbor: A New Perspective from Japan
By Iguchi Takeo (Professor Emeritus, Shobi-Gakuen University)
Translated by David Noble
First English edition, 2010.
366 pages, hardcover.
ISBN 978-4-903452-19-7
Originally published in Japanese in 2008 by Chuokoron Shinsha as Kaisen shinwa.
3,143 yen / Special price*: 2,200 yen (inclusive of tax)
*Special price is applicable for IHJ members.


What led Japan to its disastrous war against the United States and Britain? Why was the notification delayed, giving rise to American vilification of Japan's attack on Pearl Harbor without a declaration of war?
In this ground-breaking book, former Japanese diplomat Iguchi Takeo looks at the failure of diplomacy before examining in depth Japan's final memorandum to the United States and its delayed transmission to the Japanese embassy in Washington and thus to the US State Department. He finds that individuals in the military (and possibly the Foreign Ministry) colluded to delay Foreign Ministry telegrams to Washington to protect the surprise attacks on Pearl Harbor and in Southeast Asia; the necessity of responding to an eleventh-hour telegram from President Roosevelt to the emperor also contributed to the delay. After Japan's defeat, and faced with the International Military Tribunal for the Far East (the Tokyo Trial), such collusion was covered up in order to evade personal responsibility and protect superiors. Thus the whole issue of responsibility was left in a maze of silence and conflicting testimony.
Postwar conspiracy theories lay the blame for war on Roosevelt's provoking Japan into war and questioned the "victors' justice" of the Tokyo Trial. And the blame for the delay in notification of termination of negotiations was placed on the Japanese embassy in Washington. Although such myths might be politically expedient and psychologically comforting, Iguchi believes it is crucial to move beyond "victors' history" or "losers' history" to uncover the impartial historical truth—both for their own sake and for future generations at home and abroad.
From this volume's Foreword
From The Japan Times, editorial
Mr. Takeo Iguchi writes that under military pressure, the Japanese Foreign Ministry not only withdrew a proper ultimatum and instead decided to notify the Unites States that negotiations were over, but also delayed sending the notice to its Washington embassy for 15 hours before the attack. He convincingly shows that the ministry left Ambassador Kichisaburo Nomura out of the loop on the attack plan.
—The Japan Times, editorial of December 8, 2008.