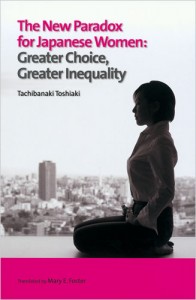 The New Paradox for Japanese Women: Greater Choice, Greater Inequality
By Tachibanaki Toshiaki (Professor, Doshisha University)
Translated by Mary E. Foster
First English edition, 2010
316 pages, hardcover
ISBN 978-4-903452-18-0
Originally published in Japanese in 2008 by Toyo Keizai, Inc. as Jojo kakusa.
3,143 yen / Special price*: 2,200 yen (inclusive of tax)
*Special price is applicable for IHJ members.


Once considered to be almost entirely middle class, Japanese society seems to be fracturing today, as the rift between rich and poor becomes increasingly pronounced. Past research on social inequality, however, has focused exclusively on men and families. In The New Paradox for Japanese Women: Greater Choice, Greater Inequality, renowned economist Tachibanaki Toshiaki looks at social divisions among Japanese women. What kinds of disparities do women in Japan face today? What role do a woman's family background, education, and decisions regarding marriage and children play in determining her place in society? Is there a social gap between full-time homemakers and working women? What about women in the workplace: do women in clerical or part-time positions enjoy social parity with those on the management track? Providing an in-depth analysis based on statistical data, this timely book offers penetrating insights into these issues and suggests remedies to help Japan grapple with this growing social dilemma.
From this volume's blurb